Location: Fort St. James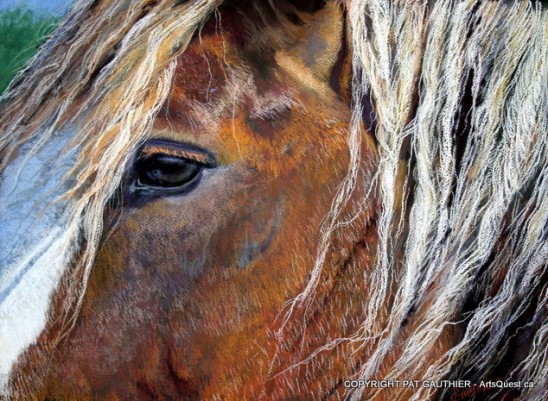 Dawson Creek Stallion – done in pastel

Ever wonder how many out of the way, off the beaten path places there are in Canada? I can tell you, from the tiny experience we have had so far, there are plenty. The birth of ArtsQuest has been perfect for me as I have always been a lover of going places that aren't the "destination" place. I find real people with real lives in such places as is evident with all the amazing artists and non-artists we have met so far. Fort St. James, B.C. is one such place I had never been and if it were not for painter Pat Gauthier answering our call to artists, I might never have had the pleasure of visiting there.
When Pat contacted Gary and I she indicated that we really should take the time to stop in and check out another of Canada's National Historic Sites, the fort of Fort St. James. She went on to say that Fort St. James has had the longest consecutive settlement of people in British Columbia; 207 years. The fort and the town sit adjacent to the formidable presence of Stuart Lake. Before we even met Pat we could tell she has a passion for her community and sharing with others her appreciation of what a special place it is. The fort was closed when we arrived but a friendly caretaker gentleman said we were welcome to wander around and take some pictures. It was such a perfect day!
Please click on the thumbnail images below to enjoy a larger view.

Pat and her husband Louis live just to the south of Fort St. James on a large working ranch where they invited us to park our van for the night before we were to interview Pat the next day. When we arrived Pat was just heading out to an art council meeting so Louis kindly shared some of his time filling us in about life on the ranch.
Pat is originally from the Shuswap area of B.C. but made her way up to Fort St. James when she was just 20. Someone had mentioned to her that they hired females in the sawmills, so she packed up her car and away she went. The area has been her home ever since. Although many of Pat's hours in the day are dedicated to working on the ranch she often feels it contributes to her passion for art. Being outside in the vast, open expanse of land with their horses, cattle and the wildlife is strongly interconnected with her desire to be creative. Often in the fall, when there is a break with the ranching duties, she and Louis pack up their horses with gear along with Pat's painting paraphernalia and head for the hills. Climbing to vistas not seen by many people is not an easy task but the inspiration is bountiful.
The subjects and the mediums for Pat's work are quite diverse but one of the pieces that caught my eye was her work titled Crossing Our Borders. Many of us who live in urban areas don't really understand or perhaps just don't think about what kind of impact companies like Enbridge can have on our fellow citizens. The government spends millions of dollars for television ads singing the praises for pipelines and fracking. As we drove north it became more and more evident that people like Pat and Louis have something different to say, unfortunately most of us don't get to hear the other side of the story. Pat painted her personal protest against Enbridge because the company wants to cross much of the area's waterways and part of their land with the pipelines, leaving the landowners with all of the environmental risk and devaluation of their land. She is not the only one. According to Pat, there is an entire art show dedicated to this particular subject. Who knows how this story will end? In the mean time Pat continues to paint whether for protest or for pleasure which gives all of us a glimpse into this part of Canada. To see more of Pat's work please visit her website by clicking here.
Please join us as Pat shares with us more about her life on the ranch and her passion for painting. We appreciate comments and helping us spread the word about amazing artists in Canada on social media! Thank you.