Location: Fort Nelson
As we drove away from the Yukon, in Arty's wake we left behind a piece of our heart, some new friends and some pretty spectacular scenery. Heading down the road back into British Columbia we carried with us a library full of memories from roads once traveled, the gifts of that day; the majestic Rocky Mountains and several burly bison, as well as the anticipation of future encounters and things left to be discovered. On our way to Fort Nelson, B.C. we had one day before our next interview so we planned to stop at Liard River hot springs. Have you ever heard of that list of a thousand things you should do before you die? Well, going to Liard was on our list. It was all that I imagined (hot) and more (super hot) but it was a soothing ending to the completion of twenty-three interviews in twenty-one days. The next day we were back in Arty's saddle again and off to Fort Nelson to find out all about mixed media artist Lori Fell.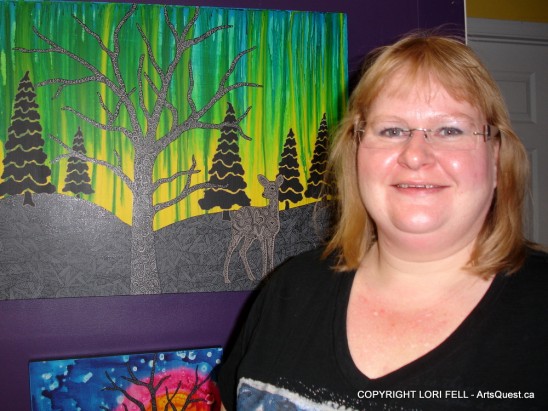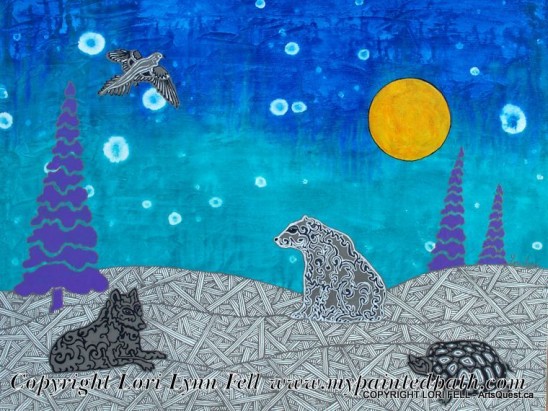 Lori grew up in northern B.C. where the deer and the bison roam and the majestic mountains linger all day. She is grateful to have lived and played among the trees; to this day a connection which she cherishes deeply. Lori's painted path began several years ago. She is a self professed lover of all things art and has always been creative, but it wasn't until a tragedy struck her family and she needed a means to heal that she found painting. Nature as a subject matter was an obvious choice for Lori and so began her painted path (see her website) and process for which to heal.
Click thumbnails to view a larger image.

One of the challenges facing artists in more remote communities is the absence of varied face-to-face art learning opportunities. Lori is primarily self-taught but she did say that she has spent a great deal of time on the internet, specifically YouTube, where she has gleaned ideas and learned many new things that have helped develop her into the artist she is today. When I first laid eyes on Lori's paintings it was the colour that grabbed me. I think vibrancy can be so irresitible, and it definitely has its time and place in Lori's work. It wasn't just the colour that caught my eye, as I looked closer I could see the intricate swirls and shapes within the landscape, trees and even the animals. Lori uses special pens to create this effect and she does it with such precision. Human vision is adept at catching things that are uneven and when I look at her work nothing pokes me in the eye.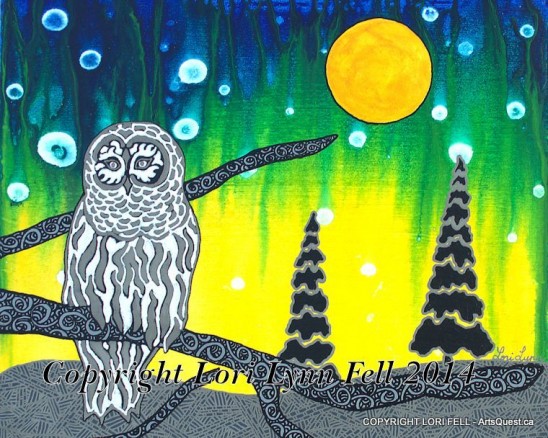 Click the thumbnail to view a larger image.

When we look with our eyes we see only the outer embodiment of the tree, flower or animal and when we look with our heart we see its spirit. I think Lori has seen the spirit of nature all her life and she shares it with us by illustrating not the bark of the tree or the fur of the animal but the essence of its spirit. We get to see that essence in her paintings. I identify with this connection because it is not what we see but what we feel that makes art really special.
Please join us as Lori Fell shares her journey down her painted path. We value your comments and appreciate it if you would help us spread the word about Lori by sharing on social media and through email.