Location: Denman Island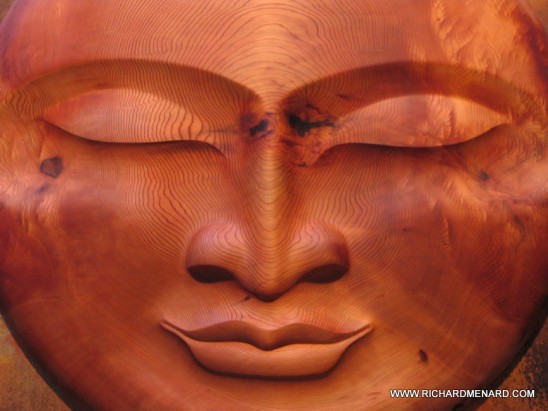 I never grow tired of walking through the forest. I walk side by side with my senses. The air is rich with oxygen and the smell of humus fills my nose as I take a deep breath. The cool humidity blankets my skin and I feel tingly and alive. Each step I take brings with it the sound of crunching leaves and crackling branches, I hear the sweet melody of birds chiming for a mate and I listen as the breeze lightly brushes through the tops of the trees. Sometimes there is no sound at all and with it comes a calm that I am eternally grateful for. My footsteps take me down a path I may or may not have traveled before but each time I go it is the trees that draw me there. I am always humbled when I stand in the presence of the great trees. They are so grand and amazing and always take my breath away every time I see one.
I preface my blog this way because I want to introduce you to Richard Menard. Richard lives on Denman Island, British Columbia, a short 10 minute ferry ride from the east side of Vancouver Island. He and his partner Shari and their cat Mische live on a beautiful piece of land overlooking the ocean.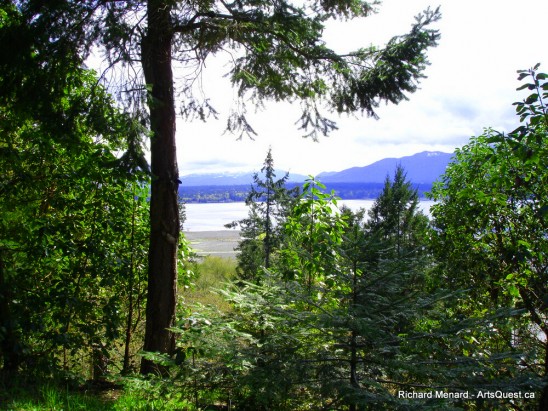 Richard is a sculptural artist who spends his days in the company of the great trees. Not only do they watch over him as he works, their fallen ancestors become resurrected into new artistic forms in Richard's sculptures. They are grand and they command attention just as they did when the trees once stood in the forest. At the same time, his sculptures are simple and respectful and are a fitting homage to the fallen giants.
Click on the thumbnail image to show a larger view.

Richard loves to work with burls not only for the challenge but also for the inner beauty of the tree. He can bring out the colours and the patterns in the detailed work he does. Burls can be elusive as they are not all that common, especially when you are looking for something big. It starts as a rough and tumble process once Richard finds what he is seeking. Most of the time the burls aren't sitting in a convenient location, they are super heavy and they are awkward due to their size. Once he wrestles the hulking piece of wood onto his truck with a little help from his ratchet lever hoist, he takes it to his studio where it will sit quietly and wait until Richard finds an idea for that particular piece. It is a chunky and clunky task when he begins to work with the rough piece. He quickly cuts away the bulk to reveal the basic form and as time goes on the tools become more refined and the sculpture begins to come to life. Primarily, he carves faces with smooth, delicate features and closed eyes from red and yellow cedar. The faces are peaceful and serene and give the whole sculpture a meditative quality.
Click on the thumbnail image to show a larger view.

"In our modern world, a great many of us experience a daily bombardment of noise, imagery and over-stimulation. My intention is to create art that invites the experiencer to contemplate, breathe and feel at peace."
– Richard Menard
Please join us as we find out more about Richard Menard and his art in the following interview. Comments are always appreciated and don't forget to share with social media!
Life is full of surprises! For instance, meeting up with my sixth grade elementary school teacher Paul Bailey after 37 years had to be one of them! We both had changed a bit from those days, when we had shoulder length hair, wore '70's era clothing, Paul with a moustache and me just dreaming of one! We met up with Paul at his home on Denman Island, a tranquil location just a short ferry ride from Vancouver Island. It is a destination that can prompt one to say, I could live here!, and certainly the 1000 plus residents that do live here might have said the same thing upon their first arrival….and stayed! Our visit here brought back fond memories from my childhood when we explored Denman, Hornby and Tree Islands; camping with my friend or cycling across the islands during a weekend school camp-out.
Paul spent 4 1/2 years at my old school and then ventured out into the world of photo journalism over the next twenty years. From there he went back to teaching; designing, establishing and then heading the career program in professional photography at North Island College, as well as teaching photography in the college's Fine Arts Department; positions that he still holds today. Paul notes that he thoroughly enjoyed his two decades working for the magazines and book publishers, but says when it comes to creating your own agenda, both from a time and creativity perspective, he is now free to follow his own path of photographic expression.
Paul's thirty plus years in photography has taken him from the days of film cameras to the present day of digital media. Paul admits that when digital photography first came out he was intimidated by it, but eventually he embraced it and now incorporates both the traditional film experience and the digital realm within his personal projects and his teachings at North Island College. Paul has traveled down various avenues of creativity within his medium and points out that he is quite excited about the world of abstractionism. He enjoys the feeling of freedom from not being bound by representational expectations; every viewer is an equal participant and afforded their own interpretation of what they are looking at.
A look through Paul's website at Paul Bailey Photography will take you on a journey through cultural, historical and political imagery, abstract macrophotography, life and scenes abroad, as well as expression of cultural dances through his Shapeshifting series. My first glimpse at one of Paul's Shapeshifting subjects in his studio gave me pause; my mind eventually sifting through the twirling and swirling motion to discern what it was, or rather who it was, that I was looking at. One of those moments of intrigue…then AHA!
Enjoy our interview below with Paul Bailey and please feel free to leave a comment! (And don't forget the social media buttons!)