Location: Creston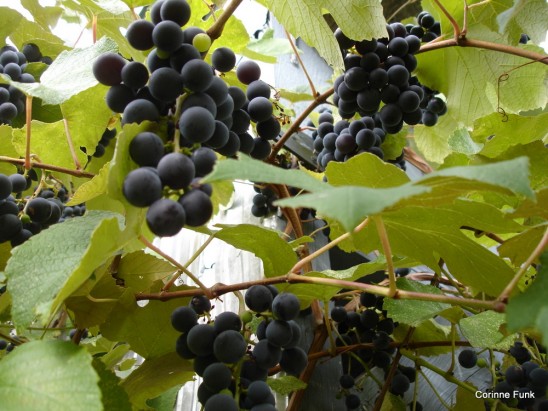 We sat in Cranbrook for four soggy days. Time was spent either at the uninhabited campground or tourist information center parking lot. Lucky or perhaps not; lucky because the center was closed so we graciously plugged Arty in at the juice bar outside the building and kept our computer humming until dark, and perhaps not because the washrooms were in lock-down for the season. Try reasoning that with a bladder that runs in all seasons!
One fortuitous day when the rain had given us a thirty minute recess and Marli had decided a leg stretch was definitely in order, Gene, Sorina and their sweetheart of a dog, Tika, pulled up beside Arty. The three of them hopped out of their Avalanche and came over to say hi. We chatted for a few minutes and then the next thing we knew we were being invited to park ourselves on their property once we arrived in Creston. I had read about these kind stranger encounters before and wondered if we would ever meet any along our journey.
We were through with the drippy days in Cranbrook and decided a change of weather was in order. Creston was always a drive through place for us and we have never stopped at any of those wonderful roadside markets. We always commented while passing through, "We should stop here sometime". Now we have. Gene and Sorina live on ten acres of beautifully treed fertile land. Sorina's parents owned it at one time and now her and Gene are enjoying what it provides. We arrived at their house with the intentions of having dinner (we had an invitation) and maybe staying parked for a night and ended up departing three days later. What I appreciated the most about Gene and Sorina is how comfortable they made Gary and I feel. We never felt like we were in the way or that they had to do anything extra because we were there; although, I think Gene's breakfasts were certainly not their usual fair. Sorina extended a Thanksgiving dinner invitation and prepared a dinner that will long be remembered not only for the nourishing food but also for the kindness and generosity of strangers.
Before our departure day arrived we met Gene and Sorina's family, had several enjoyable conversations, filled our bellies with scrumptious food, loaded up two grocery bags of sweet, juicy grapes from the vines on their land, packed up some Thanksgiving leftovers and misplaced Marli just prior to leaving. Yes, that's right; lost our cat! The four of us scoured the surrounding land around Arty for over an hour. I had decided to check back in the van just in case Marli thought of returning to Arty. As more luck would have it, I found her perched up in Arty's princess loft. She was looking at me as if to say, " What's the big deal, I knew where I was". It was a relief to know she was back and also that she knows where to come back to. We left with our cat and the kindness of friends in our hearts.