Location: Courtenay
Our introduction to award winning painter Marilyn Timms was through a friend of hers, Ann Holtby Jones, who we had just interviewed the day before near Parksville, B.C., and so on our journey up island we stopped in to see Marilyn in Courtenay, a stones throw away from my hometown of Comox.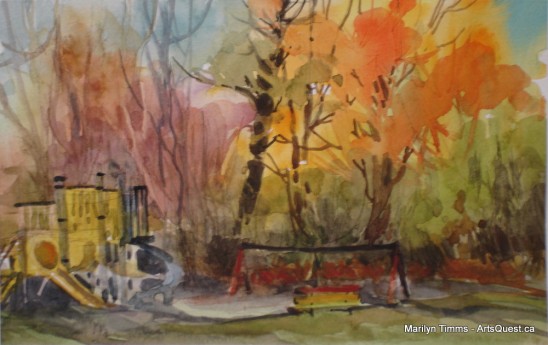 Marilyn is renowned for her watercolour and acrylic works of art, preferably done en plein air, which for the newbie to art lingo is a French expression for painting outdoors, and which literally means "in the open air." She has been painting for 36 years now and in conjunction with her own personal work she also teaches and conducts workshops for those wanting to explore the world of watercolours and acrylics. It is easy to see how Marilyn's affable nature can lend itself well to the intimate task of teaching others and helping them to explore their creative self and the world around them. We certainly found that her easy laugh and friendliness made us feel that we have known her forever.
I think that Marilyn's easy going manner is also what catalyzes the remarkable paintings that we see coming through in her brush strokes; never forcing intention but rather "going with the flow" and allowing her surroundings and the way she feels to guide her. In her own words,
"I must feel good when I paint, not confined or restricted in any way.
When I feel good, my paintings SING"
"Listen to life carefully, it sends messages of exploration and change, if we listen"
Marilyn's words can certainly ring true for many aspects of our lives, and I'm sure most of us can attest to some task, project or activity seeming harder or not quite up to snuff just because we tried to force the outcome, and the resultant pressure we put on ourselves actually sabotaged the end product. Being open to come-what-may, trusting in our own abilities and intuition, and staying loose and relaxed can lead to far more fulfilling and superior accomplishments. Marilyn and her paintings are a testament to that philosophy. Que sera sera!
Join us below with Marilyn in her studio as she fills us in about her passion for painting! Comments can be left by clicking "Leave a comment".