Location: Cornwall
Typically when I think of knitting my mind conjures up an image of a sweet grandmother knitting a baby sweater for their newest grandchild. Of course there is nothing wrong with thinking this way, but then Gary and I met Mylene Lacroix (pronounced mee-len), gracious CouchSurfing host and knitter aficionado, who catapults all knitting sterotypes right out the window. She is a 35 year old single mom of 17 year old Jacob and is a police dispatcher by day or night (depending on her shift) and a knitter any other chance she gets.
Mylene has been knitting for 31 years. When she was 4 years old she took an interest in her mom's knitting, and so her mom let Mylene give it a try. As the saying goes, she took to it like a fish takes to water and like a fish to water Mylene can't live with out it. The name of her blog says it all, MiMi Must Knit. When she was 6 years old she started knitting her own Barbie Doll clothes and in grade 6 she knit her first sweater. Except for the "it's not cool to knit when you are a teenager phase", she's been knitting ever since.
During one of our many conversations Mylene shared with us that knitting can be accomplished just about anywhere and it is an excellent use of idle time. She has knit at the doctor's office, while sitting in traffic, at the movie theatre before the movie, or during depending on the movie, and visiting, as was the case while we were there. When Mylene packs her lunch for the day she always packs a knitting project to take along as there is always an opportunity to add a few extra stitches here and there. She has crafted countless wool toques, socks and mittens including the now famous "Bella mittens" from the series Twilight. She has outfitted herself in an extensive wardrobe of sweaters of all styles but she says socks are her favorite item to knit. Her other passion is travel and so when most people bring home souvenir trinkets from their journey, Mylene brings home souvenir wool and knits herself some fabulous socks. I think this is the coolest idea! The wool for her socks have come from all around the globe including a zingy coloured pair from Japan.
Mylene's craftsmanship is of the highest quality. She uses the best raw material she can find and creates gorgeous apparel including some other functional items like a purse or a felted wool cover for a French Press. Her work is exquisite. I fell in love with the knitted lace shawls, the intricate patterned socks and the double thickness, brightly coloured wool mittens.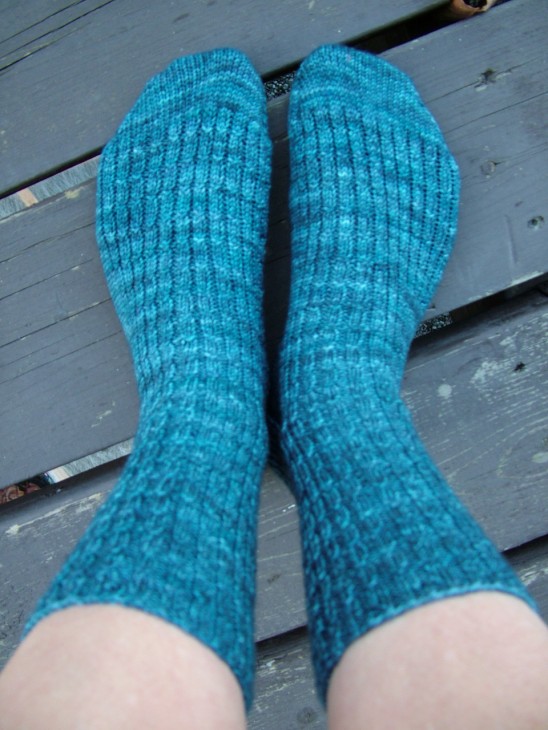 It is so nice to see someone so young helping to bring knitting back to life as it encourages other young people including children to take an interest in a skilled craft that could easily disappear one day. At first I thought Mylene was an old soul (and she probably is) when it comes to her intense passion for knitting, but she relayed to us that she is not alone. She pointed out a website called Ravelry that has over 1 million knit hungry members. This site is a bonanza for all things knit related. You name it and you can find it here, and if not then there are about 1 million people you could ask.
Sadly, Mylene typically only does projects she can give away to family or friends or if people ask her to knit something specific, like her hardest project to date, a christening gown. I think, like many fine artists and fine crafts people, Mylene knits for the love of it. As we have discovered talking to artists along our journey, it can be challenging to sell their work sometimes because the potential buyers don't understand the extent of the labour and materials cost. Her socks are out of this world but trying to sell them at $30 per pair is ludicrous to many people. What they don't know is that this works out to be about $2/hour in labour for Mylene. My way of thinking is that if we go back to the day when quality and longevity were king, buying socks at $30/pair and having them last for years is a great investment. Think of how much money we could all save over the long run. Although Mylene doesn't create to sell, I'm sure she would love to talk about and teach knitting until the sheep come home for shearing.