Location: Coquitlam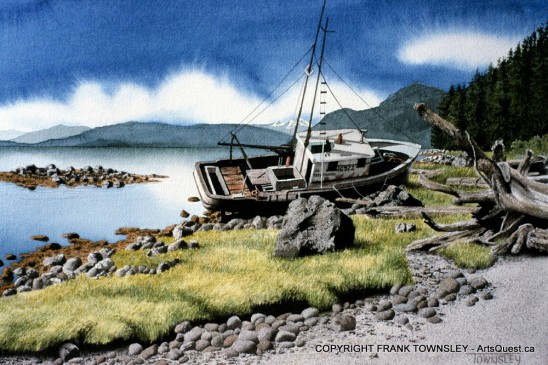 It was happenstance that watercolour painter and photographer Frank Townsley spotted our van Arty's bold ArtsQuest advertising decals, and decided to email us. Though living in Coquitlam, he was using space at a retirement centre in North Vancouver just across the street from us as one of the locales to teach one of his many workshops. And so it was there, after one of his teaching sessions that we sat down to get to know Frank and learn more about what makes his paintbrush flick and his camera click.
In addition to his painting and photography Frank is also an avid traveler and naturalist, which are both an integral part of his life and art work. A look through Frank's images on his website will bring you to locations from across Canada, the U.S., Mexico and South America. I found that the scenes he had photographed or painted were sometimes awe-inspiring and at other times evoked curiosity, giving me the urge to travel and to visit these spectacular places. As a naturalist Frank's interests lie not just in capturing photographic images of nature's wonders and putting some to canvas, but also in learning about the characteristics and history of the flora and fauna that he discovers.
Click on images to enlarge:

Having explored and photographed much of his home province of B.C., and having documented interesting facts along the way, Frank decided that putting together an educational coffee table book of B.C. would be a worthwhile endeavour and a wonderful way to capture the essence of this beautiful province. The title of his book is going to be British Columbia – Graced By Nature's Palette, and he is planning to publish it this fall. Prefacing each chapter will be one of his B.C. inspired watercolour paintings representative of the region. Below you will see the photographic image that will adorn the front cover of his book.
Click on images to enlarge:

Teaching workshops on watercolour painting and photography has come a long way for Frank from the days when he was first giving tips on the finer points of photography to his family and friends. He is now busier than ever, and notes that if he is not teaching his workshops around the Vancouver area then he may be off leading a group on an Alaskan cruise painting excursion (his 36th trip is coming up!). Although into his retirement years, Frank loves to teach, and notes how gratifying it is to see his students learn, progress and gain confidence in their abilities. They leave his course with a sense of pride and accomplishment but also with a set of "tools" to further their creativity. Some of these tools may be techniques such as scratching, splattering or using salt (see video interview for Frank's explanation), as well as learning the skills needed to fix mistakes on paintings once previously thought doomed and having to start over. To the benefit of those that can't get to Frank's workshops he has two instructional DVD's that can be acquired by contacting him through his websites.
Below you will find an example of splattering (to create grains of sand or even stars or snowflakes), scratching (leaving white such as the trees shown here or the spray of a wave), and using salt (to create a softer, blended look with more water or finer detail with less):

To see more of Frank's work check out his websites by clicking (here) and (here).
Coming up next is our interview with Frank Townsley! We welcome comments and sharing on social media and email.