Location: Coombs
When we first met Kim Hancock, there was this air of contentedness softly blowing toward us as she made her way across the lawn to shake our hands. Perhaps there was something in the air; it was a fresh and crisp fall day, or the beauty of where Kim and her family call home; an acreage just a short drive from Coombs on Vancouver Island and it was this that gave Kim the ability to blend in so well with her surroundings. She seemed to belong there.
She gave us a quick tour of her pottery studio and then we headed to her house where she introduced us to her paintings. After meeting Kim outside, I was not prepared for what I was about to see. Her paintings were big and carried a voice that yelled out,"look at me now!" Her work seemed to be alive and her colour palette jumped up and down like an energetic child on a trampoline. I kind of imagine Kim standing in front of a blank canvass conducting the paint with each brush stroke like a maestro conducting a symphony. Her energy and inspiration doesn't come from any pulsating sounds, it comes from living in hot and exotic countries before her family life began and now it comes from living in a place where she has space to move and grow and so does her art.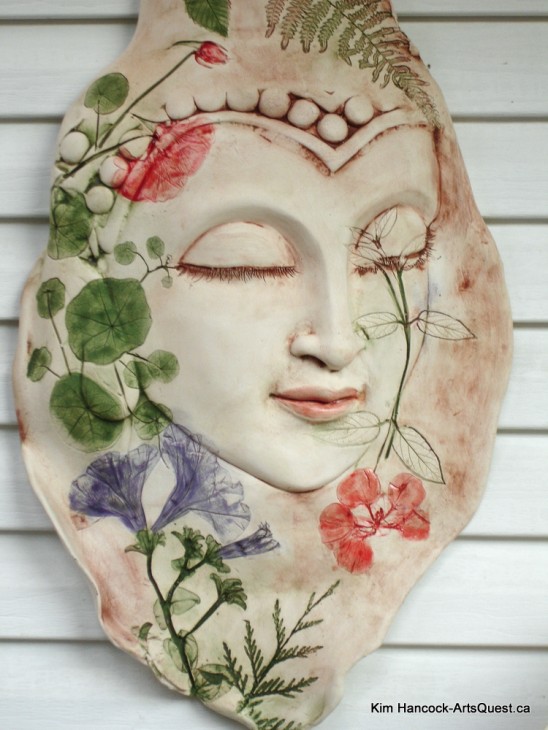 As with many of the artists we have met thus far, Kim's art is a part of who she is and not something she just does. She was explaining to us how her garden is home to many plant species that she loves to spend time with. She uses these fronds, flowers and leaves to imprint a timeless keepsake of her own backyard into her pottery. If you are ever on your way to Coombs you will see Kim's sandwich board sign, Arts Afire, out on the highway. Stop in and visit her studio first hand.
Thanks for reading and please, we welcome any comments you may have.