Location: Clayton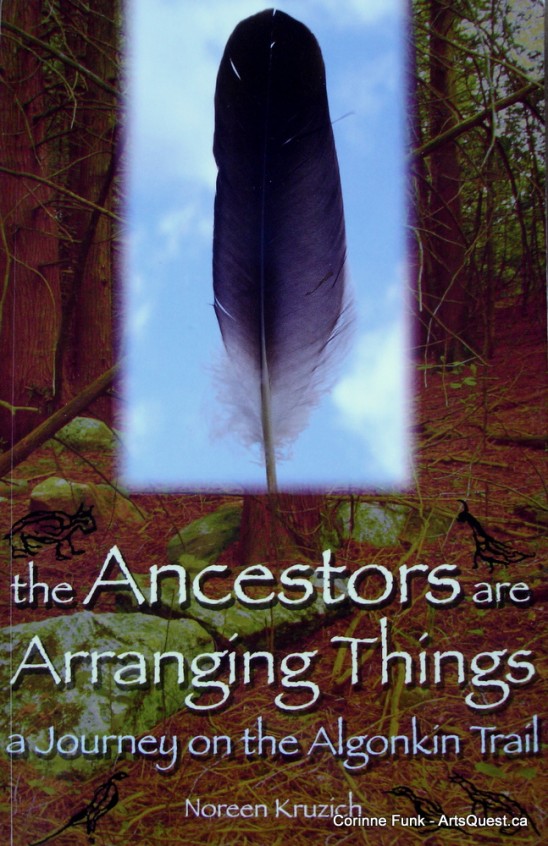 I have to admit, after reading the last word of the last sentence of the last page of the book The Ancestors are Arranging Things by Noreen Kruzich and meeting Noreen in person, I find myself at a loss for words for this particular blog. It is not because there are no words that come to mind; I am sure I could come up with all kinds of energetic sentences and paragraphs. It is more the question of how do I bring to light the seriousness of Noreen's seven year journey and one she continues to this day. Ironically, her book is just as relevant and important today, not only from a historical point of view but also for the environmental challenges we face. As I was reading The Ancestors are Arranging Things I couldn't help but think that history is repeating itself in Canada right now! The only difference is that all of us, not just the First Nations people, are facing a loss so great it is irreparable. The Canadian government has set fire to the laws that protect our land, air and water and this is a direct violation to our own health and well being. Noreen's book is timely. We need to stand up and speak out and show we will be Idle No More. The question is will it be different this time?
Back in 2004 Noreen Kruzich was a journalist working on an unrelated story when synchronicity crossed her path and she found herself face to face with a story that was never told but needed to be, and Noreen was the voice to tell it. In summary, when Europeans first came to North America to colonize the land they were greeted by the people that already called this continent their home. These people had a relationship with the land that transcended beyond the word "resources". They understood that the earth was the giver of life and must be cherished and respected. They were a nomadic people that moved with the animals, hunting and gathering for their families. When the Europeans showed up their vision of the land was drastically different. They saw wealth and riches and a land to be conquered.
Noreen spent seven years researching a particular time in history for the Algonkin and Nipissing people of Ontario. The protagonists were two chiefs, one a father and one a son. These men spent their entire lives, over 100 years combined, trying to secure a range of land for their people so that they could continue to feed their families. Even back in the seventeen and eighteen hundreds you could hang yourself on the bureaucratic red tape it was so long, and in fact a forgotten nation of people did just that despite the perserverance of Chief Pinesi and his son Chief Kigonz. In one instance it took thirty four years for a reply from the government to their request for rightful land ownership. The answer was NO.
When Gary and I met with Noreen, I could see that her book was more than words written on a page for her. The impression I got was that her research actually put her there, standing along side both these great men and wanting desparately to change history. I have great admiration for Noreen for taking on such a research behemouth; lost information, no information, and decendants that so long ago had forgotten who they were. So many people would have left sleeping dogs lie and said things like "that's too bad" or "I'm sorry to hear that" and carried on with their day to day. In fact, Noreen expressed she would gladly spend another seven years setting things right. Almost four hundred years later Chief Pinesi and Chief Kigonz are speaking again on behalf of their people through Noreen and their decendants. The ancestors truly are arranging things. Here's hoping that the rest of us pay attention this time.
Noreen spends her days in a rural setting just outside of Ottawa in a place called Clayton with her four cats. When we met her she was tilling her land for a garden and literally pouring her life energy into it. She is currently learning the Algonquin language, practises Native spirituality in her daily life and has integrated herself in the First Nations culture in Ontario. Please join us as Noreen speaks passionately about her seven year journey on the Algonkin trail.
Enjoy our interview with Noreen and comments are always appreciated.