Location: Chilliwack
Our second interview of our 2013 tour was with Zwany Mauritz from Chilliwack, B.C. Zwany is a fine artist as well as a fashion and purse designer. Her and her family immigrated to Canada from Holland 10 years ago. She comes from a family of twelve children and most of them are creative in one form or another. Her mother was an artist specializing in portraits and her father was a musical artist. Zwany shared with us that her childhood was rich in the arts and so creativity was always instinctive for her. She grew up walking in her mother's footsteps so it was fitting that she went to art school and painting portraits became her passion.
Nowadays she is an eclectic acrylic painter and does abstracts to landscapes and everything in between. But her favourite subject is still people. She loves to make a connection and so what better way to get to know someone than to paint them. People sometimes request a portrait of themselves or of a loved one and provide Zwany with a photograph, but she admits that it is much more fun when she can have the person sitting in front of her. Also, as she explained, it is easier to paint the person's personality into the painting because they can chat which gives her a chance to get to know them while she works away. She finds her live portraiture paintings to have more spontaneity and it forces her to work fast and be concise.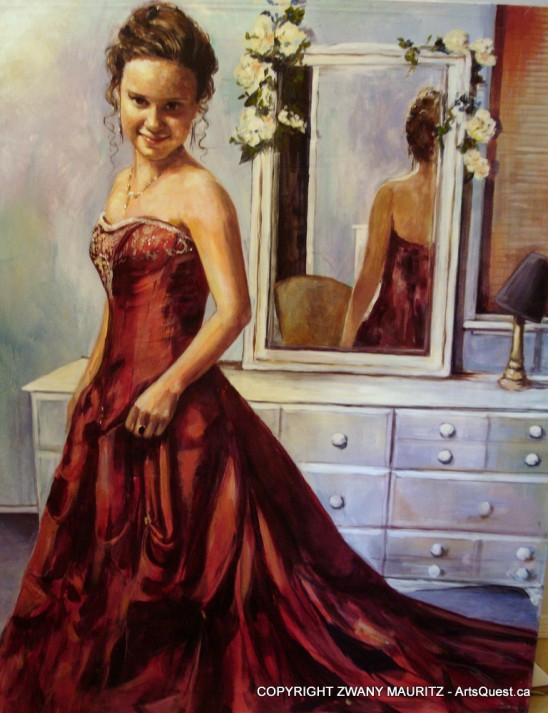 Click on the thumbnails below to see a larger image.

Zwany is an expressive and deep thinking painter. There are times when her paintings have a certain personal connotation for her and she finds herself using paint to lay down her emotions. In many cases she uses the swan in those paintings. It represents her as her name, Zwany, means swan in Dutch. This gorgeous bird becomes Zwany in the painting and with it she has created a diorama of the important emotional moments in her life. She has painted about love, family, anger and the dark and light side of herself.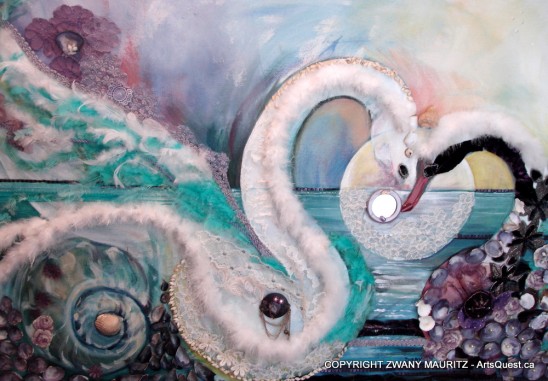 When Zwany is not painting, you can find her designing, redesigning and repurposing clothing, fabric, buttons, bobbles, shells and anything else that no longer seems to have a purpose. She custom makes designer fashions, typically for special occasions, for women with unique figures. One of her greatest satisfactions is to make something beautiful in order to make someone happy. Zwany also loves to design purses either from scratch or she will give an old outdated purse, as she says, "a new coat." She never runs out of ideas or material to work with. She is either shopping at the local thrift store, being on the receiving end of outdated articles of clothing or hunting through her own closet to find something to completely change or just give it a new look. It gives her great pleasure to repurpose a neglected blouse or a lonely tie that may have otherwise ended up in the landfill. If she is dismantling an old dress perhaps she will use the shoulder straps for the straps of a new purse or turn a set of 1980's style curtains into a funky hand bag.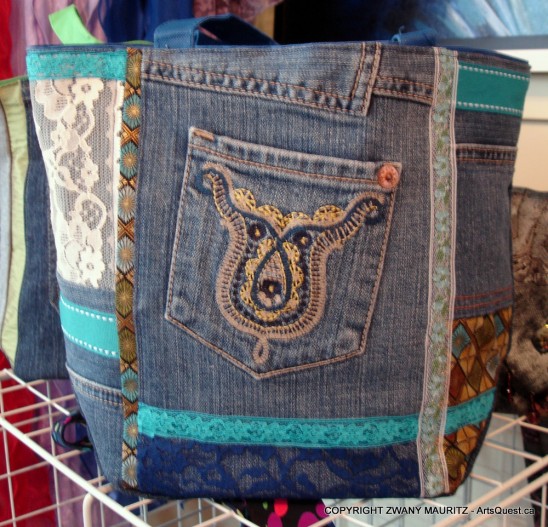 For Zwany it is not about the end result. It is about the creative journey she takes every time she picks up her brushes or sits down at her sewing machine. For her, creativity is a joyous and fulfilling place to be.
Please join us as Zwany talks more about her love of painting and designing. We always appreciate comments and spreading the word on social media. Thanks!