Location: Burns Lake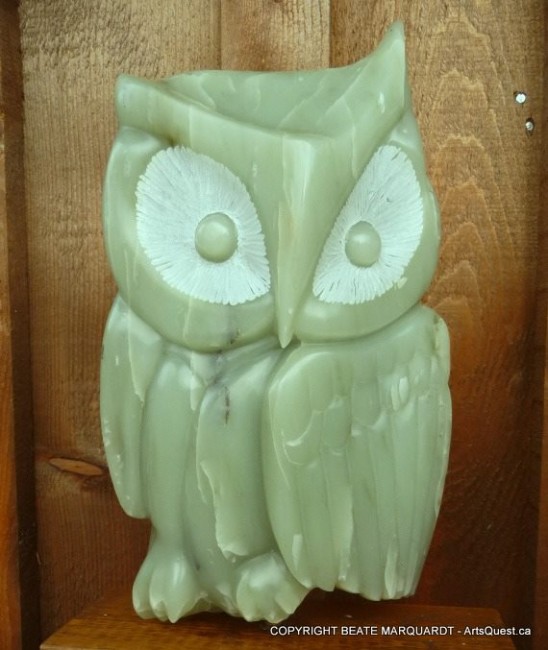 Stone; the fascination that humans have had with this material goes back 3.4 million years during the Stone Age when the first evidence of shaped tools and weapons were found. Throughout the ensuing ages further clues have been left to reveal its uses. Prehistoric Stonehenge, with its still undetermined raison d'etre demonstrates the relative permanence of stone and the symbol it was to represent. More recently, the carving of four 60 foot high heads into a granite mountain over a fourteen year period was considered a worthwhile endeavour to draw tourist activity. The result was the Mount Rushmore National Memorial. Bringing us to present day, this story is about Beate Marquardt who shares with us the artistic realm of her carved stone!
As we rolled into Burns Lake we looked forward to our meeting with Beate at our rendezvous location, the Lakes Artisan Centre, where numerous artisans including Beate display and sell their works of art. It was here that we would film most of Beate's pieces which we were eager to see. It is one thing to look at a photograph of a sculpted, three dimensional carved piece of stone, but yet another to see the vibrant colours in person, walk around it, and feel its smooth surfaces and lines. It comes alive!
Click on images for a larger view:

From the gallery we traveled to Beate's home which is surrounded by a wilderness setting, the likes of which invites even roaming moose and their young to take pause. She used to live in a much more rural area south of Burns Lake, living off-grid and requiring a ferry to get there, but once her Down syndrome son Wolf graduated she knew that he would get bored and so she moved closer to town where there are more programs for him to participate in such as the Special Olympics. I think Wolf was wondering who these two strangers were at first but soon he warmed up to us and sat down next to us as we all ate our cookies. A noticeable feature as we walked through Beate's home was that we saw owls everywhere. Not only does she love owls, but these are a symbol of the nickname her parents have called her since infancy, and appropriately lending itself to the name of her website Owl's Stone Carving.
Click on images for a larger view:

Stones have always been a part of our lives and I'll bet there is nary a child that hasn't picked up a stone to toss, feel and observe its shape, or just to skip it across the pond. There is an inherent connection between us and the earth, and it is evident from Beate's carvings that she deeply understands the interconnectedness between all living things. Beate's passion for carving stone took off in 2007 after receiving her first chunk of soapstone from her eldest son Peter the previous Christmas. She hasn't looked back from that point and with only seven years of carving it is amazing how fine her work is. Beate notes that she does not pre-plan her carvings, but rather that the stone itself has a plan, and it's just a matter of time before it reveals it to her.
Looking at the various carvings that Beate has done I can see that her subject matter has meaning; whether meaningful because of family association, symbols of nurturing, spirituality or cause. Above you will see "The Threat," a beautiful piece that Beate carved in red Pyrophyllite and Black Chlorite. It is a message of protest to Enbridge who plans to put their pipeline directly through the town of Burns Lake. The sculpture depicts a salmon enveloped in a wave of black oil.
Above is another carving with a compelling message; Beate describes it as follows:
"My mother Earth is depicted as a voluptuous woman with big nurturing breasts and a pregnant front. Her hands are missing to show her defencelessness while suffering the brutal attack by the double pipeline carrying toxic bitumen.
The difference in surface treatment of polished breasts/abdomen and rough carved face/hair has this meaning: Just like the raw sexual interest of a rapist usually concentrates on breasts and abdomen and eclipses the beauty of the abused person as a whole so does the predominantly economic interest of the pipeline supporters neglect the importance of the unique beauty and balanced harmony of Mother Earth as a whole."
Please join us with Beate as she talks more about her love of stone. We thank you for taking the time to comment and share on social media!