Location: Burnaby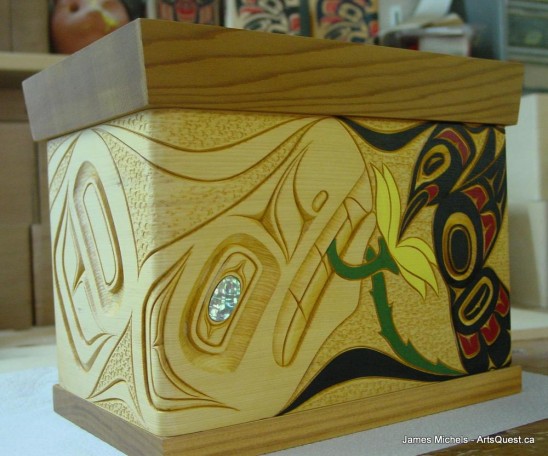 Above: Recently completed stunning Wolf and Hummingbird urn box.
James Michels is a Cree/Metis artist that pulls himself between his longstanding passion and experience as an accomplished musician, and his newer passion for creating and perfecting his Bent Cedar Box works of art. It was through his six years of journeying on the road playing music with his band within the pacific northwest that he came across the expert carvers and bentwood box makers that he would observe for hours on end and learn the skills and art form.
I had never heard of a bentwood box before until I stumbled upon James' website. After looking at the magnificent boxes and panels, the uniqueness and beauty were evident, but there were many unanswered questions such as "where did they originate?", "what are they used for?", "are they still used today?".
What exactly is a bentwood box? The best explanation is an excerpt from James' site:
"Bentwood boxes are one of the most outstanding items manufactured by Native people of the Pacific Northwest Coast, including parts of southern Alaska, western British Columbia and southern Washington. Made by kerfing and steam bending a single plank to form four sides, the containers with a height greater than their width are called boxes, while those with a length greater than their height are referred to as chests. Historically, boxes came in various sizes from small (measured in inches) to massive (large enough to provide seating). Some undecorated, others carved or painted or both. The highly decorated ones were symbols of wealth. Fishermen used boxes shaped to fit into their canoes to carry tackle and supplies. Some were used for cooking (filled with water and hot stones) while others were used for storage of food, clothing, tools, or supplies."
As an addition to the uses for bentwood boxes, James said that he has been getting requests for urn boxes, one of which he was just finishing up when we visited with him. One of the urns that James was asked to create was from a family that lost their little boy. The song below that James wrote and performed is a dedication to that young boy.
Click on the player below to hear "I Will Be The Moon" by James Michels.

Join us below with James in his workshop as he demonstrates the fine wood craftmanship of making bentwood boxes: