Location: Borden-Carleton
Oliver and Christie Ray moved from the province of British Columbia to Prince Edward Island, a lush agricultural landscape with it's rich red soil and pastoral beauty. The rolling hills, woods and beautiful sandy beaches was their dream destination to raise their two adorable children, Caitlin and Dylan. Their plan was not for the faint of heart though! Oliver and Christie ambitiously purchased and subsequently renovated a 100 year old church to be their home, studio and office, a feat made even more impressive by the fact that they had no experience in construction.
Occasionally ones eyes will catch sight of something that truly makes them stop and take notice. It is something so out of the ordinary that it seems to stand on its own in its dissimilarity from anything else. That was what I felt when I first saw a painting by Oliver Ray! My eyes were drawn to a style of painting that even Oliver wasn't sure how to describe. Impressionism? Abstraction? Expressionism? Oliver says that there may not be an "ism" to describe what he paints but he can tell us that he was influenced by west coast aboriginal art and the colour blocking techniques that they utilize.
Oliver's subject matter is borne from catching sight, not of something, but of someone in a certain context that makes him stop and take notice. Unlike Oliver's paintings though, these people are not out of the ordinary, rather they are everyday people in everyday situations where he might be capturing a thought, mood, special moment or emotion within them, leaving one to wonder, "What are they thinking?" or "Who are they waiting for?" There is certainly no mistaking the clarity of the context; the knowing glance, the emotional embrace, the joy of the dance, the feeling of satisfaction…or melancholy, emanating from Oliver's subjects.
Painting people in different situations. Before we met Oliver we wondered what type of person he was and why this was a prevailing subject matter. We then learned that he had run for office and had also spent time in the military. We also learned of his concern for parents having to spend a lot of time away from home in far off provinces just to earn a living to support their families. After meeting Oliver and Christie, we can see that they genuinely take an interest in people, and Oliver's paintings are an expression of those that he sees around him, touching his heart in some way or another.
Click on the small images below to make them big!

Join us with Oliver as he gives us some insight into his world of painting!
Cindy and Darryl Lentz were first introduced to us through King's Point Pottery in Newfoundland. It was suggested to us that we should go see their "operation" and hear their story. Island Stoneware formerly known as Right Off the Batt Pottery is where you will find Cindy and Darryl and they are located right off the Confederation Bridge on Prince Edward Island.
Darryl and Cindy had careers in the Canadian military and transitioned to pottery of all things. Neither of them had any experience in entrepreneurship. Cindy took a weekend course in pottery prior to leaving the military and fell head over heels. Once she retired from the military she thought she would try her hand at a business in pottery but discovered it wasn't as easy as all that. Eventually Darryl retired as well and decided to help Cindy in whatever capacity he could, which later included throwing pottery on the wheel. And soo….in the past five years they have gone from a 2300 square foot pottery production facility to a 7600 square foot production facility. They employ potters and non-potters and have successfully contributed to the local economy in PEI.
When we interviewed Cindy and Darryl we didn't talk about their pottery in the sense that it was their artistic passion, or the more common inquiries about what drives and inspires that passion, it was about how they came to create a thriving business and their passion for bringing beautiful, affordable and functional handcrafted pottery made in Canada to the middle income earning people.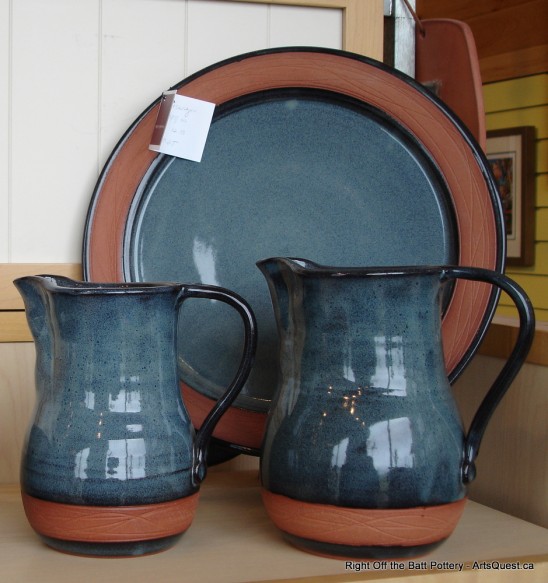 I was fascinated with their thirst for innovation and constantly inventing new and creative ways to save time and energy to get more out of what they already had. For instance, they wanted to be able to supply several retail places in the same area without duplicating the product lines, so they took a look at their pottery lines (which there were three along with three glazes) and just by removing the designs and leaving them plain they could now increase what they could offer by three new lines. They then removed the iron oxide pigment from the red glaze and created a white glaze which gave a bunch more combinations. The retail locations were able to stock different lines from one another which gave them the ability to offer variety from each other. This is great for Island Stoneware, great for the retailers and great for the customers.
Click on the thumbnails below to see a large image.
Cindy and Darryl clearly understand the idea of "Win, Win, and Win". I think they are an outstanding model for small scale manufacturing businesses in Canada. They have clearly demonstrated that we can have manufacturing in our own country that can be supported by other local businesses and people here in Canada. What is also unique about their endeavour is the fact that they are thriving in the Maritimes. I personally don't think that this is some big revelation or miracle success story, but what I do see is two people who found what they love to do and are doing it where they love to be. I think this is a viable solution to relying on large scale industry to take care of our futures. It is because of people like Cindy and Darryl and their example that we can learn to create our own thriving micro-economies right in our own backyard, wherever that may be.
If you ever find yourself in PEI stop in and take a tour of Island Stoneware and meet Darryl and Cindy, or perhaps sit in and participate in one of the hands on pottery classes. In the meantime check out our interview with Cindy and Darryl Lentz below and be sure to leave your thoughts behind in the comment section.