Location: Barwick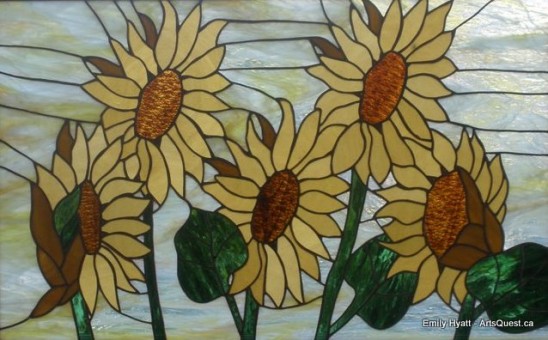 Our foray into Minnesota was short and was really only a quick passage to the furthest southwestern corner of Ontario where we were in hot pursuit of finding an artist to interview right off the bat. It was not until Barwick, Ontario where we found Emily Hyatt. It was funny how we found her. We stopped to look around the little community of about one hundred residents. Our luck with places to park ourselves and Arty for the night wasn't working out so well at the point of our stop and so we decided to move on. As we turned back onto the highway, I looked over and noticed the blue plastic outhouse and then Gary saw some picnic tables. We discussed whether or not we should turn around until we reached the outskirts of town and decided it might be worth a look. It turns out we found ourselves looking at the "District of Chapple Complimentary Campground" sign which even included nice cold fresh water and electricity. What a glorious find!
Our other glorious find was walking into the local restaurant to inquire about artists in Barwick and having two nice ladies point us in the direction of Emily Hyatt, the local stained glass artist. They helpfully told us where we could find her and off we went to introduce ourselves. We met Norm, Emily's husband, who regretfully delivered the news that Emily was away at a workshop in Miami, Manitoba. Norm invited us in and gave us a quick tour of some of Emily's work and we decided it was worth our while to wait for her return. This was on Saturday, so on Sunday we had a great opportunity to catch up on some work and on Monday we went to see Emily.
Click on the images below to view a large aspect.
Emily took her first stained glass course 32 years ago and has been looking through rose coloured glass ever since. Her desire to pursue the art of stained glass came out of a need to balance a demanding job. She fell in love with the colours, the possibilities and the people. She began working with artist Wayne Barron who is another local talented artist in the Barwick area. He used to teach with Norm at the school. Over the years Emily and Wayne have collaborated on many projects including 35 church windows and a memorial piece for Emily's parents; Wayne does the design work and Emily brings it to life with the glass. The church windows are commissioned by individuals or families who want to commemorate or honour someone they love. Gary and I stopped to see the ten windows in St. Patrick's Catholic Church in Emo as well as the one in the Zion Lutheran Church in Fort Frances.
Like many artists, Emily is humble about her work and feels there is always so much more to learn. She does say that her particular talent lies in picking the colours of glass for a project. She sets the panes of glass in the windows of her studio to watch how the light hits them at all hours of the day. Sometimes the glass will dictate the next project or it will present itself as the perfect choice for a project or commission that she has already been thinking about. For Emily, sometimes this pondering and looking could take up to 2 years before any cutting and shaping even begin.
Emily's other talent lies in teaching her skills to other enthusiastic proteges. She loves to see that sparkle in their eye's and know that they too caught the glass bug that she caught long ago. I would love to take a class from her someday!
After we finished chatting with Emily, we were invited to join her for a salmon sandwich, some tortilla chips with homemade salsa, yummy carrot cupcakes and some ice cream with fresh picked raspberries from their garden. Norm arrived home from a hard day at the golf course and we all enjoyed a wonderful lunch and a visit from a pair of Baltimore Orioles (the birds not the ball players). They are stunningly beautiful with their deep orange breast. We thoroughly enjoyed our time with Emily and Norm and hope to go back someday for a visit and perhaps a little stained glass lesson for me.
We welcome you to leave a comment for Emily!