Location: Bairdsville
I believe that many people could learn a thing or two from Maurice Gamblin's view of life. You see, Maurice "retired" from his construction company business at the age of 41 to pursue an income resulting from doing what he loves to do, turning wood to create bowls, vessels and other decorative pieces. He saw other people continue with dissatisfying careers and were miserable, making him realize that there is more to life than the illusion of security and happiness by doing something you dislike, just for the purpose of earning a living. The fact that he has been creating and selling his wood pieces for the last 25 years is not only a testament to the dedication and commitment he has put forth to his true calling in life, but also to the fine craftsmanship that he delivers to each one of his satisfied customers.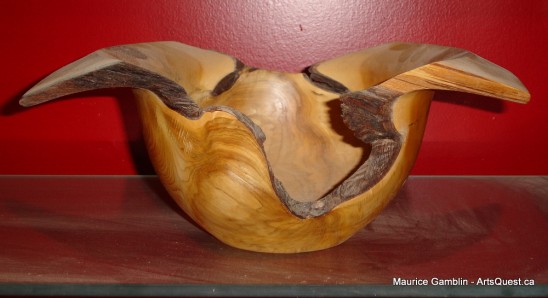 Beside Maurice's home are his workshop and gallery where he showed us the ropes of what it takes to start with a raw piece of wood and take it through the steps of turning, sanding and finishing it to create a beautiful and functional piece of art. Maurice is a soft spoken man, but his work on the other hand speaks volumes of the passion he has for creating one of a kind pieces that speak to you, such as the largest bowl he has turned to date, 52 inches in diameter! Maurice's long relationship with wood has given him a lot of insight and experience into the process and artistic creation of each piece. For instance, he uses green wood when he turns a new piece because it is much easier on his hands and his tools to work with than dry, hard wood. The usual challenge with this is that the green wood drys too fast and then the wood cracks. Maurice found that by putting wax on the outside of the turned piece that it will dry slower, from the inside out, eliminating the cracking. Prior to this method there was 25% loss in his work and after utilizing the wax method that he developed it improved to less than 1%. Because of this innovation Maurice jokingly says that he doesn't have to work as hard now!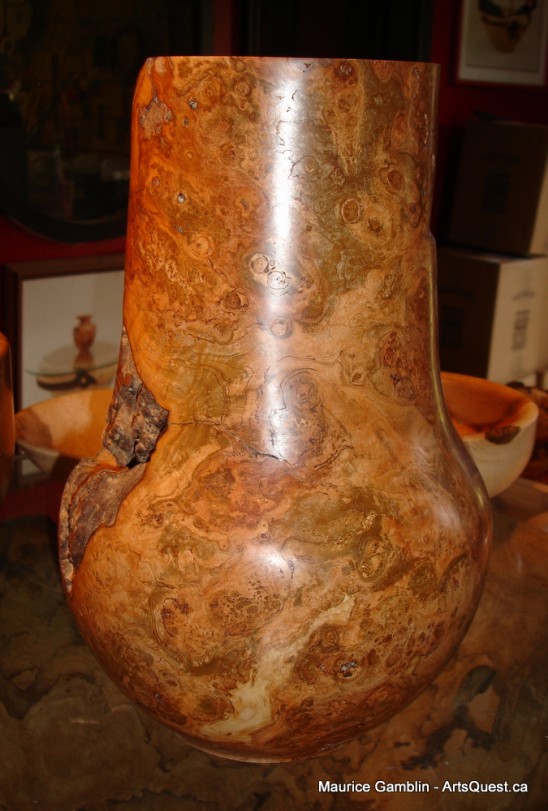 Maurice has a passion for the arts and art education. In addition to starting a wood turners club in Newfoundland consisting of about 60 members to date, he is also the president and organizer of the Tobique Fiddle Camp, where I'm certain that Maurice's great people skills, amiable nature and quick sense of humour have contributed greatly to the success and fun learning at these events. There are many accomplished fiddlers that show up for these events, such as J.J. Guy from Lintlaw, Saskatchewan, that have come to teach the students and pass on their invaluable experience. Just us Maurice has encouraged others to turn wood, so has he also encouraged others to pursue the fiddle, including his granddaughter Kimije. Wow, are we glad that he did! While visiting Maurice and his wife Shirley in the house that he had built and completed back in 1978, Kimije performed three songs for us and I'm sure the drop in our jaws was perceptible! She beautifully played a traditional Maritime song, a classical song, and a Celtic song.
Click on the thumbnails below for a larger image:

Our visit with Maurice was not only inspirational and educational, but it reaffirmed the philosophy that we also wish to live by: Do what you love, hopefully make a living at it, but at the very least discard an unfulfilling career that does not enrich your life.
Enjoy our interview with Maurice as he turns us on to turning wood:
Maurice Gamblin from Corinne and Gary Funk on Vimeo.