Location: Airdrie
I have heard many people say, "I don't have a creative bone in my body." Luckily creativity does not come from our skeletal structure, it comes from the heart and the brain. The heart provides the inspirational emotion that drives the brain to start the process, do the problem solving and to give it some life. Creativity seems almost mystical at times because it is not something that can easily be explained through words or quantified in labratory tests as to where it comes from. But it does manifest itself in many forms, art being one of them. Creativity, and in particular expressing oneself through the embodiment of something beautiful can change a person's life. As life is a journey to be lived each and everyday, we live through a myriad of experiences throughout this journey and these can be both deliriously pleasant and intensely unpleasant with everything in between. Michelle Pickering is an acrylic painter from Airdrie, Alberta who came face to face with a diagnosis of lupus and fibromyalgia on her life's journey and it was art that played a significant role in helping her heal.
Click the thumbnails below to see a larger image.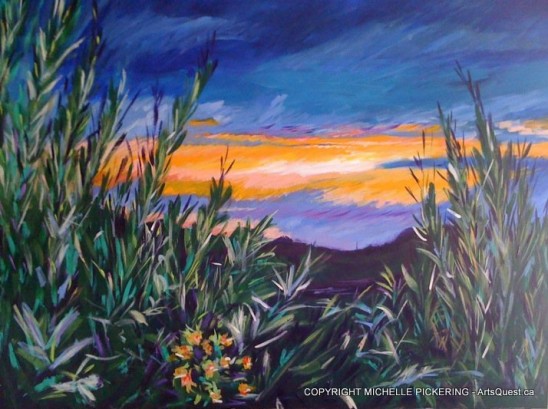 Michelle took fine art in college and painting happened to be her weakest medium. She therefore moved on to other things and did not give it a second thought. Ironically, many years later it would be painting that changed her life. She kept asking her husband for brushes, paints and canvases for Christmas and being the supportive partner that he is he provided all that she needed. The materials sat in the basement for a long time until one day the painter within her awakened and her healing started to begin. Ever since then Michelle's journey has had strong emphasis on healing herself and teaching others to do the same. As she explained to us healing doesn't just refer to eliminating physical pain; it can be something emotional, it can be self discovery, it can be finding peace, it can be finding happiness and on and on. Not only has painting taught her to be the artist she is today, it has also taught her so much she didn't know about herself including the power she has within her.
Click the thumbnails below to see a larger image.

I can guess that Michelle spends a lot of time with her thoughts just like I do. One night while in bed a thought came to her in the form of a peacock. She saw a tiny little bird with a mass of colourful plummage displayed behind him. This peacock became Michelle's symbol for every single person in the world and how important each and every one of us is no matter how insignificant we may think of ourselves. The peacock's feathers represent all the beautiful things we have inside us that needs to be displayed to the world. As it turns out this wasn't just a fleeting thought for Michelle, the peacock needed to become real. Michelle had to share his beauty and consequently the beauty inside herself to the world. She decided to paint Peacock (as he is now referred to) on the garage door. Interestingly enough the world delivered mixed feelings toward Peacock. For most people he put a smile on their face and maybe even initiated positive change in their own lives, and for some they felt animosity towards him. For those people, it is hard to understand what could possibly drive them to hate him so much that they would go so far as to bully Michelle and her family just to have him removed. In the end Peacock stayed and the neighbours moved. Today, Peacock represents all things good and all things possible and that is how Michelle became known as the Peacock Artist.
Click the thumbnail below to see a larger image.

I don't know if this was Michelle's conscious intent but I see Peacock in most of what she creates. The colourful, intentional brush stroke patterns in her paintings remind me that Peacock is there; in the sky, in the butterflys, and in the plants. His plummage reminds us all of our importance in the grander picture of life and that we are not separate from each other or from nature, and that those connections are what make life possible in the first place.
To see more of Michelle's work visit her website by clicking here.
Join us as Michelle shares more about her journey and how art changed her life. We appreciate your comments and please spread the word about Michelle Pickering on social media and through email.