I can't paint every younger person with the same brush (although I would like to) but it gives me great comfort in knowing the future is in the hands of some of the younger people Gary and I have met along our journey. When we were in Newfoundland and Labrador it was recommended by two people that we go drop in on Jennifer Galliott. Jennifer is a tapestry artist, and she is also a potter and painter and gallery owner. She lives in Woody Point, right in the heart of Gros Morne National Park. At one time her grandfather owned a boat store for his fishing equipment which sat across the street from the water. Due to an unfortunate fire incident the boat stores across from his burnt to the ground. Eventually Jennifer's grandfather was able to move his store across the street and it has sat on the waterfront ever since. This was significant not only for the convenience of accessing his boat and fishing equipment but also because nowadays it is the home of Galliott Studios and it's quaint little cafe. Jennifer renovated the building that I imagine once smelled of ocean life, and turned it into a place where local art is on display for sale, including her own. It is also a place to meet, hang out and enjoy the breathtaking view from the deck that sits right on the water.
Jennifer struck me as a determined and ambitious young entrepreneurial artist. She graduated from art school in 2008 and she could have chose to go anywhere in the world to eke out a living for herself but she chose to come back to the small village of Woody Point, Newfoundland. Since then she has established a name for herself in the community and her studio and cafe has a reputation as the place to go and connect and seek out wonderful local art. She regularly brings in local Newfoundland and Labrador musicians for Sunday evening get togethers and has invited author readings in conjunction with the writers festival that comes to town once a year at the end of August.
We had a chance to spend some time with Jennifer and get to know her a bit. We all mutually agreed an interview was a great idea for the next day. Unfortunately we weren't able to make it happen but Jennifer agreed to an e-mail interview along with some pictures of her work. Check out what she has to say about herself and her art.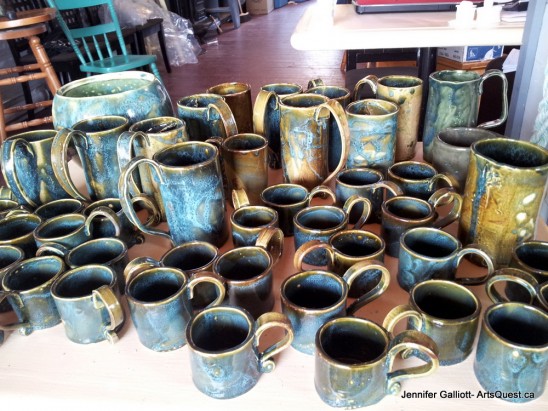 AQ: How long have you been creating your tapestry? Jennifer: I've been weaving tapestries for 5 years now AQ: painting? Jennifer: on and off for years AQ: pottery? Jennifer: two years
AQ: Why did you choose these three mediums? Jennifer: I stumbled onto pottery when I found a kiln for sale for cheap online. After that my aunt gave me her kick wheel, and it kind of grew from there.
AQ: You took part of your art education in Alberta. Was it easy for you to decide to come back to Woody Point, Newfoundland and work as an artist? Jennifer: Yes. While I was away I made art largely about Newfoundland. The town of Woody Point is such a wonderful place people wise, as well as the natural beauty. Not only are both sides of my family from here, the town is also located right in the heart of a UNESCO World Heritage Site, Gros Morne National park, I don't think it gets much better then this.
AQ: What challenges have you faced as far as establishing yourself in a small community like Woody Point? Jennifer:The town is very seasonal, also there isn't a lot of money in small towns to be spent on a lot of art.
AQ: Are there some things you find easier being an artist here than in a bigger center? Jennifer: I'm surrounded by constant inspiration.
AQ: Please explain the process you go through when designing and crafting your tapestry? Jennifer: Before I weave a tapestry I first need to draw what is known as a cartoon. A cartoon is kind of like a blue print of what I will weave. It is a picture that is true to size and sits behind my loom as a guide to what I am weaving. Once this is done and sometimes coloured in, I then have to tie vertical strings known as warps, and make sure the tension is even throughout. Then the weaving starts.
AQ: What and/or who influences your designs? Jennifer: Mainly travel, being homesick, or home.
AQ: What advice would you give someone either thinking about pursuing an art career or someone who is fresh out of art school? Jennifer: Don't give up. If there's no work you just need to make some for yourself. Also learn how to apply for things and either enter yourself into nominations, or get a friend to do it for you. Also always ask for help you never know the huge amount of talent that could be around you.
AQ: What is the most gratifying aspect of being an artist in the mediums you have chosen? Jennifer: Being able to make an idea reality. I always try to push my limits and luckly don't see the enormity of something until I'm in the thick of it. That being said I'm also very stubborn and no matter how long it takes I manage to finish what I've started. There's nothing better then being able to look at something and think wow! I made that.
So many art forms are created with a cornicopia of materials Mother Nature willingly provides. These materials, along with an artist's idea envisioned in their minds eye, turns nature's raw materials into the artist's creative glory.
Cheryl Massey shared with us that her desire to create came as a result of marrying into a prolifically creative family. Although her artistic talents were seeded in the performing arts as an actor and a model, she wanted to try her hand at something with her hands. One day while relaxing on a beach on the Sunshine Coast of British Columbia she found herself pondering the artistic possibilities of the ancient art of basket weaving as the raw material gently swayed in the soft Pacific ocean breeze all around her.
Cheryl harvests plant material such as Tule rush, Bull kelp, Cedar bark from fallen trees, and even Daylilies from her own garden in Whistler, B.C. Some of her days are spent collecting and gathering using various types of water craft or just walking along the beaches of the Pacific Northwest. As part of her practise, she has created a little mantra that reminds her and teaches others the basic process of basket weaving; gather, dry, soak, weave. The gathered material remains unaltered except for the appropriate preparation, and Cheryl then skillfully weaves gorgeous functional items such as baskets, purses, backpacks and hats. The Tule rush provides a soft, supple, sweet organic smelling basket for a freshly baked loaf of bread, or perhaps an elegant purse for an evening out. Bull kelp is a strange sea plant that bobs around on the ocean's surface. It's characteristic buoyancy and unique long, whip-like shape are prime for making baskets and decorative pieces which are identifiably distinct. Cedar bark is durable, strong and comes in a deep red or yellow colour and can be prepared to make the tiniest of baskets. Those are the three main base materials used for the baskets Cheryl weaves but she continues to explore and experiment with the rich abundance of plants such as Daylily to use as accents for her various projects and to incorporate her own personal touch.
Click on each picture below to view a larger aspect.
Please join us with Cheryl as she walks us through the ancient practise of basket weaving; gather, dry, soak, weave. Also, we welcome you to leave a comment for Cheryl as well.
The day after we visited Kootenay Forge we went to see Janet and Ted Wallace. It was a dramatically contrasted experience. The forge was a place where our focus was on the red, hot, glowing steel. Entering the Barefoot Handweaving straw-bale building was like getting on a roller coaster heading for light speed through a bazillion different colours. Everywhere we looked demanded our attention and if we felt under stimulated that day, I can tell you, that feeling vapourized the moment we walked through the door.
Janet is the barefoot handweaver and Ted is the inner landscape painter. They are a vibrantly intriguing couple who spend much of their time living their dream and driving their artistic passions. I am a highly tactile person and the first thing I do when I walk into a space full of textiles and fabrics is get it between my thumb and my fingers. Wow! I couldn't believe my eyes or my hands when I walked into their building. The loom is a fascinating piece of equipment and like many artists and artisans who have more than one tool, Janet has four looms. There are big ones and small ones and even an elder, from the 1940's, still going strong. She kindly gave us a hand and foot demonstration with a musical interlude and I don't mean a song and dance, although that would have been fun too! No, I am referring to the rhythm she creates when working with her loom; the wood knocks together like a beautiful, simple, wooden instrument. It has a healthy, organic sound. Janet says the loom's alluring sound is one of the reasons she keeps on weaving. What a wonderful way to create something visually beautiful, something curious to the touch, something earthy sounding and get a great work out all at the same time. Talk about being fully engaged!
Ted Wallace is an animated gentleman with a kind spirit who I found to be like an adult with an inner child who loves to jump on his bed at night in anticipation of his next inner landscape painting. His exuberance comes from his own awe inspired intrigue that surfaces with each stroke of the brush. His paintings speak to their onlookers in ways that are personal to each one. There are no categories or labels to describe his work, it is both honest and an expression of vulnerability. Ted also likes to help other people find their creative process through his guidance and experience. Baring one's inner landscape down on a blank canvas is certain to be a terrifying experience for most people, however, Ted knows it is full of enrichment and inner nourishment and he hopes to help others find that within themselves as well. I liken it to getting into physical shape before you buy a gym membership; you don't have to be a master painter, just paint.
Be sure to watch Janet and Ted's interview just below Ted's painting and listen for the rhythm of the loom.