In a world full of plastics, gadgets, widgets and what nots that ultimately wind up in the landfill, painter and stencil artist Rob Naish has utilized many of these two dimensional shapes into themes for his urban inspired creations, either the piece dictating the idea or it being a contributing element. The original purpose of the found item is no longer relevant; rather the shape and how it can lend itself to the theme of the painting is all that matters. Viewing his paintings you may see throughout them puzzle pieces, numbers, letters, plumbing components, electronic gadgetry, trestle patterns, both geometric and anonymous shapes and many other pieces of "junk" that Rob has superimposed onto his canvas.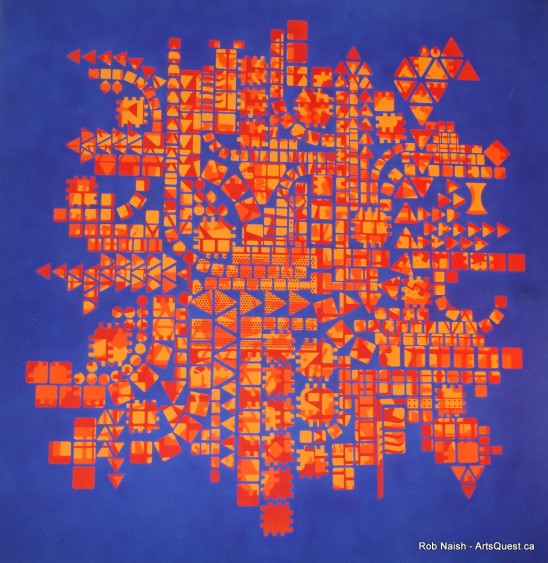 The fascinating aspect of this medium is in the mystery behind the stencils that he is using and how they will influence the final outcome of his piece. Seeing the individual objects and being told where he will put them still can't allow the imagination to fully put it all together and know what the whole visual impact will be upon completion. I can imagine the excitement and curiosity for Rob as the painting transforms with the colours and shapes and seeing his vision of the idea emerging, step by step, evolving by his suggestions of pieces and placement.
Come join us below in our interview with Rob to get a glimpse of his unique stencil painting style. We encourage you to leave a comment.