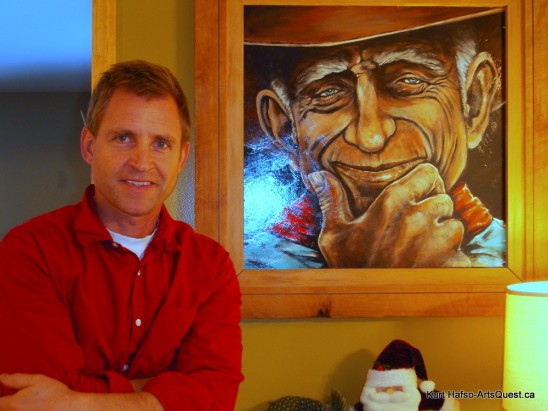 Our first look at Kurt Hafso's work was at a family get together in Calgary, where a friend of his who was there showed us his remarkable sketches on her iPhone. It was then that we knew we had to stop in and see Kurt when we made our way west to Vancouver Island to find out more about the man behind the pencil and the paint brush!
Kurt has been painting professionally since 1991 and as an illustrator, sketch artist, painter, coffee and pencil connoisseur, ice sculptor, …you name it, Kurt defines versatility within the eclectic mediums and subject matter that he skillfully undertakes! From a delicate, beautiful, romantic scene to hilarious cartoons, landscapes, fantasy, or the rough and tumble cowboy life depicted in scenes from the Calgary Stampede, Kurt's art work is varied and can take on many themes whether for personal or commercial purposes. He has not only created comics and cartoons for newspapers, but has also collaborated on children's books, one of them titled "The Frigets" where Kurt contributed the drawings for the project. Some of his work is greatly influenced by the country and western culture, and is evidenced by the many illustrations he has contributed to not only the cattle industry but likewise the cowboy and horse connection. Kurt's extensive body of work is indicative of a "no fear" attitude to creativity, and having worked previously at a graphic art and design company, being able to think on your feet is a must.
Kurt's latest interest has been sparked by a medium that he played around with in the early 1990s while sitting around at a Spruce Meadows art exhibit with some fellow artists. They were drawing cartoons of each other by dipping their paint brushes in their coffee to use as a pigment. What he discovered years later while digging up some of these old drawings is that the pigment hadn't faded, and had stayed just as rich in colour as the day he drew them. After experimenting Kurt found that some coffees would give a more reddish pigment while others would be darker brown. Since then Kurt has delved deeper into this niche and has provided commissioned drawings for not only corporate offices such as a Calgary law firm, but also for family portraits, favourite pets and fun filled vacation memories.
Click on the thumbnails below for the full picture!

When we had asked Kurt what his most memorable project was, he had indicated that a cartoon he had done of himself had proved to be most therapeutic for him in the aftermath of this dramatic story:
During one of the -40 Celsius days that can occur now and then in Alberta, he was undertaking to "thaw" out his truck engine by placing a light bulb near it and covered by a blanket. He had checked on it and all was okay, having done this many times in the past. Apparently some humidity had got in, a drop of water landing on the light bulb, blowing it up, and consequently setting his truck on fire! Grabbing the fire extinguisher, which he found to be empty, (which one of you kids has been playing with it?), he realized he couldn't throw water on it because of the plugged in cord, so he called 911. They weren't established yet in the area (early '90s), and so he grabbed the three kids and high tailed it out of there. Luckily the Penhold Airport control tower saw it and called the fire department to douse the truck, which was now fully ablaze and in ruins, before it could spread to his home. In the end, Kurt and the kids were safe, through a misunderstanding he didn't have fire insurance and he lost his favourite truck, and the cartoon he created made him feel a little better.
Be sure to check out Kurt's extensive portfolio and I encourage you to leave a comment!