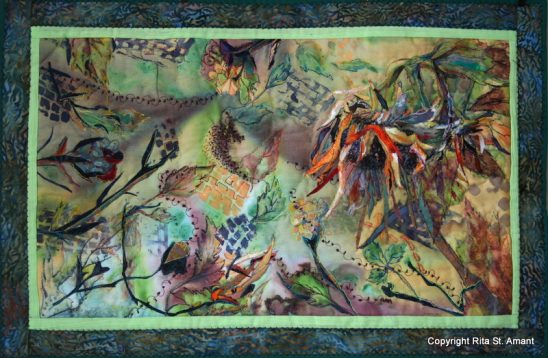 As we journeyed across Canada in search of artists to interview we passed through many larger urban centres, but mostly we came across the smaller towns as we traversed the roads less traveled. Willow Bunch in south central Saskatchewan was one such destination; a small town steeped in history, from its celebrated native son, giant and strongman Édouard Beaupré, to its connections to Jean-Louis Légaré and the famous Sioux leader Sitting Bull. It was here, in this pretty little town nestled within a small valley that we met up with fibre and mixed media artist Rita St. Amant.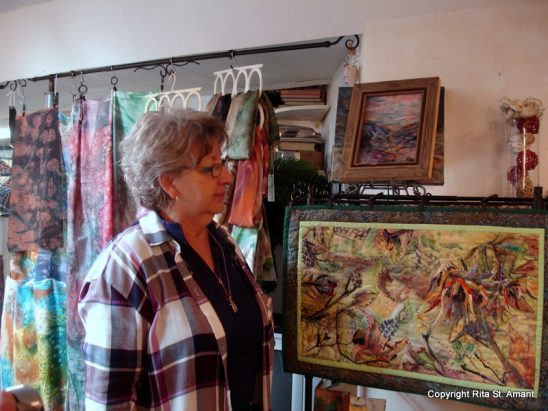 With a little trepidation we left Assiniboia and headed for Willow Bunch; Rita warning us of crater-sized potholes in the road that could swallow up our beloved 25 year old van Arty, or at the very least deliver a concussive blow. Also, Rita thought that her interview was for the day before our planned arrival. As it turned out our faithful chariot made it there in one piece and Rita was also still there, waiting for us with some carrot and zucchini cake, to be chased down with coffee and tea. So far so good.
Click on images to enlarge:

Descending to Rita's basement studio and gallery one might think of a dark workplace devoid of natural light, but the multitudes of brightly coloured fabrics in every corner and space defy any gloom, and instead greeted our eyes with gusto. Some fabrics rest in their completed forms as quilted art pieces, silks or scarves, while others are waiting to be transformed into her next idea. Rita hand dyes most of her own fabrics with very little usage of commercial product, and will employ different techniques to do so. She uses an ancient Japanese fabric dyeing technique called shibori; a method which can involve folding the fabric in certain configurations or also wrapping it around a foam noodle before dyeing to create stunning patterns. She will also bind stones of differing sizes in the fabric with elastics to create other engaging designs. Varying effects are also created with the use of stenciling, a potato masher, and even used dryer sheets. Rita's imagination reveals that there are endless possibilities for textile art and the mixed media that one can employ.
Click on images to enlarge:

Rita related to us that she has always wanted to be an artist, loving to draw as a little girl and then also moving into painting. She was influenced by her parents, with her father enjoying drawing and her mother being very artistic and involved with various crafts. Her first interest into the world of fibre arts came when she was at an art exhibit and was fascinated by the textile arts of Martha Cole, who proved to be a huge influence for Rita. That sparked her initial foray into fibre art and she hasn't looked back, with over ten years now of creating her own works of art. She notes that the feel of the cloth and the many varied forms of art one can do with it explains why she has taken to the textile arts, but also that the mixed media challenges her to grow and think outside the box. Though a self-taught artist, Rita enjoys the camaraderie that going to art retreats brings; sharing ideas and techniques with other artists.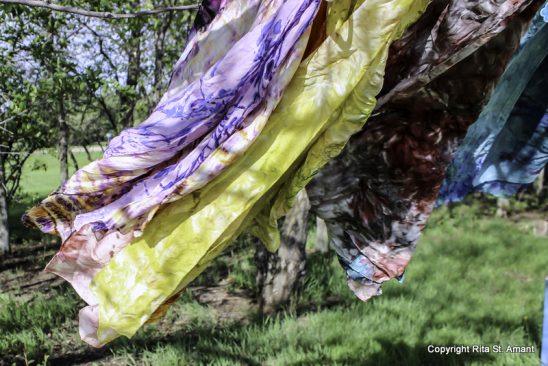 Click on images to enlarge:

Rita and her husband love to travel in their motor-home, and it is on these excursions that they both indulge in their pastimes and passions. He scours the landscape with his metal detector searching for buried treasure in the form of coins, while Rita takes her fabric dyeing process on the road with her. Depending on the area that they find themselves in, Rita will also include what she finds in these natural surroundings to incorporate into her fabric patterns, such as using varieties of leaves and plants. So whether at home or on the road, Rita's love for her natural surroundings and the colours and textures that it brings is always a source of awe and inspiration for her next project.
Learn more about Rita and her art work in our interview with her shown below. Feel free to share on social media and leave a comment below if you like.

Most of the time art can be expressed in an infinite number of ways; it is all a matter of imagining a creative idea in the minds eye and giving it a two or three dimensional life form in whatever medium is chosen. The choices can be endless. So in the case of a painting it could be on canvas or perhaps on silk, it could hang on the wall or sit on the couch.
We stopped in to see Clare Carver at Imagine That! Artisans' Designs in Duncan, B.C. on Vancouver Island where she is one of the founding members. The gallery is a cooperative of sorts and is wonderfully decorated with a broad range of the talents of local area artists. Looking around the space made me think of what Napoleon Hill once said, "Whatever the mind can conceive and believe, the mind can achieve."
Clare's work was displayed on the back wall in a rainbow of colours. She paints nature inspired themes on silk with vibrant eye catching dyes and then sews her creations into gorgeous throw pillows that would give the most drab, mundane looking chair or couch a wonderful new beginning. Why throw out your boring furniture for a new set when it would be much more affordable and fun to own a collection of Clare's creations, and give any room a fresh new look at the toss of a pillow? Some of Clare's other functional art includes silk painted scarves, purses and eye glass cases.
Please watch our interview with Clare as she walks us through the process of silk painting. We welcome you to leave a comment.