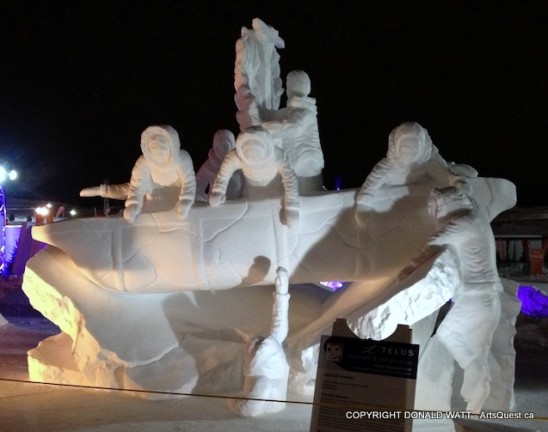 What does it mean to follow your dreams? For Whitehorse, Yukon snow carver and sculptor Donald Watt it started at age ten, wishing someday to carve snow at the famous Quebec Winter Carnival. He recalls as a young boy watching the promo film for the Carnival on television with his father and proclaiming his aspirations. His father's reply was that he was capable of doing anything he wanted. That stuck with him, and when Quebec invited Yukon to form a team for its national sculpture competition, he jumped at the chance. Donald not only lived his dream of carving in Quebec but has also seen victory as captain of Team Yukon, winning numerous times at the National and International Championships. Sadly, his father never got to see him carve in Quebec but Donald always pays homage to him by building an inukshuk from the initial chunks of snow removed as the carving begins to take shape. His father's presence is now with him at every event watching him carve. Now, with over 30 years of carving, numerous awards from around the world and doing 6-8 carvings per year, that adds up to a lot of carvings, a lot of experience, and a testament to the power of his passion.
Snow carving is unlike any other art form; its closest relatives being ice and sand carving. It is a medium that requires a great deal of planning because it is not only dependent upon ones carving skills, but the carver must adhere to the laws of physics and nature. With a starting block of snow typically weighing 20-40 tons, it is not uncommon for a suspended portion of snow to weigh a ton or more. So if the structural design pushes load-bearing limits, combined with challenging weather conditions such as rain, the sculpture could collapse and end up in a pile before it is even judged. Other considerations are working against the clock as well as observing the criteria that the judges are looking for. These include creativity and artistic merit, technical difficulties as well as adherence to the original design. The appreciation and awe of a completed snow sculpture is fleeting; a live in the moment type of art work that not long after leaves its legacy in the photographs, memories and a marred footprint of where it once stood.
Click on images to enlarge:

The process for completing a sculpture is always a team effort, and each team mate will lend their strengths to complement the whole. The 2014 World Tour team for Yukon is comprised of Donald, Michael Lane and Ken Anderson. Donald is the three dimensional specialist and will guide the team in the initial stages to taking away the major chunks and getting the sculpture to an impressionistic stage. Michael is the idea guy and detailed carver who will advise on the fine particulars, and Ken is a skilled first nations carver that will also lend the knowledge and detail required for the traditional northern and west coast first nations themes.
Click images to enlarge:

When he isn't carving snow Donald is still active in the arts. Formally trained in sculpture and printmaking, he enjoys helping out with three dimensional design; building and designing sets for the local theater groups as well as hiring himself out to the art department to design sets for movies that are filmed in the area. He also creates clay sculptures that he refers to as "fairies with attitude." These aren't your cutesy, pixie-like Tinkerbell fairies mind you; these have a personality all their own. Donald says that the idea for these fairies came from his Irish grandmother. She would always say, "Donald, you don't go in the back of the garden because that's where the fairies live, and they're not always nice!" So he decided to create these not-so-friendly looking fairies and give them some chutzpah. Why do people connect with Donald's fairies? Maybe they represent nonconformity; a rebellious free-spirit that doesn't care what people think of them or how they look. Maybe they depict the balance between the dark and the light; good and bad. Or, maybe they're just a whole lot of fun!
Click on images to enlarge:

For many artists there is the piéce de résistance that lingers in the back of their mind; the ultimate work or challenge that pushes them to their outer limit. Having traveled the world carving snow sculptures Donald's ultimate vision now is to go to Antarctica to carve the Robert Falcon Scott and Roald Amundsen expeditions. He wants to do a carving at Scott's Antarctica landing spot, showing him leaving for the South Pole heavily laden with all of his supplies. Then he will fly to the South Pole and do another carving showing Amundsen's arrival there with his sled dogs and planting the Norwegian flag, the first expedition to do so and beating Scott by thirty-four days. It is an enormous undertaking; requiring a lot of planning, permissions, safety logistics and funding, but having seen the journey and accomplishments of a wide-eyed young boy to where he is today, we don't doubt that Donald Watt can make it happen. Keep following the magnificent snow sculptures of Donald and his Team Yukon through his linked website Snowcarver.ca… and maybe leave a little room on your nightstand for a fairy to watch over you.
Learn more about the art and science of snow sculpture during our interview with Donald Watt, and we always welcome Comments and Sharing on social media: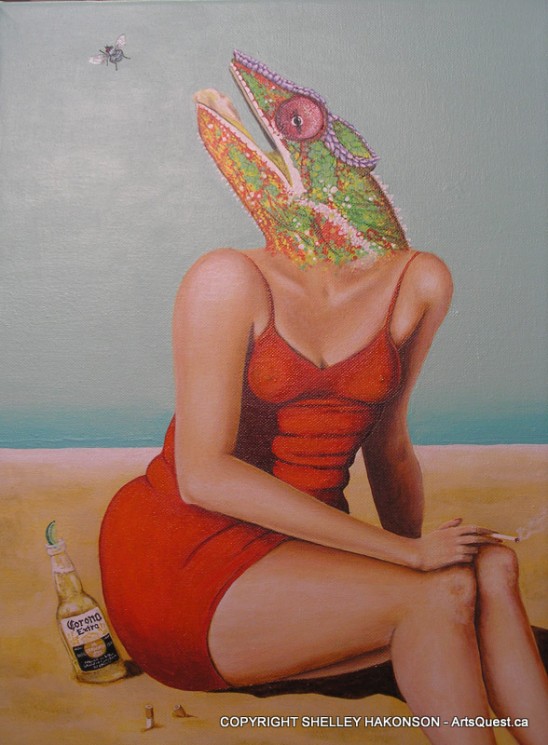 When we first arrived in Dawson City, Yukon on September 19 it was cold and snowing. Unfortunately we had just fried our electric heater the night before and had no choice but to find a store to purchase a new one. I was expecting to have to rob the nearest bank in order to pay for it but surprisingly the price was reasonable. We settled in for a cozy evening in Arty with anticipation of meeting visual mixed media artist Shelley Hakonson the next day. As I prefer to do with all the artists we interview, I went looking for some information about Shelley so I could come up with my own unique never-been-asked-before questions. I perused through her website, www.shelleyhakonson.com and found it to be most intriguing. Interestingly enough, after looking at Shelley's work and reading about her, I thought I was headed into a deep philosophical journey and pictured myself way over my head in Shelley's art arena. As I would come to find out my assumptions were unfounded.
More from the Heart Series. Click the thumbnail for a larger image and caption.

Dawson City is saturated with the past; clay roads, wooden board walks, surrounding gold mines and signs of the once bustling gold rush town lingering all around. It is basically open in the summer and closed in the winter. The mines shut down, tourists have retreated home, most merchants close up and the locals gather at Bombay Peggy's (a former brothel) for one last pint or two before the great migration, usually to some place warm. Shelley and her husband Greg participate in this exodus every year, traveling to places such as Russia and Italy. She packs along a sketchpad and notebook and as they travel gathers her inspiration for the following year's upcoming pieces.
From the Zoomorphic Series. Click the thumbnail for a larger image and caption.

What do Gary Larson of The Far Side fame and Indiana Jones have in common? Shelley Hakonson, of course! Shelley's interests are far reaching and a bit on the far side one might say. She is an avid reader and many of her ideas come from the English language. Her love of words, phrases and idioms are the subject of most of her work. For example, phrases become images and images become her art. In her Zoomorphics series she has taken a phrase like "fish out of water" and painted the body of a human with the head of the animal in reference. In this case her waggish imagination conjured up a woman's body with a fish head posing awkwardly in her dress and high heels. Although the painting might leave you scratching your head, Shelley provides us with a little more insight into where this oddity might have come from by giving us clues with an accompanying one liner caption. The rest of the story, she says, is for us to figure out however we like. It is her hope that the viewer will have fun and share in some of her lightheartedness.
From the Artefact Series. Click thumbnail for a larger image.

Shelley is also an ardent lover of different cultures and the mystery and intrigue that surrounds them. Before she became an acrylic painter much of what she did was mixed media textile art. When you walk into her home there are remnants of these pieces all around such as the Mongol Shaman Bag and the alien spacesuit pulled from a burning rubbish bin near Roswell and they all have a story associated with them. What is incredible is that her work is all hand stitched and is so intricate and detailed that some of the Artefacts, as she calls them, have fooled people into thinking that she and Greg had engaged in some archaeological discovery during their travels and brought back real artifacts. Remarkably, it is all Shelley; she finds something that interests her, does some research on the subject and then sets out to create her interpretation of it. Although based on facts, Shelley says she allows herself a liberal amount of creative freedom.
Click thumbnail to see the larger image.

The imagination and creativity of Shelley's work is endless. On the one hand she enjoys making people smile and laugh at her witty high jinks with preposterous portraits of common phrases and idioms we can all relate to, and on the other hand some of her work is passionately serious. There are many things in life that need to be brought to our attention and make us think. We are all inquisitive by nature and I believe Shelley really knows how to access that curiosity. She certainly did that for me.
Be sure to get to know Shelley as she shares with us her fun loving spirit expressed through her art. We love comments and please help us spread the word about Shelley by sharing/liking on social media. Thank you!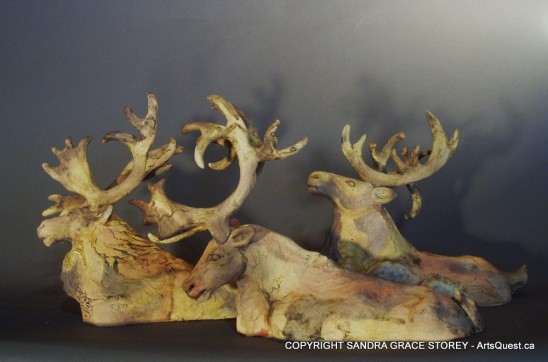 Our trip to the Yukon was certainly made pleasurable by the many talented and personable artists we met, but was also heightened by the expectation of glimpsing some of its local wildlife; possibly a wolf, a grizzly bear, or even that native northern ungulate, the caribou. What is the excitement, the awe, the breath quickly drawn in that we feel as we become aware of each others presence? Is there a bond or commonality that we humans share with these beasts? Are there subtle communications between us borne from ancient interactions with one another? What messages and stories are being sent to us that warrant reflection, and future action? Clay sculptor Sandra Grace Storey shares with us her exploration into some of these questions through her narrative art work.
Born and raised in the Yukon, Sandra has always had a connection to nature and its wild inhabitants. She notes that encounters with wildlife and meeting them eye to eye is a humbling experience and always invokes a feeling of wonder and awe. It is also a world that differs greatly from her early childhood when she suffered from asthma and was confined to an oxygen tent for great lengths of time. It was a sensory deprived environment that dissociated Sandra from the "outside" world. There was not much else for her to do but read to pass the time and so she indulged in tales of folklore, fables and Greek mythology. Ironically it was reading about these stories that was a catalyst to her current passion for exploring, creating stories and mythologizing her clay sculptures.
Using human and animal figures, Sandra's sculptures are metaphors for various aspects of life where she seeks to capture a moment in time of a particular story or happening, possibly with one of the many animals she has encountered during her lifetime. With unspoken communication Sandra celebrates this "gift" that these animals have given her by memorializing them in clay. The protagonist of her story may well be a raven, an owl, a rabbit or a bear; appearing as shamans and donning cloaks to hide their true power. Sandra believes that stories make us who we are, and we are all a culmination of our own life's events. In essence, the stories are about what has already happened, the communication and messages we receive from our environment and how we respond to them helps to build the next chapter in our life.
Click on images below for a larger view:

We asked Sandra why she likes to work with clay and her answer was quite profound. Besides the soft, tactile pleasure of handling the clay, she finds it soothing; almost meditative. Despite whatever emotions she may bring to the start of a piece, working with the clay seems to have a poultice effect, taking that energy from her and releasing it, allowing her to shape the piece with a clear and calm mind. In the end the piece almost always expresses a compassionate and calm demeanor, a reflection of her own emotional transformation. It's almost mystical, as if the clay itself had intention.
Sandra's clay works are intriguing. Sometimes they answer questions we may have about our own lives, and sometimes they lead to more questions. They stimulate our imagination and curiosity and help to strengthen our bonds with nature. They are loving and caring and certainly enjoyable to look at.
Enjoy our interview with Sandra below. We welcome Comments and Sharing on social media.