Life is a journey of discovery and learning, and the mediums for personal and professional exploration are endless. For some that inquisitive fervour may take them into the natural or social sciences, for others it could be a trip to the moon and back, while still others may devote their life to training their bodies and minds in the martial arts. For artist Sandy Troudt that constant curiosity has been a life-long journey into the artistic realm of her paintings, print making and mixed media. For as long as she can remember Sandy has always wanted to paint, and it was a wonderful experience in seventh grade that affirmed her need to pursue it. As a career educator she shared that passion with her elementary students and other teachers alike through curriculum and workshops. Sandy recognizes that her own learning has evolved from mentoring by many notable artists as well as an arts community which provides another integral part to the growth experience and personal artistic journey. Unable to seriously devote her time to art while dedicating thirty-two years to teaching, it was upon retirement that Sandy now felt it was her time to pursue her passion in earnest, and that thirst for learning and her pleasure for the paint brush has never waned.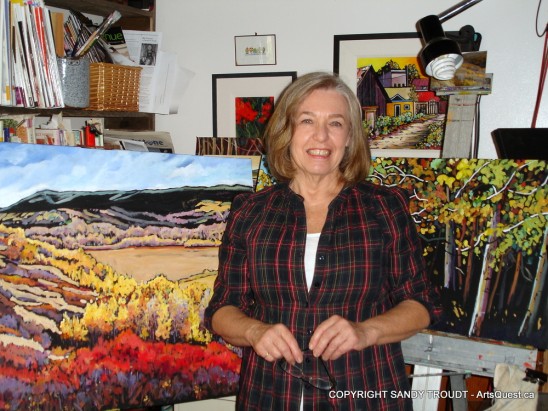 Sandy and her husband Dennis live in the house they built in a picturesque rural area outside of Fort St. John. It is a place devoid of traffic noise and city lights, where the only onlookers might be a deer, a moose, or any one of nature's wild inhabitants indigenous to the Peace region. It was this beauty and proximity to the wilderness that attracted them to this area, and Sandy draws endless inspiration from this natural environment. It is also an area rich in history from a pioneering way of life, and Sandy marvels at the challenges that the early settlers faced. The remnants of those bygone days still cling to the present whether as a rusting old truck, farm implement or weathered and sagging barn. They all provide engaging subject matter for Sandy's creativity.
Click on images to enlarge:

With her appetite for discovery, Sandy has always pursued a variety of art media. She believes that the learning one gains from working with one medium can easily transfer to using another. She loves change and is always trying to find a better way of doing things. Sandy will ask herself, "What if I did this or tried that?" and admits that it is sometimes difficult to stay on track with her enquiring mind eager to get started on new ideas. With one painting finished and a lesson or two learned she is off on another adventure of problem solving and the joy of discovery begins once again.
Click on images to enlarge:

Sandy's paintings will grab your attention; the bold colours and contrasts inviting you in for a closer look. The scene is appealing and recognizable yet gives in to the imagination and loses the strict boundaries of realism. The effect is eye-catching, and is meant to evoke emotion rather than just recognition. Sandy notes that colour relationships are very important Capturing the essence and liveliness of the scene that she felt when first witnessing it is her goal and what she hopes to portray to others. Sandy will paint from a photograph but the similarity ends there. She notes, "I do not want anything I paint to look just like the photograph. I want to liven things up a bit…a photo reference is only the beginning…so I go a bit crazy sometimes…I can't help it!" Chatting with Sandy her enthusiasm is palpable, and the joie de vivre she exhibits lives on through her art work.
For Sandy the joy of being an artist is the fun of experimenting, the discovery of new techniques, colour variations that really work together, and the thrill of change. Adhering to the guidelines of colour theory, composition and balance is still important, but allowing uninhibited creative license to amuse and amaze herself is essential to following her passion. To enjoy more of Sandy's art work (click here) to access her website.
Enjoy our interview with Sandy and we welcome you to comment below and share on social media and through email.

Usually the pulse of a small community can be intrinsically linked to how people make a living. In the case of Dawson City, Yukon this pulse mainly comes from mining and tourism, both being seasonal industries. Dawson City is the northernmost community in the Yukon accessible by road. What one might surmise is that the geographical location presents some economic limitations to its 1300 permanent residents. However, necessity is the mother of invention, or in this case inspiration. Back in 1998 two visionary people, John Steins and Greg Hakonson, decided to start the Klondike Institute of Art and Culture. There was, after all, an abundance of creative people living in Dawson City so it seemed like the logical thing to do. This impetus eventually initiated the opening of the Yukon School of Visual Arts, Canada's northernmost accredited art college which attracts students from all over the world. Now, Dawson City can add thriving art community to its pulse.
Please click on thumbnails to view a larger image.

We had the pleasure of catching up with printmaker John Steins for our third and final interview in Dawson City. He is a former Mayor of the Yukon community and the only person in town who owns a Jaguar. I mention the car because part of the tourism appeal for Dawson City is the preservation of its Goldrush heritage which includes wooden boardwalks and clay roads and is an unlikely place to find an exotic automobile. As well as those two fun facts about John, he also has a diversified artistic background, everything from sculpture and music to his 35 year love affair with printmaking. I enjoyed chatting with John as he gave me a new perspective on the art. I wondered why a person would go to all the trouble of carving or engraving a piece of lino or wood, roll ink onto its surface and then transfer it onto paper. Why not just cut out the middleman and go straight to the paper with your ink or paint? Sure, the print is what you and I get to enjoy as it hangs on our walls but to the printmaker the art is actually the block that is carved. In his time spent with printmaking, John has engraved countless images, everything from animals, landscapes, portraits and even political figures which satisfies his activism side. He chuckled as he pointed out that there is no lack of subject matter when it comes to politics.
Please click on the thumbnails below to view a larger image.

Part of John's love for printmaking is the craft that is involved and the problem solving that goes along with it. He explained that artists are great problem solvers as the very act of creating lends itself to figuring out how something is going to be done in order to get to the desired result. Not long before we arrived, John was one of several printmakers in the region who participated in the Extreme Steamroller Printmaking event held in Whitehorse, Yukon. The woodcuts and the final prints were 48″ X 40″. Having to create a woodcut of this stature requires rigorous thought especially taking into consideration the weight of the pressing machine, in this case the steamroller. John's problem solving didn't end there as he set out to recreate the smallest wood engraving he has ever done (2.5 inches square) and make it into his biggest woodcut creation. Whether it be size or the subject matter he wants to represent in print form the challenges always present themselves and the fun of rising to overcome them makes it a great day for the printmaker.
You can see more of John's work by clicking here.
Please join us as we introduce you to John Steins and his world of printmaking. Also, we really enjoy comments and appreciate you taking the time to share them as well as spreading the news about John on social media.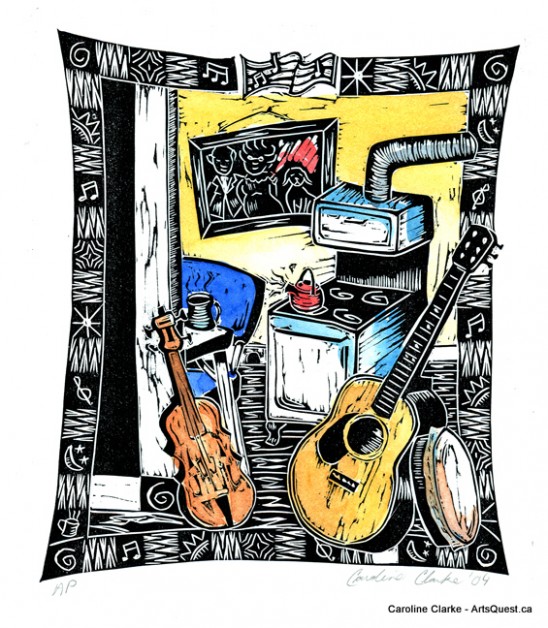 One of the things I have noticed on our journey to the smaller and the smallest communities of Canada is that people have a devoted connection to the place where they grew up. This is probably why many of these places still exist today. Newfoundland and Labrador is a great example of one province, one community. Although the island is a giant rock, people's roots grow deep and stretch far.
This feeling of commitment to community was one of the things I really noticed I had missed growing up in the west and even still today. When we met Caroline Clarke, this was one of the first points she brought up and why 12 years earlier, her and her husband decided to dig up their shallow roots in BC to become permanent residents of St. John's, Newfoundland.
Caroline is in love with the arts. She has had a lifelong bond to music and the visual arts since she was a girl. Her father played the accordion and her mother was a painter, and although the arts were important in their life, it wasn't something they considered to be a good career choice for Caroline. As it turns out, she found she could have the best of both worlds. Caroline is a graphic designer by day and works on her visual art and music the rest of the time. This is her lifestyle.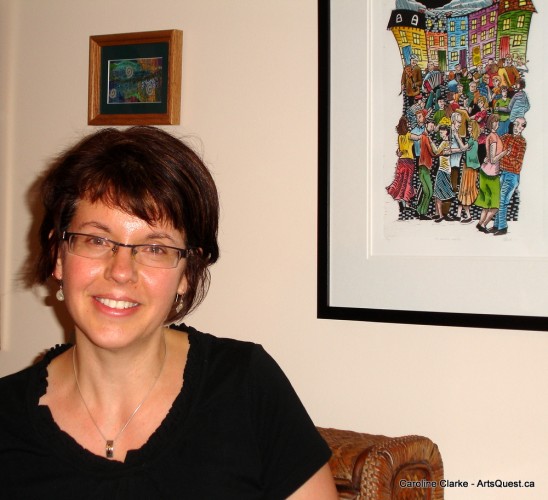 Recently, Caroline married her two loves in a collaborative effort with her friends. She asked the people she shares music with what their favorite Newfoundland song is and she integrated those songs into a glorious print representing her community circle on their Tuesday night jam sessions. Her prints are about relationships and the people who helped her find her home and set deep roots. These folks are the inspiration that tunes in her creative channel.
Caroline practises the oldest form of printmaking. Pretty much any surface that you can carve an image or design into can be used to create a print. Even an orange could be used, although it wouldn't go through the press very well! In this case, linoleum is her substrate and she is grateful to have an endless supply of lino from the local flooring store. The skill in printmaking comes from thinking backwards. The image you want to capture on paper is the part that is carved away. The negative space will actually become the positive space for the finished print. Preparing the surface for printing is in itself an art. I wondered why she wouldn't just paint her images instead of going through what seems like a lot of trouble. Caroline said she used to paint but found that it never quenched her creativity like printmaking did. She loves to work with her hands and she was always attracted to posters, so printmaking was the better match.
I love Caroline's style. She draws you a story of people and the simple joys in life that we never seem to get enough of. When I look at her printed artwork it makes me feel good. It is something you can hang on the wall and smile each time you look at it. The characters are boldly outlined which makes the story even more vivid, and their personalities come to life with the hand tinted colouring she does; personal to each one. I think the care and attention Caroline puts into her artwork and her music is a testament to her friendship and the community she holds close to her heart.
Click on the thumbnails below and be even more amazed!