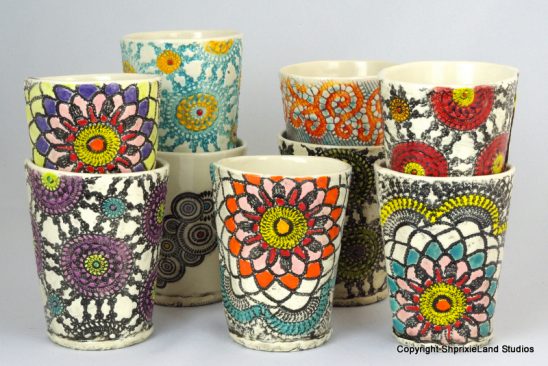 If you have seen the colourful pottery works of ShprixieLand Studios from Boswell, B.C. and thought, "How fun! How Playful! How Unique", and wondered what the artists were like, well those same descriptors will ring true once you have met Heath Carra and Victoria Henriksen, also known as Shpriken and Pixie. Our first glimpse of these fine folks was when they contacted us wishing to contribute some pottery to our now defunct crowdfunding campaign. We loved their work and wanted to interview them, and despite not living far apart from one another it took awhile to meet up. So here we are, after tooth extraction appointments and date changes we have finally arrived at the base of their driveway, this last obstacle almost requiring four wheel drive for our over-weight and under-powered van Arty.
Like many people living in the Kootenays of B.C. (including us), Pixie and Shpriken relocated from a bigger city to forge a different way of life for themselves. After checking out fourteen homes through a Creston realtor, they found their scenic oasis overlooking the pristine waters of Kootenay Lake in Boswell. Pixie having come from art and design school and Shpriken a background in sheet metal layout, they discovered new opportunities for growth and a new learning curve for all that living in a rural area entailed, such as chopping wood for heating, raising chickens and pigs, and being the head fixer-upper for anything and everything. It also meant finding a way to earn an income, and although they acted on a whim to move, with no plans for work once they got there, it is, ironically, these urges of let's give it a try that has lent itself well to their creative process and now successful pottery business.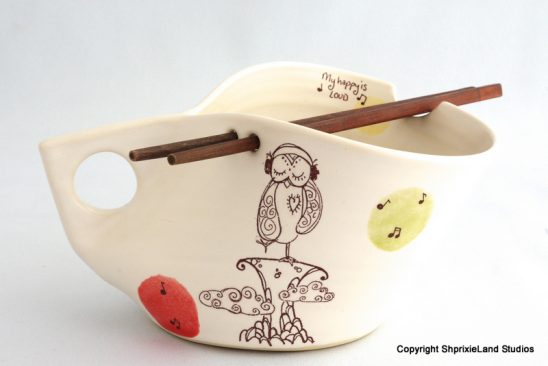 Click on images to enlarge:

We learned from these two artists that their art work, like their lives together, are a weave of collaboration, friendship, fun, and propping each other up when needed. It was Pixie who was the ceramic artist arriving in Boswell with the design and wheel-throwing skills, and Shpriken, the mathematics minded handy guy who built her a pottery studio and fixed stuff up where needed. What he found through hanging around Pixie in the studio though is that his knowledge of sheet metal layout crossed over to hand-building clay pieces from slab layout design. From these beginnings their pottery lines have expanded with their imaginations, in many cases incorporating decals that they have made of images and phrases to be imprinted on their mugs, tumblers and rice bowls. You will see fun pieces ranging from adorable animal caricatures with happy sayings, to the risqué humour of their Educational Wildlife Mugs, a light-hearted series for the less prudish. And if you thought that doilies had gone out of style for your table-top accoutrements then wait until you see these designs pressed into a mug or teapot, creating an eye-popping effect. (At the risk of sounding less dudeish Shpriken proudly acknowledges his huge collection of doilies).
Click on images to enlarge:

The Shprixies note that although the merit of the artistry and decoration of a piece is important, the shape of the clay vessel must still be fully functional for day to day use. A visually appealing mug will be pleasing to the eye, but one that can be held in the hands with a steaming cup of tea or coffee will also engage the tactile senses, and some may argue even elevating the enjoyment of the beverage. Likewise, a piece hand-made by an artist, where their creative energies have lovingly transformed a piece of clay into a "friend" that speaks to you through the colour and texture of its glazes, the shape of the handle perfectly within your grasp, or the image of a cute owl bringing a smile to your face, will stir the soul unlike anything that a mass produced machine molded mug could ever do.
Enjoy our interview with these high-energy partners in pottery and please help to spread the word about them through social media, with nice comments submitted below for those so inclined.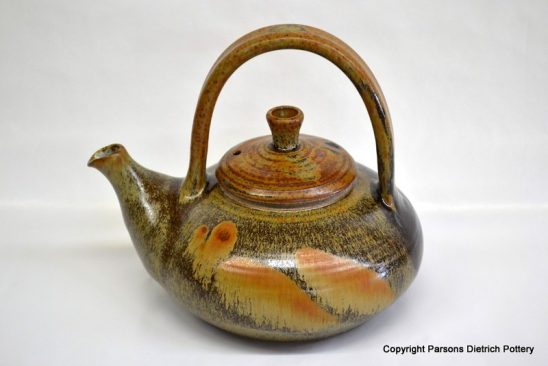 Today we went to church. Or rather, it used to be a church, now it is a pottery studio/gallery and the creators we were meeting this day were Wendy, Zach and Devon, a family of ceramic artists and owners of Parsons Dietrich Pottery in Moose Jaw, Saskatchewan. Prior to being moved to its current location by the previous owners, the little church had been abandoned and last used in the 1960s. As we walked through the front doors to the wonderfully displayed gallery, we thought what better venue to create and display artistic and functional ceramics than a building of unique architecture and a work of art on its own? While we waited for Wendy to finish up with some customers Zach took us on an educational tour of the studio; explaining the processes, equipment, glazes and function of their kilns, which include wood, gas, electric and soon-to-be soda-fired.
Wendy Parsons and Zach Dietrich have had their hands in the clay for over forty years now, and the road to their historic church storefront started in the 1970s when they met at university in Regina. A pioneering spirit then led them to a three year adventure in northern Saskatchewan building a log cabin, growing a garden and building a wood-fired kiln in a back-to-the-land lifestyle. The hard work was satisfying but the isolation of their homestead did not serve their needs for reaching the "outside" world with their pottery. So in 1980 they moved to Moose Jaw; first renting out the church basement for pottery production and then eventually buying the building.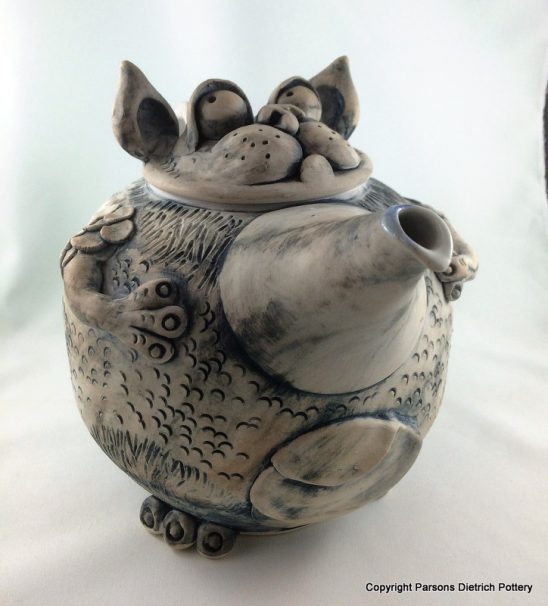 Click on images to enlarge:

We've all heard the stereotypical concern of parents worried about their children going off to become an artist as opposed to getting a "real" job. Fortunately, their son Devon grew up without those preconceptions; his parents quashing any doubts by their own example, with Zach and Wendy finding early on in their careers a receptive public buying their work. They realized back then at these sold-out fairs that they could indeed make a living selling pottery. Apprenticing under his parents, Devon now has many years of pottery throwing and hand-building under his belt and is continuing to develop his own style.
Click on images to enlarge:

Zach, Wendy and Devon each contribute to the business in their own ways and with their own style and preference to form. Wendy loves to teach, and will provide workshops to supplement the pottery production. Her style lends itself to both the figurative and fun side as well as the artistic narrative side. She loves to tell a story through her pieces, and her 'roundel series' exemplifies that quality. She had interviewed numerous farmers and learned of their stories of life on the farm, including hardship and perseverance in the face of daunting circumstances, be it from low grain prices, havoc-wreaking weather, or diseased livestock. These roundels tell their story. Her artistry also shines in her figurative pieces, whether on her own or in collaborated works with Zach such as on the cookie jars and tea pots.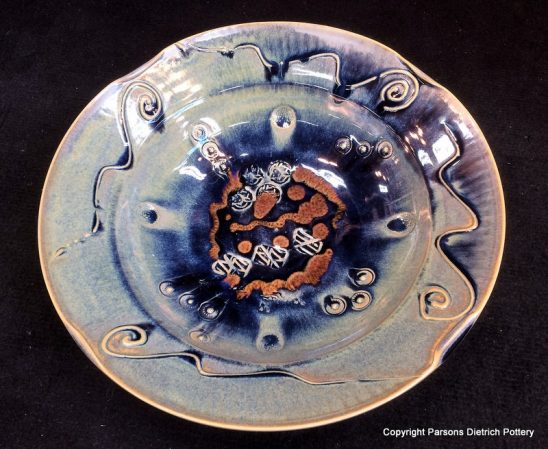 Click on images to enlarge:

With tongue in cheek, Zach notes that his germanic heritage encourages pottery production…and more pottery production! Undeniably his decades of experience throwing clay shows in the yielding of many beautiful and elegant functional pieces of pottery, and he admits that he is gratified more by bringing well-turned pieces into the world than on other more time consuming works. But on occasion Zach has stepped away from his prolific specialty to indulge in other interesting projects, such as the series of tile wall pieces he created and framed in wood, or a school project where the children made tiles from start to finish and were then attached to a constructed wood bench.
Click on images to enlarge:

Devon enjoys specializing in the hand-building methods of clay including both figurative works as well as experimenting with different functional designs, such as his wave handle mug, a signature piece of his. Being science-minded he also takes on the task of testing out and mixing the different glazes to see which ones will be suitable for their clay pieces, both in consistency and colour. The three potters will also collaborate on work, helping to glaze each other's pieces or decorating with hand-building to arrive at the finished product.
So when you are passing by Moose Jaw on the highway and you see the little white church of Parsons Dietrich Pottery, stop in to say hi to Wendy, Zach and Devon and take a look around.
Enjoy our video interview below and feel free to share on social media. Nice comments are always welcome too!

You know the type, a guy that seems to be able to do it all; fix anything, create anything, with the only limitations being that of his own imagination. Meet artist Jeff Morris of Portage la Prairie, Manitoba, a man with a vast imagination and seemingly no limitations to his creativity. When we arrived at his studio and gallery a few miles north of town we thought we were interviewing Jeff Morris the artist, but what we found in addition to that was also an inventor and explorer; a Renaissance man of sorts.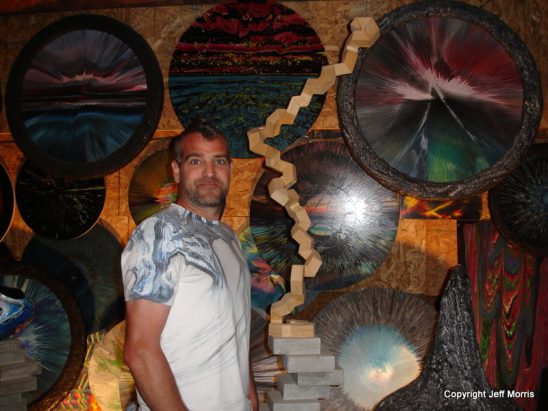 Jeff Morris has always liked to create things, starting off as a youngster with the basics of a hammer, some wood and some ideas. It seemed like a logical choice then that he go into carpentry after high school, giving him the satisfaction of building functional wood structures and earning a living. And although he enjoyed it, he wasn't able to unleash the creativity that was brewing inside of him, so he decided to transfer his wood construction skills into his artistic side and put the fun back into functional. The result has been not only beautiful and innovative wood pieces, but also Jeff's expansion of creativity into other mediums.
Click on images to enlarge:

When we spoke with Jeff about what drives his art he kept coming back to his thirst for learning and discovery. Always experimenting with different techniques and having no shortage of new ideas, his curiosity is endless and is reflected in the variety of media he has his hands in such as concrete, wood, photography, painting and pottery. While he was giving us a tour of his spacious studio and workshop he also pointed out other inventive projects, such as the drum set he made from used propane cylinders; see video HERE, as well as the new musical instrument he made from the inner workings of a piano. If whiskey and slide guitar are more your style then check out the whiskey tumbler and glass slide that Jeff made from a whiskey bottle; see video HERE.
Click on images to enlarge:

Jeff admits that his projects are not based on the path of least resistance principle, and he likes it that way. Rather his methods are based more on his quest to satisfy his curiosity and the inherent challenges that come with it. For instance, buying clay for pottery is not too costly, but his discovery of a clay source along the Assiniboine River while he was out kayaking led him to hand dig and haul out a lifetime supply of clay; an enormous physical task. After testing out the initial few hundred pounds of clay with a couple of local potters and then researching the correct combination of additives to make successful pots, he now uses only the Assiniboine clay for all of his pieces.
One of the great messages that we took away from our visit with Jeff was that creating art, or any other project, does not have to involve expensive supplies that can stop you before you begin. If a person has a creative urge just waiting to burst from within them, just a little extra work using re-purposed or scrap items or even paints from a building supply store (Jeff's not-so-secret supply), can get anyone started. In many cases Jeff's creativity and innovation has lent itself to just providing the materials themselves for the project before the work on the artistic piece has even begun. Although the proverb "Necessity is the mother of invention" may apply to finding a solution through lack of financial means, for Jeff it means a necessity for trying new, unconventional, or historical methods that stoke his curiosity and that gives him a satisfaction of having taken the road less traveled to discovery. When asked if there were other mediums that he would to like to explore Jeff mentioned glass blowing but that it is quite a pricey endeavour. We don't doubt that one day, somehow, Jeff will find a way.
Enjoy our interview with Jeff and this glimpse into his artistic life. Feel free to share his story on social media and email, with nice comments submitted below always welcome.