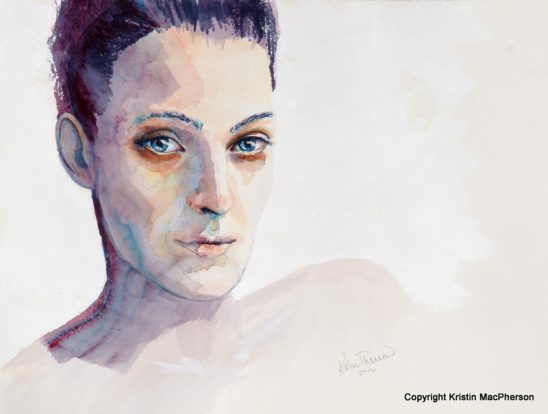 Most of us are familiar with the saying the eyes are the windows to the soul, but did you know that this isn't just a metaphor? There is scientific evidence that indicates a person's eyes really are a window; to their feelings or intentions. Facial expressions can be forced, such as with a smile, but our eyes reveal all so our natural tendency is to avoid excessive eye contact because, for the most part, it makes us feel vulnerable and uncomfortable. The eyes also affirm beauty, peace, happiness, contentment and so many other things that make us want to get to know someone. When we sat down with Kristin MacPherson she revealed to us, not through her eyes, but through her art that it is this physical feature that ignites her curiosity and compels her to want to make people's faces the subject of many of her paintings and photographs.
As with many artists, Kristin grew up in a family of creative people, (parents, grandparents, aunts and uncles) each accompanied with tons of encouragement for Kristin to express herself creatively. When it was time to choose an education the likely candidate was a Bachelor of Fine Arts degree but the perceived reality was to find something that would land her a job. It turns out that photography was the path she would take, and although she didn't realize it at the time it has played an important role helping her become the artist she is today.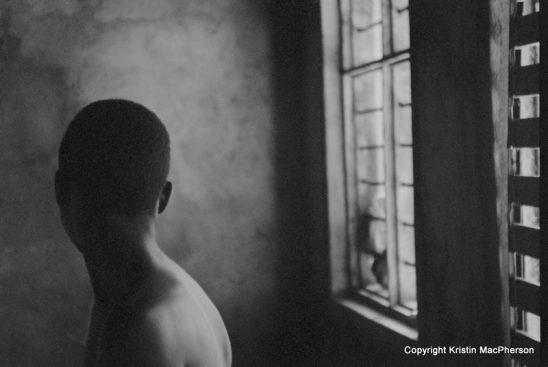 Click the thumbnail to view a larger image.

When we arrived at Kristin's home where she lives with her husband, three daughters, two dachshunds and her '53 Buick named Lenore it was easy to see we were entering the home of an artist. There are often signs An Artist Lives Here by the paintings on the wall, or the sculptures on the mantel, but more often than not the art studio is tucked away in a spare room, garage or basement area where the artist has the option of "To be tidy or not to be tidy? That is the question". In Kristin's case, the front room is her art studio, up front and center for all who enter the house to see. It was pretty tidy too! An advantage? A disadvantage? Perhaps. Or maybe to Kristin it doesn't much matter either way. Paraphrasing, she looked at us and said, "it's the room in the house we don't use so it just made sense".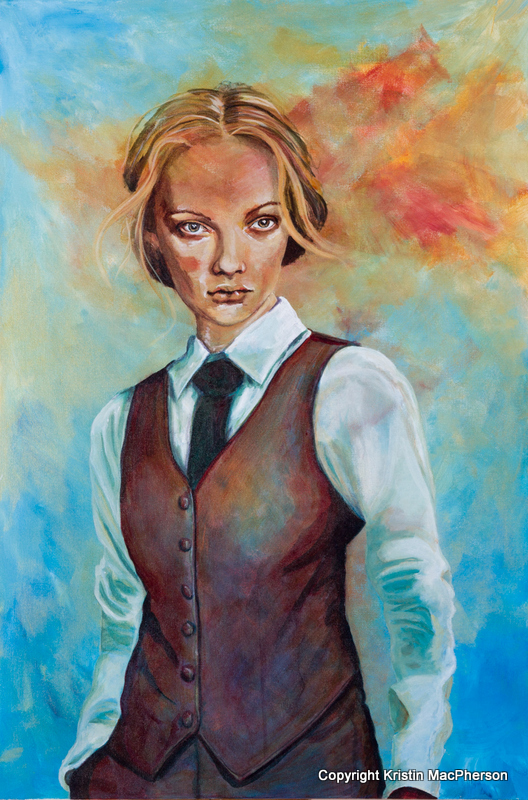 Click the thumbnail to view a larger image.

Although Kristin took applied photography in school, and it is in itself a form of art, her first love is painting. When I first looked at Kristin's work I thought she was a watercolour painter but she actually uses acrylics. Her palette usually consists of only five colours and Kristin likes to keep it as simple as that. When she paints, her focus is on the eyes. That is not to say that the rest of the piece is not important but the eyes need to reveal themselves to her before she is satisfied that it is complete. It really excites her when the unexpected happens; the loose brush strokes and the paint gain a mind of their own, overlapping in shapes and patterns and flaunting randomness in such a way it gives the piece a free-spirited look.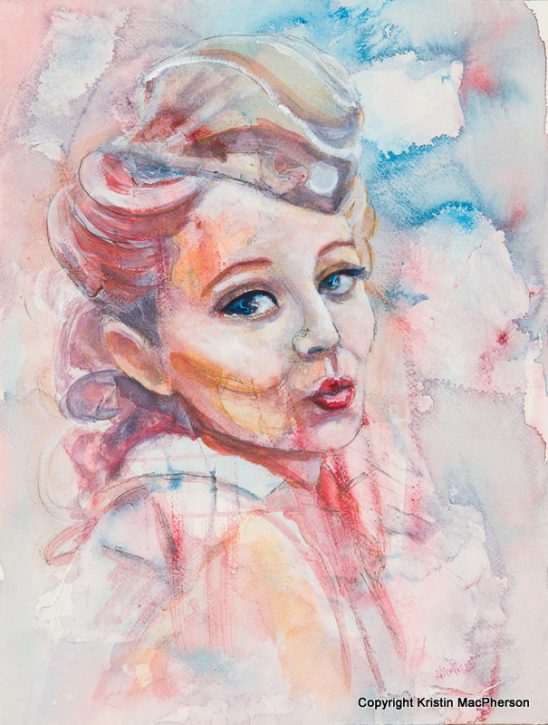 During our interview Kristin proclaimed that she has never taken a painting class and is solely self taught. She did say that it was photography that played a large role in making her a better painter. She spends a lot of time as a professional getting in other peoples faces so to speak. Those close-up shots have given her the opportunity to study the features of the face in great detail and with willing participants. I think the camera provides a barrier between photographer and subject which gives them each a safe place to look into each others eyes. Kristin gets to have a glimpse of the real person behind those eyes and her subject feels relaxed while this takes place. Photography has also enabled Kristin to see the element of light as she paints. Being able to see light and how it wraps itself around objects helps to bring her subjects to life on the canvas.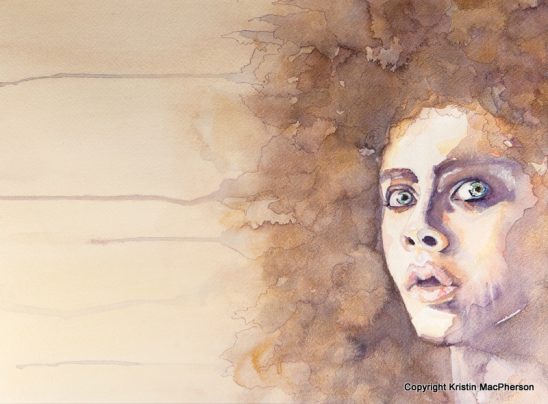 Click the thumbnail to view a larger image.

Kristin's fascination with what makes a person tick gives her the exuberance that is needed to go beyond just taking a picture or painting a piece. She works to bring that person out from behind those eyes, to tell their story, to show what really makes them who they are and not what their exterior projects them to be.
We invite you to watch and listen to Kristin as she shares more with us. We encourage you to help us spread the word about Kristin and her art on social media (for your convenience we have provided the buttons below). One more thing; we love comments so please feel free to leave a nice one below. With much gratitude, Corinne and Gary