The last stop for our travels along the halcyon highway of the Sunshine Coast of B.C. brought us to the small oceanfront community of Gibsons. It was almost thirteen years ago that Corinne and I first set foot in this charming town which was the launch point for our motor-home honeymoon. Made famous for the television series The Beachcombers and its landmark cafe Molly's Reach, today this peaceful locale is not only recognized for its past fame, outdoor pursuits and quality of living, but also as a destination for its thriving arts and culture community. Our visit today brought us to the home of one such artist, luthier and musician Dan Richter of Dragonfly Guitars.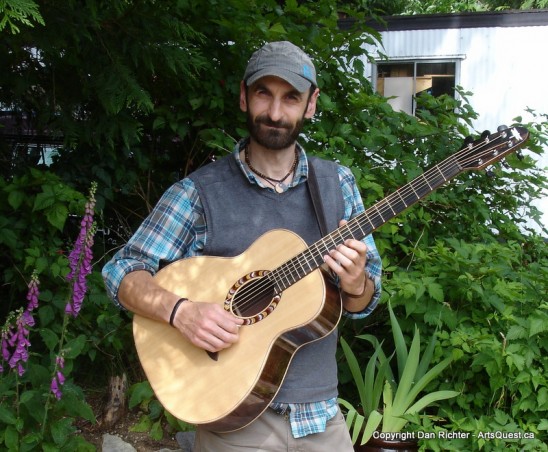 Dan's passion for music has permeated throughout his life. Discovering his love for playing guitar at an early age, his first riffs resonated with heavy rock and roll from a Larrivée Flying V electric guitar. He then sought out work with renowned luthier Jean Larrivée in his North Vancouver guitar manufacturing facility. There, fellow employees would bring in their hand-made guitars which were projects from a Douglas College course taught by west coast luthier Michael Dunn. It was during that time that the initial spark for making stringed instruments began. Dan took a course from notable luthier David Freeman, honed his skills on his own, and has now been hand-crafting one-of-a-kind stringed instruments for almost twenty years under the moniker of Dragonfly Guitars. Quite often the student becomes the teacher, and Dan's affable nature lends itself well to the comprehensive six week luthier course that he teaches. Each of his students walks away with the pride and satisfaction of having hand-crafted their own stringed instrument from beginning to end.
Click on image to enlarge:

For those that enjoy the feel and fit of a finely tailored suit versus buying off the rack, that same appreciation will extend to a quality, hand-crafted stringed instrument that was made just for you. Dan notes that aside from adhering to the technical guidelines needed to create the primary characteristic of great sound, there are various personal touches that can be built in to enhance both the playability and aesthetics of the instrument. Innovations such as beveling sharp edges for comfort, a top sound hole for better player audio feedback, adapting scale length for smaller hands, and utilizing the Manzer wedge (narrower at top/thicker at bottom) are just some of the ergonomic modifications that will increase the comfort and enjoyment while playing one of his Dragonfly Guitars. Choice of colours from the different woods, personal inlay work and the different shapes to choose from will also set his guitars apart from the factory made counterpart.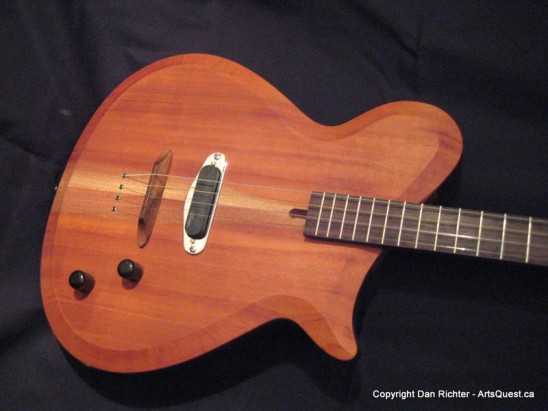 Click on image to enlarge:

Whether making guitars, fixing them, teaching others to make them or playing in a band, music has always been an integral part of Dan's life. From his early years of rock and roll to now a member of the highly acclaimed four piece string-band The Rakish Angles, Dan feels fortunate that he and his band-mates appreciate a wide variety of music. Entertaining their audiences with an eclectic array of offerings spanning newgrass, jazz, Latin, Celtic and folk music, he says that they do not limit themselves to any certain style and that this has worked well to satisfy both their freedom for creative expression and the varied tastes of their audiences.
Whet your appetite with the tune 'Swingin' the World by the Tail' from The Rakish Angles and their Cottonwood Moon CD:

Learn more about Dan Richter and his world of lutherie and music in our interview with him below. Please feel free to leave a comment and share on your social media and email. Thank you!
When I first heard of Horsefly, B.C. several years back, I was always curious as to what a place named after a flesh eating insect would be like, who would be living there and why would they stay? From my past experience canoeing in Northern Saskatchewan, I had many unwanted encounters with the little black beasties and their big bite and so it briefly crossed my mind about Horsefly's horsefly population. It turns out that names can be just as deceiving as appearances. Horsefly, B.C. is a beautiful little place full of serenity and mesmerizing beauty. It is the kind of place where you can take a good long breath in and become intoxicated on pure, clean air. It has a general store, a fire hall and a wooden slat vehicle bridge spanning the Horsefly River. As well, I am happy to report, at the time we visited, there were no horseflies. My guess is that some wise person wanted Horsefly to remain as we see it today and thought by naming it after those blood thirsty insects that its natural charm and all the things the residents of Horsefly love about it would remain pristine. After all, who would want to go to a place called Horsefly?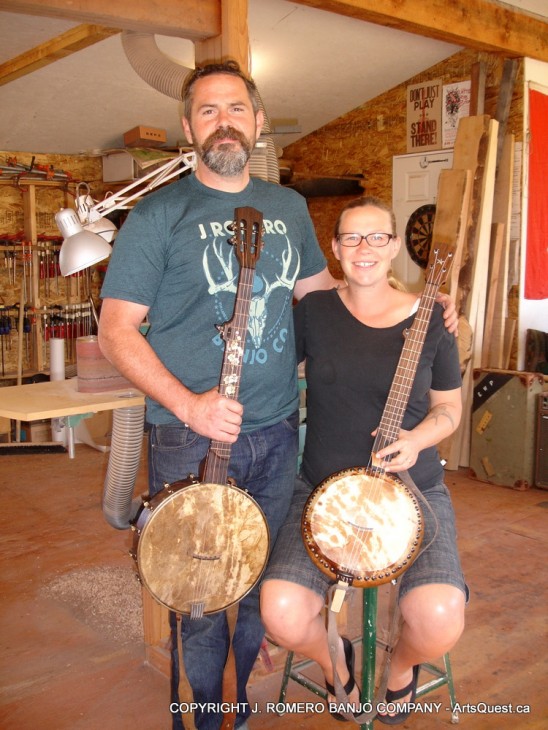 It just so happened that the chance to satisfy my curiosity would come when we found Pharis and Jason Romero of the J. Romero Banjo Company in Horsefly, B.C. They have been successfully crafting one-of-a-kind custom banjos for people for several years now. And when they are not working in their shop you can find them on the road entertaining folks with their songs and beguiling banjo music. Their story began several years earlier. Jason was building the J. Romero Banjo Company in Northern California and playing in a band and not too far away Pharis was writing songs and entertaining people with her own band. Unbeknownst to them a respective friend would change their lives by insisting that they meet. It was love at first sound! Both Jason and Pharis discovered they had a mutual passion for old time music from the 20's and 30's and so the logical thing to do after three months was to get married. My first question was how do two people who are successfully crafting banjos and actively entertaining people from all around the world with their music find themselves in Horsefly, a tiny out of the way place with no through road and a population of approximately a thousand people. It turns out that Pharis is the fifth generation to grow up in Horsefly although she did leave home when she was sixteen. Jason always wanted to live in B.C. given the right circumstances and so the obvious choice became building a life together back in the small community where Pharis was born.
They bought a beautiful parcel of land with the Horsefly River ambling throughout the property and it is just a stone's throw away from their house. Before we got started with the interview, Pharis kindly took us for a short walkabout. It is easy to imagine what it must be like waking up every morning in a place such as this; stepping out into the fresh morning air and having Mother Nature greet you in all her splendour. Each day finds Pharis and Jason in their wood shop working side by side. Jason artistically handcrafts each and every banjo and Pharis does the inlay work which adds a personal touch and contributes to the banjos lustrous beauty. Jason spends much of his day in the shop and when there is no inlay work to be done, Pharis is taking care of orders, updating their website and working on new songs for their performances together. Often they will be listening to music on the radio while they work, always ready to grab a banjo or guitar when they hear an unfamiliar song that piques their curiosity. As Jason says with a big smile, "It's part of the job."
Jason and Pharis's work is exquisite and I guess that would explain the 3 year waiting list they currently have. They have created a niche by crafting the entire banjo family from Ukuleles to Cellos and even Gourd banjos. Jason designs his hardware out of carved pieces of wood which are cast into a mold and then a local metal smith makes them out of brass. Pharis designs and carves the inlay material for the banjo. It is so well done that you would think it was originally part of the raw piece of wood. Everything on their banjos is handmade with the exception of the tuners. Over the years one of Jason's more sought after skills is his ability to listen and hear what a customer wants even though they may be thousands of miles away. He gives them the style and, more importantly, the sound they are looking for.
Jason and Pharis discovered shortly after they met that they were also a fit to perform together. They keep it as a true duo only accompanied by the instruments that they've made. They have produced two CDs and received recognition for their efforts with a couple of Canadian music awards. Their sound is a tribute to the old time music that they love with their own uniqueness blended in. When they are not traveling or working in their shop they have a local country band which includes Pharis's sister and a friend. They play for the community; Pharis noting that she loves getting the local families out for some dancing and some fun.
Here's a chance to listen to one of their songs from their album Long Gone Out West Blues, track number 7, Come On Home. Written by Pharis Romero and performed by Pharis and Jason Romero. Click on the left side of the player below to hear the song.
We could feel how grateful both Jason and Pharis are for the life that they have created together and soon will be sharing with their first child. Jason says that when he shuffles off his mortal bliss he hopes it will be over his work bench or digging potatoes in their garden.
Please join us for our interview with this inspiring couple! PS: We love comments and appreciate if you share on social media!
Is luthier David Freeman's friendly, laid back demeanor a result of living in the quiet little town of Tugaske, Saskatchewan and earning a living doing what he loves to do, or is that just him? Maybe it's a little of both! This peaceful community with no loud distractions is a perfect setting to get the creative juices going and could even cause the most fervent stock exchange trader to slow down and smell the roses. David certainly takes advantage of this idyllic setting, creating masterpieces of stringed instruments through his company Timeless Instruments, which he has been operating since 1980. We were lucky enough to catch up with David and learn of his fine craftsman skills at building fretted instruments through a tip from Dean, my mother-in-law's neighbour. Sometimes it's just who you know!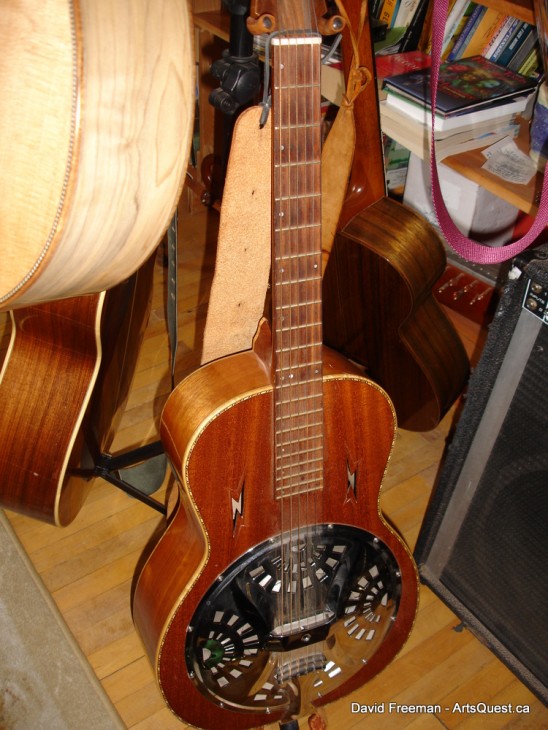 Timeless Instruments is a multifaceted business for David. In addition to selling his own creations for others to enjoy, he also provides lutherie supplies and mail order instrument kits to those more experienced or handy in the do-it-yourself woodworking realm. For those that have a desire to learn these skills, David also teaches seven week courses where he guides students through the labours and love of lutherie. Although David's shop is complete with all the modern saws and sanders, his preference is with the hand tools where he can have a closer relationship to the wood, get a better feel for the flex in it and determine the sound qualities for a sweeter tone. David's intensive course is all-encompassing, showing the uses of all tools, the structure/acoustics of the instrument, as well as all of the other steps that David outlines in his course description.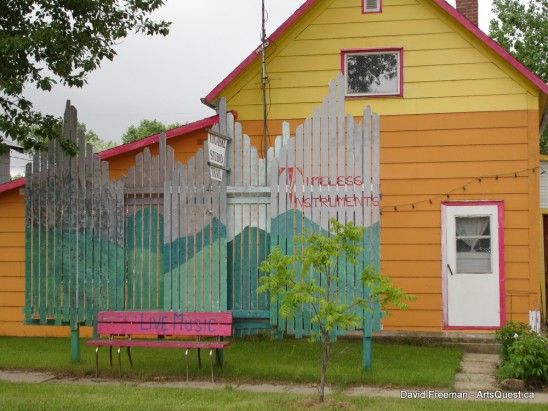 Take a look below as David describes the process of precision workmanship inherent in the fine craft of lutherie!
Luthier David Freeman in Tugaske, Saskatchewan from Corinne and Gary Funk on Vimeo.