"Every child is an artist. The problem is how to remain an artist once he grows up" – Pablo Picasso
"What the teacher is, is more important than what he teaches." – Karl A. Menninger
Our featured interview with multidisciplinary fine artist and retired art teacher Ladd Fogarty of Emerald Park, Saskatchewan reminded me of the above quotes; our discovery of Ladd's prolific teaching career and what he meant to his students, as well as his life-long passion for the arts and, like Picasso, an appetite for exploring multiple mediums. Although Ladd has been doing his art work for over thirty years now, it hasn't been until these last eight years that he has truly taken on marketing his work as a professional artist. During the thirty years that he spent teaching students about the arts he fostered not only their creative gifts which led to their own artistic achievements, but he also forged enduring friendships with many of them.
What is it that makes a great teacher? When we asked Ladd he mentioned not only patience, humour and a diverse skill base, but also the ability to draw out of a person their creative abilities that they never realized was inside of them. One such student was David Benjoe, who was an art student of Ladd's at age 17 and doubtful of his artistic abilities. Ladd would say to him, "David, please don't sell yourself short, art is another way to achieve what you enjoy in life". Then, through Ladd's urging he agreed to be part of an outreach arts workshop program for the elementary schools in the area, which he loved. This was his first introduction to leading in a classroom setting. He went on to become a teacher himself and is now on the verge of attaining his Masters of fine arts interdisciplinary. David concludes, "I can honestly say that he was the major influence in the path I took after we met way back in the 1990s".
Click on images to enlarge:

The diversity of Ladd's artistic media came about from various avenues and influences. He attributes personal desire in determining whether he feels like painting at the moment or working with his hands on a 3d object, which may involve acrylic paints, clay, wood, glass or soapstone. It depends on what story he is trying to tell; it could come from the potters wheel or the painting easel. As an art teacher he also had to learn about and present a multitude of mediums for his students to experiment with. His early exposure to art included his mother who was an opera singer and musician and still plays the violin to this day (Ladd also played in a dance band for about 12-15 years until losing a finger five years ago). His grandmother was a painter and his grandfather played the piano. His father happened to be a carpenter that became a master wood-turner in his retirement and was a great teacher for Ladd.
Click no images to enlarge:

Within the wood and clay pieces that Ladd creates you will see striking designs of geometry, figures and symbols; the clay pieces adorned with acrylic paints adding a lustrous finish. For wood he will use accoutrements such as acrylic paints, stained glass, soapstone, buffalo bone, porcupine quills, as well as stones such as turquoise, pipestone, magnesite and jet black. With already the richness of the wood itself to catch your eye, be it maple, birch or cherry, the additional colours and design add a beautiful touch. Ladd notes that when he is working with wood or clay he uses more symbolism and has a tendency to explore more abstract concepts.
Click on images to enlarge:

To Ladd his paintings relay the inspiration he gains from his natural surroundings as well as the experiences of the people who are a part of it. Ladd has a deep connection to First Nations people and their culture and his work reflects that. One such piece is "Muscowpetung Sage Woman"; the painting featured at the top. This piece was created as a donation to a charity auction to raise money for shelters for women and children of domestic violence. It is a personal piece that shows a woman and child, his adopted First Nations daughter with her daughter, looking over her shoulder to an old woman picking sage, a symbolic gesture of acknowledging her ancestral roots. It represents part of the healing process for a difficult time that she was going through.
Click on images to enlarge:

We finished up our interview with a tour of the family home to video Ladd's art work on display; the house itself a part of his artistic handiwork. We had the pleasure of getting to know Ladd's wife Liz and their daughter Kaitlyn as we sat down to a lovely lunch that they prepared. A stroll through the yard and garden (where we gratefully accepted some veggies for the road) capped off a wonderful day with the Fogartys.
Enjoy our interview with Ladd and please share his interview on social media. If you are inclined to leave a nice comment for Ladd please submit it below.

Our destination for today was the Gitanmaax Reserve in Hazelton, B.C. where we were meeting with Gitxsan First Nations multi-medium artist Arlene Ness. Driving into this scenic area we were struck by the imposing mountains and lush forests with their breathtaking, resplendent autumn colours! It was easy to avert my eyes occasionally to glance up at them, if only for a second. Suddenly, flashing lights in our rear view mirror suggested we were now getting a police escort by the friendly RCMP of this quaint village; we didn't even know they were aware of our arrival! As I snapped out of it I realized that I had missed a school sign during one of those brief sight-seeing moments, and the police officer's intention was not one of fanfare. Luckily he gave me a warning and sent us on our way. Without further delay, but well within the posted speed limit, we were once again on our way to Arlene's place to get to know this diversified and prolific fine artist.
Arlene says that she has been creating art in various mediums ever since she was a child. From following her mother's and sisters' examples, to loving high school art classes, to seeking expertise and education from renowned teachers, to undeniably her own drive and initiative, Arlene has never shied away from pursuing art forms that intrigued her. Life inspires Arlene, and depending on what peaks her interest be it her mood, the seasons, her family or nature, she may indulge her creativity in carving masks, stained glass, jewellery, paintings and drawings. She has even undertaken the enormous task of carving totem poles under the tutelage of master carver Earl Muldon. How does one person manage to spread her creative energy around to all of these disciplines and excel at them, on top of raising four children and teaching First Nations fine art at the community college? From what I observed of Arlene she has this zen-like calm about her and knows how to set boundaries and balance her life so all aspects work in harmony. With her art, she doesn't try to force her creativity in any one direction, but rather she takes guidance from her environment, embraces how she feels and lets it come to her. She is the proverbial water flowing around the rocks.
Click on images to enlarge:

The beauty of Arlene's fine art transcends all cultural boundaries. Her style reflects the traditional Northwest Coast Native Art form lines which she maintains strict adherence to when working on art forms of the crests and symbols of other clans. When working on her own family's crest and symbols she allows herself more freedom to include her own contemporary designs and interpretations. She is of the Giskaast clan; the traditions, stories and ancestral knowledge being very important to her, and it is her desire to pass down that knowledge to future generations. Her art work is an expression of herself, her culture and of the love she has for her natural surroundings and all its inhabitants. Seeing one of Arlene's beautifully carved masks, for instance, invokes curiosity about the meaning behind it, and one does not have to be of Gitxsan ancestry to appreciate the story it tells or marvel at the craftsmanship. Though the oral history of each clan (adaawx) that is shared with succeeding generations is of primary cultural importance to the clan itself, the art that Arlene creates is the physical heirloom of her ancestry but is there for all of us to appreciate and enjoy.
Learn more about Arlene and her art as Corinne chats with her. Feel free to comment below and share on social media.

The story of Copperhaired Woman in "The Return" can be found on
Arlene's website
Click on images to enlarge: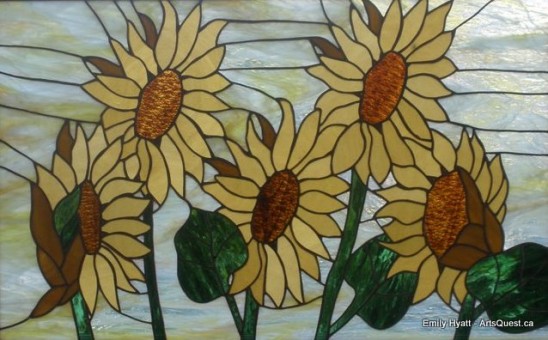 Our foray into Minnesota was short and was really only a quick passage to the furthest southwestern corner of Ontario where we were in hot pursuit of finding an artist to interview right off the bat. It was not until Barwick, Ontario where we found Emily Hyatt. It was funny how we found her. We stopped to look around the little community of about one hundred residents. Our luck with places to park ourselves and Arty for the night wasn't working out so well at the point of our stop and so we decided to move on. As we turned back onto the highway, I looked over and noticed the blue plastic outhouse and then Gary saw some picnic tables. We discussed whether or not we should turn around until we reached the outskirts of town and decided it might be worth a look. It turns out we found ourselves looking at the "District of Chapple Complimentary Campground" sign which even included nice cold fresh water and electricity. What a glorious find!
Our other glorious find was walking into the local restaurant to inquire about artists in Barwick and having two nice ladies point us in the direction of Emily Hyatt, the local stained glass artist. They helpfully told us where we could find her and off we went to introduce ourselves. We met Norm, Emily's husband, who regretfully delivered the news that Emily was away at a workshop in Miami, Manitoba. Norm invited us in and gave us a quick tour of some of Emily's work and we decided it was worth our while to wait for her return. This was on Saturday, so on Sunday we had a great opportunity to catch up on some work and on Monday we went to see Emily.
Click on the images below to view a large aspect.
Emily took her first stained glass course 32 years ago and has been looking through rose coloured glass ever since. Her desire to pursue the art of stained glass came out of a need to balance a demanding job. She fell in love with the colours, the possibilities and the people. She began working with artist Wayne Barron who is another local talented artist in the Barwick area. He used to teach with Norm at the school. Over the years Emily and Wayne have collaborated on many projects including 35 church windows and a memorial piece for Emily's parents; Wayne does the design work and Emily brings it to life with the glass. The church windows are commissioned by individuals or families who want to commemorate or honour someone they love. Gary and I stopped to see the ten windows in St. Patrick's Catholic Church in Emo as well as the one in the Zion Lutheran Church in Fort Frances.
Like many artists, Emily is humble about her work and feels there is always so much more to learn. She does say that her particular talent lies in picking the colours of glass for a project. She sets the panes of glass in the windows of her studio to watch how the light hits them at all hours of the day. Sometimes the glass will dictate the next project or it will present itself as the perfect choice for a project or commission that she has already been thinking about. For Emily, sometimes this pondering and looking could take up to 2 years before any cutting and shaping even begin.
Emily's other talent lies in teaching her skills to other enthusiastic proteges. She loves to see that sparkle in their eye's and know that they too caught the glass bug that she caught long ago. I would love to take a class from her someday!
After we finished chatting with Emily, we were invited to join her for a salmon sandwich, some tortilla chips with homemade salsa, yummy carrot cupcakes and some ice cream with fresh picked raspberries from their garden. Norm arrived home from a hard day at the golf course and we all enjoyed a wonderful lunch and a visit from a pair of Baltimore Orioles (the birds not the ball players). They are stunningly beautiful with their deep orange breast. We thoroughly enjoyed our time with Emily and Norm and hope to go back someday for a visit and perhaps a little stained glass lesson for me.
We welcome you to leave a comment for Emily!