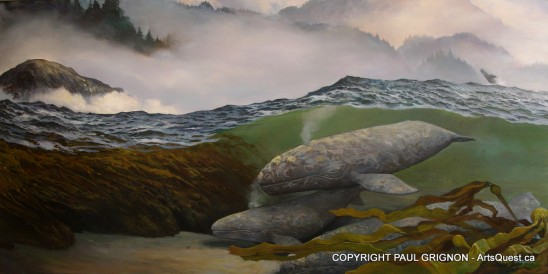 I have always had an appreciation for the oceans of the world but never a fascination with them. I considered an ocean to be a vast watery desert and I couldn't understand the intimate connection that some people seem to have with it; that all changed when I stepped into Paul Grignon's gallery and Moonfire Studio.
Paul and his wife Tsiporah have lived on Gabriola Island, off of the coast of British Columbia, since 1973. Their yearning for a different way of life led them there. Paul built the house they still live in, which grew as their family of four children grew. Every year they continue to learn how to grow food more effectively in their garden. Paul painted to support the family, and he also took any commercial art job that came his way. Despite the difficulty of providing for a family of six from sales of art, Paul admits that being an artist was just something that he could not stop doing. Even though he tried different vocations along the way, he always found himself back at his easel with the paint brush in hand.

There is so much noise pollution in our world today; it is overwhelming sometimes. Nature has a way of filling our ears with sounds that can release tension and take away anxieties. The perpetual motion of the ocean rocking back and forth as the tide comes in and out is one such sound. Paul's seascape paintings are so real to me that when I looked at them I could hear the sound of the ocean and the sea birds as if I was staring out an open window at the view. I realize that Paul has been painting his subject a long time now and has gotten to know it intimately, and his dedication is reflected in his work, but I wonder if he may in fact be an extension of the ocean in human form! He paints like he and the ocean are one and the same.
Click on the thumbnail to view the larger image.
Paul and Tsiporah have been an indelible part of Gabriola Island's community for a long time. They have been actively participating in shaping the island's way of life as it is today. They are also strong advocates, activists and stewards of our environment; something they are both deeply passionate about. As a result, Paul created a 47 minute movie titled Money as Debt. It is a historical and present day account of what money is, where it comes from, and how it functions under our current economic system. This is not drab, boring stuff! Paul uses simple animated characters that add a humourous look to his serious message. As Paul points out, our economic system flies in the face of natural systems. We have accepted our current economic system as if there were no other choice and yet ironically it will destroy our life support system which in turn will destroy us. It is not a matter of if, it is a matter of when. Since 2006 when the original movie was released, Paul created Part 2 and Part 3 of Money as Debt. He is determined to develop a new economic system; one that will complement nature so all life can prosper, not just those who are riddled with greed. The Money as Debt Trilogy can be purchased at the Money as Debt website. Everyone needs to see this!
Join us with Paul as he talks more about his art and Money as Debt. Please don't forget to leave a comment and share on social media. Thanks!