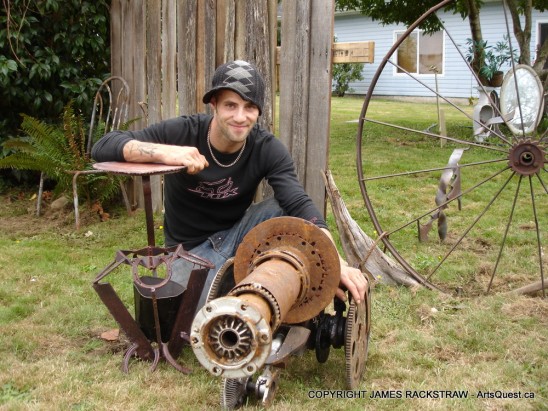 Creativity in the form of art is a wondrous thing. It can bring beauty into one's life. It can add appreciation for other people, places and nature on the tiniest or grandest of scales . It helps us to become aware of whom we are and give us an awareness of other people and other things. It can provide an awakening and it can heal.
James Rackstraw is a young artist in terms of age and in terms of his art career. He is one such person who has found creativity and art to give him everything I have described and more. His story is quite remarkable. He has faced extreme adversity from an early age as a child. Spinal meningitis left him with the inability to communicate effectively. When we met James we could tell that determination was his companion and has walked with him side by side, enabling him to change his life and become the person he is today. He has been the passenger in twelve car accidents and broken almost every bone in his body and he had his hand almost completely severed when three thugs broke into his home with intentions of robbery. He has been up, living a comfortable life, and he has been down, at times living on the streets. James doesn't mention these things because he wanted us to feel sorry for him, but rather because the experiences have brought him to where he is today. He notes that without those experiences and the understanding he gained that he wouldn't be James Rackstraw, artistic metal fabricator.
Click on images to enlarge:

James' work reminds me of a mixture of Edward Scissor Hands, with a dash of Old England and a sprig of Steam Punk. He loves to take found items that may be leftover scraps, old antiques or just someone's junk and piece them together and create a new functional item like an Old English lamp post or a jewellery stand. It could also be something more abstract like a warrior sculpture or a robot. The irony of James' art is that he breathes new life into something that would otherwise be discarded and his art breathes new life into him, a person who many people doubted and metaphorically discarded.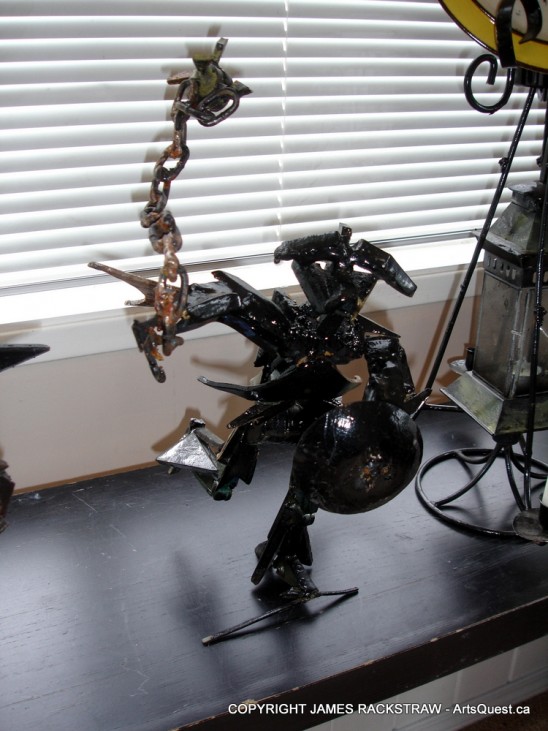 Click on images to enlarge:

Although James loves working on his own he says one of the best parts about being an artist is connecting with people. He told us that having spinal meningitis as a child gave him an innate ability to read people. His struggle to communicate forced James to learn through observation. He spent a lot of time watching. Oddly enough this skill that was acquired out of a disability is something he now uses to give himself a better understanding and insight into what he creates for someone. He gets great satisfaction out of creating not only the art but a connection to the art for the new owner of the piece.
Click on images to enlarge:

James is an inspiring person. He is a great example of what the human spirit is capable of. Whether we have hardships to the extreme like in James' case or we don't, it is uplifting to be reminded that humans are extraordinary and that gives us the ability to make our lives and our world a better place through the creative process.
We invite you to watch James speak candidly about his life and his art. Please feel free to leave a comment and post on social media. Thanks!
Posted on
September 15, 2013
in

Fabrication, Metal, Metal, Sculpture
|
Tagged

birdbath, fabrication, jewellery stand, lamp posts, Matsqui, metal, sculpture, tables, welding, wineracks
|
15 Comments