Ayelet Stewart is a goldsmith and the owner of AYDesigns. We first spotted her fine craftmanship at King's Point Pottery in Newfoundland. Prince Edward Island was to be our last new province to visit on our way back west and luckily for us this is where we found Ayelet. We contacted her for an interview and she kindly accepted. Connected to her house, Ayelet has a wonderful little gallery which is bright and uncluttered. Each piece of jewelry is displayed as if it is the only one in the room, so I could easily admire each piece as I wandered through her gallery.
Over the years Ayelet has had some important influences in her life that have helped to shape her own style. She did her Master's degree in Japan and has had the priviledge of learning ancient techniques and cultural designs. As well, having the Atlantic ocean, with all it's magic and mystery, a few steps away from her backdoor has captured her imagination and she has been able to encapsulate it's beauty within her designs. These two influences have enabled her to fuse an exquisite union between the Japanese designs and her love of nature. Primarily, she does this by using silver as her base material along with gemstone accents and then applying techniques such as etching and enamelling with powdered glass.
Jewelry is very personal for most people. For me, I wear my wedding rings and usually no other pieces. I have a box that contains jewelry that used to be my grandmother's and now is a collection of my memories about her. It is also the home to other special pieces like the handmade bracelet Gary bought me many years ago. I love the simple beauty of Ayelet's jewelry and I could see myself owning a piece one day. She brings out the best in the materials she uses to make her creative ideas come alive.
Please take a closer look at some of Ayelet's handcrafted jewelry by clicking the images below.
Be sure to watch Ayelet Stewart's interview below. Comments are always appreciated. Thanks.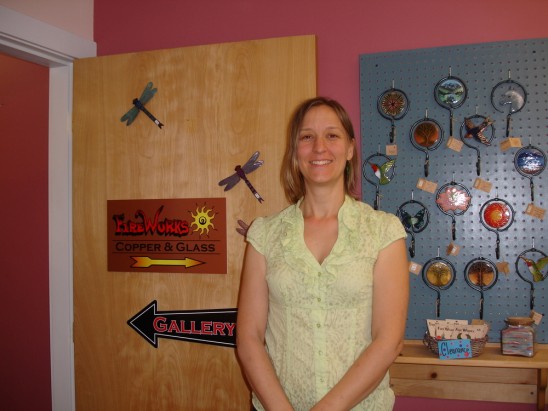 Our next interview from the Artisans of Crawford Bay was with enamelist Helene Carter of Fireworks Copper & Glass in Crawford Bay, British Columbia. Helene showed us the ropes of fusing glass powders to pure copper and the creative art forms resulting from it. Helene is also part of a working studio, where art is not only sold on site but also the process is demonstrated to patrons wishing to view her in action. We found it informative and it gave us added appreciation for the labour of artistic creations and their resultant value. This is definitely not factory, assembly line merchandise that one disposes of when bored with it, but rather a purchase with a connection to the artist and their creative outlet; the beauty of the piece and the knowledge of its creation adding strength to the appreciation and longevity factor. Corinne found a pretty hummingbird pin that was perfect for her Grandma. She loved it!
Join us with Helene to learn more: