"I would never believe that "Threesome" wasn't a photograph! Ditto the others. I'm enriched by discovering your art." This comment from an admirer is just one of many that one will find describing the art work of coloured pencil artist Terry Mellway, and it pretty much sums up the marvel of her detailed drawings. Having got a glimpse of Terry's pieces online we were excited to meet with her and find out how she can create such realistic drawings using coloured pencils. We caught up with Terry in Winnipeg, Manitoba just as she and her husband Chris were in the middle of moving to Sandy Hook. There were boxes everywhere, but Terry left her studio intact to accommodate us for her interview.
Terry's life has always been exposed to creativity of one kind or another; her mother's own artistic endeavours setting the example for her at a young age. And despite her art work being sidelined for many years while raising a large family, that early encouragement spawned a lifetime passion for creating art. It was then, about fifteen years ago, at her husband's urging to resume that passion that she reignited the flame of creativity and hasn't looked back. Terry admits that back then at the start of her career it was hard to imagine herself as a full-time artist, let alone considering that people would buy her work. For us, as we look through the portfolio of work she has done and learn of the many hours she has put in to developing her skills (as little as 4 hours per day!), it would be difficult to imagine otherwise.
Click on images to enlarge:

Perusing Terry's website gallery we found that the realism of her pieces evokes more than just appreciation for her skill, they can also ignite the senses and bring out reactions, emotions or curiosity. Many of her pieces will make you smile, such as the beaming face of her granddaughter Grace, the comical parrots of "Birds of a Feather" in their splendorous colours, or her work "Found My Marbles" which brought me back to when I was a child playing marbles with the other kids; our holes in the ground permanent fixtures of the neighbourhood landscape. Staring into the eyes of her tiger piece "Sheba" may give you goose bumps, and a glance at one of her flowers may recall the memory of its fragrance.
Click on images to enlarge:

A wonderful story that Terry related to us was when she went to Jamaica for a visit and photographed a man who became the subject for her W. Cliff Packer Memorial Award winning piece, "Jamaican." This local man that carved and painted coconuts for sale at a roadside stand in Ocho Rios, Jamaica exuded such character that Terry asked if she could photograph him. He agreed, and so back home she then chronicled the 150 hours of process from photograph to the coloured pencil drawing you see below. The submission of her piece to Colored Pencil magazine also led to a four page article in the May 2014 issue. Terry sent the man in Jamaica a copy of the magazine who was very thrilled and who happily exclaimed in the very unmistakable Jamaican accent, "Now I'm faymoos".
Enjoy our interview with Terry and we encourage you to share her work on social media and email. If you have a nice comment for Terry and her art work you can submit it below.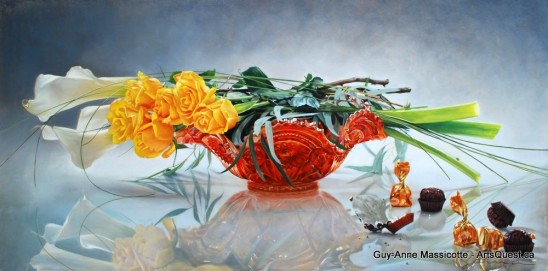 Callas and Roses in a Carnival Vase, Finalist for 2011/2012 Art Renewal Center Salon
Our visit to Quebec was one of my favorites, not only because the province is drenched in rich culture, history and beauty but also for the down to earth and wonderfully gracious people we met. Everywhere we went we came across helpful people who could see our grade twelve french was a little rusty. In my case a lot rusty. Gary was definately better at it than I was. It probably has something to do with his European heritage. Probably our most overused phrase was, "Je ne parle pas tres bien francais". I was a bit disappointed because I couldn't practise the whole phrase. Usually I wasn't fast enough and the person I was addressing would know just exactly what I was trying to say and switch to english before I had a chance to finish.
Because of our inability to carry on a conversation in french, I decided our smartest move would be to utilize CouchSurfing for all our stops through Quebec. This is how we met Francesca. She was a wonderful host and we had a lot in common with her. I had asked our CouchSurfing hosts prior to our arrival if they knew of any artists that we could interview. Francesca answered our call and lead us to Guy-Anne Massicotte, a contemporary realist painter in Sherbrooke.
We arrived a bit late to Guy-Anne's home as we got lost but luckily we were able to muddle our way through asking and receiving directions. She invited us in and immediately insisted we stay for lunch after the interview even though she was getting ready to go on a weekend trip with her two boys. Guy-Anne has been painting for many years. At first, becoming an artist hadn't occured to her as she was studying science in school. She ended up taking an art class and immediately knew she wasn't going back to her other studies. At the time, she enrolled in a one year art program in Sherbrooke and was going to continue her studies at Bishop University but she didn't want to take all the art history courses. She just wanted to paint. And paint she did! She spent 5 to 7 years doing self study; reading art magazines and books and learning the techniques of her favorite masters.
Guy-Anne has perfected the realism of still life subjects in her oil paintings. When I first looked at her lobster painting my sense was that I was looking at a photograph. However, even a photograph can not capture Guy-Anne's ability to cause you to look twice. It is quite magical how she can take a flat surface and make you think you could reach out and pick up a rose or a vegetable from the table. Guy-Anne says the secret to taking the "ism" out of realism is in the preparation of her canvass. She uses a preparation substance called Gesso. Gesso is used to eliminate a rough surface such as that of an unprepared canvass. This gives her the ability to control the texture with the paint which gives the wonderful illusion of being three dimensional. Guy-Anne is in no hurry to complete her paintings and the 4 – 5 days of preparing the canvas; applying Gesso, waiting for it to dry and sanding in between each application sets her apart from many artists. For her, although the preparation takes time, it makes the actual painting easier to do and a lot more fun.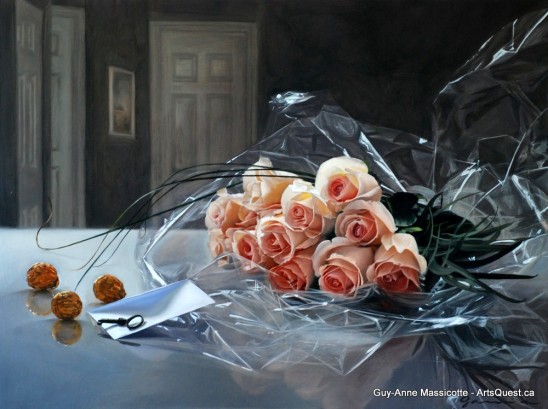 All of Guy-Anne's hard work and dedication has enabled her to achieve recognition at the international level. For the 2011-2012 year she was a finalist for her painting Callas et Roses sur Vase Carnival for the Art Renewal Center Salon. This competition garners 2100 entries and the finalists represent the top 24% of all works submitted from around the world. Her work was also selected to be on the cover of the Febuary-March 2012 issue of International Artist Magazine. And most recently, she was asked to be a member of The Group of Twelve. This group is made up of some of the finest realist artists in Canada today.
Although this recognition is for her still life paintings, Guy-Anne told us she is now up for another challenge. She loves the human face. Her focus these days is to capture the real emotion in a portrait of someone. After spending a bit of time with Guy-Anne, there is no doubt in my mind that she will be able to rise up to this challenge and meet what ever goal she has set for herself. She is an inspiring woman indeed!