When Gary and I first contemplated interviewing artists all across Canada in 2011, we had decided one thing for sure, our travel home was not going to be a tent. Was it to be a truck and trailer, a truck and camper or some kind of van? Marli, our cat, made the decision in the end. A van was the best choice for her needs and really ours as well. But we decided it couldn't be just any old van. It needed to be unique and attention grabbing. So it came to pass that we all agreed on Arty, our VW Westfalia Vanagon.
A couple of great businesses got their start in a Vanagon; Mountain Equipment Co-op and Ben and Jerry's Ice Cream. Perhaps ArtsQuest will join them one day. In the mean time owning Arty is like having a membership to an exclusive club with benefits, including offers of places to stay by a couple of the artists we intended on interviewing. One of those artists is Jan Jenkins of Dauphin, Manitoba.
Now, a Westfalia is not the only thing Jan and her husband Brian Erickson and Gary and I have in common. In fact we have a very similar later-in-life story as well. It turns out that Jan and Brian also used to live in Calgary up until eight years ago when suddenly they found themselves buying a house in Dauphin and taking early retirement there. As serendipity would have it, on a visit to see Brian's family one year, Brian decided he wanted to show Jan the house he grew up in and as they drove past they saw that it was for sale.
Although they were seriously contemplating a move and change of lifestyle, Jan wanted to be sure there was a thriving art community so that she could resume her life long passion of creativity on a full time basis. It turns out Dauphin has the Watson Art Centre which is housed in a beautiful building that was once the old town hall built in 1905. Now it is bursting with artistic life in the visual, literary and performing arts. Dauphin is a town of approximately 8500 people and the Centre is supported and appreciated by the community and visitors alike. Inside the building are restored remnants of the town hall itself; the council chamber's long wood table and the gorgeous wood banisters and fixtures. There is a stage with heavy, red velvet drapes and a spiral staircase leading to a balcony, and even an old jail cell in the basement (currently being used only for storage). Also in the basement is a large space which is home to the Dauphin Art Group and was the other factor that clinched the decision for Jan and Brian to move. Jan has a home studio but she also loves spending time in her space at the Dauphin Art Group. She gets to be with other artists to share ideas and have that creative connection.
Click to enlarge thumbnails.
Upon arriving at the little home on River Avenue West we were welcomed by Jan and her pooch Tramp and his pal from next door, Barley. Tramp and Barley, however, were in a dog run which Jan refers to as Guantrampamo. This segregation was a temporary measure just in case the four legged greeters were a little too happy to see us. Brian was away in Brandon for the day so the three of us had decided we would do Jan's interview first and then later the four of us could relax and socialize.
As I asked Jan my questions I discovered that she and I had a couple of similar character traits. Jan considers herself a jack-of-all-trades and has many interests (so do I). Focusing on specializing on just one doesn't seem to be Jan's thing (me too). This could be one of the reasons why Jan likes to work in several different media. She works with pen and ink to create intricate and fascinating patterns in the Zendoodle style. And often she will incorporate poetry within her pieces or a story to accompany a particular piece which adds a thoughtful dimension to them. She also enjoys print making and working in oil pastels with a technique known as Sgraffito in Italy. Sgraffito is such an interesting art form. In its simplest explanation, Jan pencils out her drawing on paper, fills in the colours she wants for her subjects with stiff pastels and then eventually covers the whole piece in a buttery black pastel. Upon doing that she takes tracing paper with her original image on it, lays it over top and then traces over it with a pencil which then lifts just enough of the black off the paper so she can see where her drawing is located underneath. At this point she starts scraping away with a tool at the black pastel to reveal the colour and her original drawing. Some of Jan's other creative activities include making jewellery, rock painting, tie dying, writing poetry and volunteering several hours a month at the Watson Art Centre. Whew! And if that's not enough she made a fabulous beef stew for dinner for some weary travelers.
We invite you to watch and listen to Jan's interview with us and we thank you in advance for helping to spread the word about Jan and her art on social media and email. And we love comments so please feel free to leave one below. Thanks.
Posted on
October 2, 2016
in

Doodle Art, LInoleum, Multidisciplinary, Oil Pastel, Painting, Printmaking, Sgraffito, Zendoodle
|
Tagged

Dauphin Art Group, jewellery, oil pastel, pen and ink, print making, rock painting, sgraffito, tie dying, Watson Art Centre, zendoodle
|
1 Comment
Arty took us to Abbotsford, B.C. this time on an arts quest to meet with Debra Blades. Debra calls herself a mixed media collage painter with a splash of inventiveness. She has a passion for texture, colour and twisty things. She incorporates gold, silver and copper leaf as well as different papers and textural components within her paintings. When we showed up on Debra's door step she opened the door with such fervor that I had a feeling we were in for something good.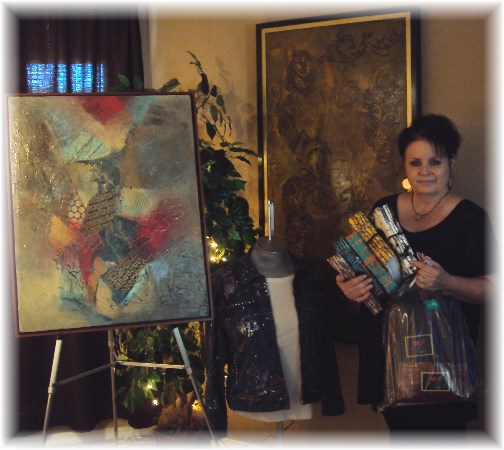 Photo Credit to Kristie Blades
Art has been in Debra's life in one form or another for a long time. She spent 21 years hand-making Victorian lampshades and in that time created and sold over 1000. But with trends coming and going, in this case going, she recognized it was time for a creative change, and that is when she began exploring the world of abstract art. I was surprised to hear that she has only been working at it for 6 years. Her work seems so much more mature than that like it has been a part of her for a long time, walking hand in hand with her spirit.
Click on the thumbnail images below for a larger perspective:

Debra admits that creativity can have its calamities at times but it's nothing that an enthusiastic and gracious attitude mixed with a little Beatles music can't cure. When she first contemplated giving titles to her paintings she was stuck and wondered, "How do you name something abstract?" At the time she was working on a piece that was colourful and attention grabbing and contained twisty pieces of paper. The Beatles' Twist and Shout just happened to be filling her ears at that moment and delivered to her the title of her new painting. One thing lead to another and since then she has created a series of paintings inspired and titled from The Beatles' songs. According to Wikipedia there are 304 songs that have been recorded by The Beatles so Debra's series could turn into a long and loving commitment. I have a feeling this won't be a challenge for her!
Versatility and adaptability are two words that I would use to describe Debra. She faces challenges and obstacles head on and, along with a positive attitude, looks for a solution. Her abstract painted train cases are an example of this. At one time she found herself lacking in canvases to paint, had some left over train cases from her Victorian era days, and so decided that they would make an excellent three dimensional canvas. She calls them functional art and each one comes with its own title. As well, not in the too far distant past Debra stopped going to art shows and fairs because she dreaded the fuss and muss of packing her work in sheets, bubble wrap and packing tape. In her mind not only was this a time consuming and unpleasant process it was also no way to treat a piece of fine art nor did it present well to the fine art appreciators looking on when she arrived at the show. Her solution was an ingenious invention aptly named Masterpiece To Go Portfolios. I am not one to pitch products but I find this to be a slick and useful piece of equipment that every painter will want to have. It looks professional and your art work can be packed up and ready to go in under 3 minutes. Be sure to watch the demo video below where Debra shows us how it works, and check out her Masterpiece To Go Portfolios website for more information on how to order your own.
Please join us as Debra talks more about her life as an artist in her interview below. We love comments and by all means share and like with social media!
Masterpiece To Go Demo Video
Posted on
August 13, 2013
in

Acrylic, Doodle Art, Functional Art, Metallic Leaf, Mixed Media, Multidisciplinary, Painting, portfolios, Supplies, Zentangle
|
Tagged

acrylic, copper, gold, journals, leaf, paper, silver, textile painting, The Beatles, train cases, Zentangle
|
1 Comment