I love looking at clouds in the sky. The prairie skyline is ideal as a giant blue canvas for displaying big ones, white ones, fluffy ones, dark ones and menacing ones. When I had the chance I would look up and gaze at them for a few minutes to give my eyes a rest from the blue canvas of the computer screen as Gary piloted Arty down the highway toward Saskatoon, Saskatchewan. Cloud formations have always fascinated me and without fail my imagination always found a dog, a flower or a face floating effortlessly in the sky until they either melted away into thin air or transformed into something else for my eyes to see. This interaction between me and the clouds is an intimate one; other people may see something completely different or nothing at all. I see some forms of art in this way too.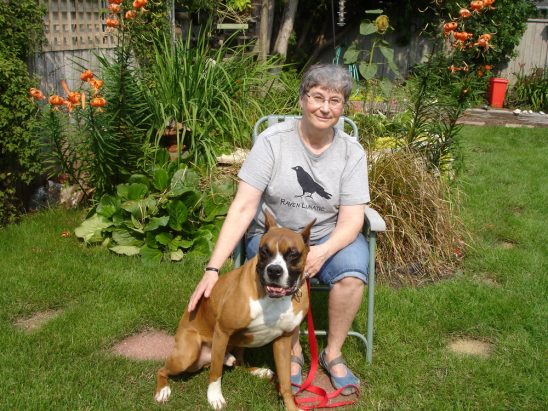 When we arrived at art photographer Judy Wood's house we were invited in to a home where art is created but also where it lives. Her house is filled with pieces that she has collected from many of her peers. It was lovely to look at the variety hanging on the walls and displayed around her living room; all different shapes, sizes, subject matters and media to be enjoyed not only by Judy herself, but also by fleeting visitors like us. She quipped that the walls were shrinking and space for hanging art was now at a premium. It always feels so good standing in a room filled with creativity.
Click on images to enlarge:

Judy and her husband had an extra floor added to their house several years ago complete with lots of big windows, sky lights and plenty of floor space. This is Judy's creative sanctuary and she uses every square inch of it. She has a few different stations set up for mixed media work, her art photography and encaustic pieces she works on when winter sets in. And, it was obvious by all the finished art pieces hanging on display that Judy makes good use of her studio.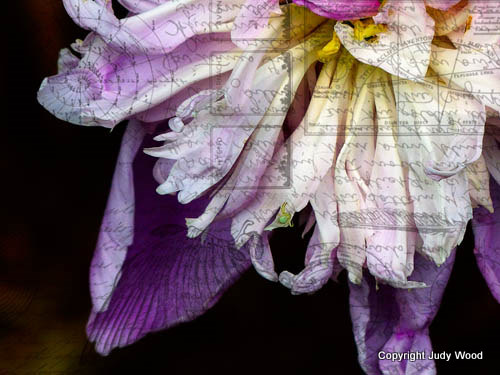 After graduating with a fine arts degree it was stained glass that captured her attention at the time. Today, exploring the world through the lens of a camera and then telling a different story with the help of technology is what she loves to do now. At the time, trying something new was both exciting and challenging. Judy was always interested in photography but hadn't really pursued it until her husband bought her a digital SLR camera. Her new creative passion came with a steep learning curve, including teaching herself how to operate her camera and finding her way around Photoshop.
Judy's photography doesn't really look like a photo once she is finished with it. She is always excited to spend time in nature taking pictures of things like ravens and crows, horses, trees and iconic prairie buildings like grain elevators and tired, old farm structures. As a potter would refer to clay or a painter to paint, these images are the raw materials for the art that will emerge later. At the end of it all it is really difficult to discern what part is the actual photograph. Like the clouds in the sky, Judy's artwork allows the viewer to have a one-on-one personal experience with it. We all get to see and feel something different about her pieces. They are interesting to look at and they give my imagination the opportunity to do just that, imagine whatever I want.
Judy lives and creates in Saskatoon, Saskatchewan. She shares her life with her husband and their rescued Boxer Rony. Be sure to watch her interview with us and help us spread the word about Judy and her artwork through social media and email. Also, we love to hear from you so feel free to leave a comment for Judy as well. Thank you.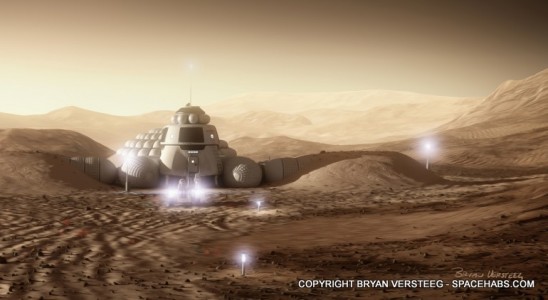 I am undeniably in love with Earth! I love the plants, the animals (humans are animals too), the fish, the insects, the birds, the landscape, the seascape, the biodiversity, the interdependence and on and on. I love how I can breathe the oxygen rich air while walking through the Boreal Rainforest. I love how I can feel the sun, the rain or the snow on my face when I am outside. I find it difficult to describe the feelings that I have for Earth but I am sure some of you understand. My eyes are welling up as I type these words. This emotion comes from my consciousness and from my heart at the joy the earth gives to me every second of my day but it also comes from an awareness that Earth is dying. Whether you believe it to be because of some natural cycle and therefore there is nothing we can do about it, that it is dying at the hands of humans, or that it is not dying at all, that is for you to decide from your heart. By now you are probably wondering what all this has to do with art. Well, what if Earth gave its last gasp in the not so distant future? What would we do? Where would we live? How would we live? It is challenging for me to understand that it could be possible to inhabit another planet, like Mars for instance. But what if it were possible? What would that life look like?
Click the thumbnails below to see a larger image:

Bryan Versteeg is a conceptual design artist for space exploration who currently lives on Earth in Calgary, Alberta. He is the artist that gives clarity in visual form to what those answers to my previous questions might look like. Although I would not leave our little blue planet for the littler red one, there are many people who would. In fact, there is a space project underway called Mars One and so far two hundred thousand people have signed up for a one-way ticket to a new life. When might this all happen? Surprisingly enough, it could begin as soon as 2025.
Click on the thumbnails below to see a larger image:

Without Bryan Versteeg's detailed artwork I assume the idea of living on Mars would seem like another Star Trek episode to most people, and it would be a stretch to think this could become reality. Bryan spends countless hours researching his next image even before he sits down to his computer to start his design. Reading technical space exploration articles and what are called white pages from NASA, as well as consulting space exploration experts from around the world gives Bryan the information he needs to start to design a space habitat, meteor mining equipment or even a football stadium. Bryan's relationship with his space exploration colleagues is one of mutual benefit. They have a vision of what needs to be built and the knowledge on how to overcome the extreme difficulties of living in such a foreboding environment, but the final piece to the puzzle in order to bring it all together for the average Earth citizen, and perhaps even themselves is Bryan's ability to make it come to life with his designs and his final art pieces.

Because I lean hard toward the preservation of life on Earth, I had many probing questions for Bryan on and off camera. I was especially curious about why he thought people would leave our planet instead of simply mending and healing the earth. But of course there is nothing simple about that. Bryan sadly stated that although he loves Earth as much as I do, he doesn't believe that people will change. We have such wealth given to us courtesy of nature but it is strictly a one-way take relationship many of us have with Earth. On Mars there is nothing to take for granted like we do here, and being sustainable is a matter of life or death; on Earth it is still currently seen as optional. Bryan says that everyday is precious to him whether he is walking his dogs in the park on a frosty fall morning or delving into the next space design project. He lives in the present while keeping an eye on the future with an understanding that tomorrow may never come.
Click on the thumbnails below to see a larger image:

Bryan's art is a place where creativity coalesces with science. It is a melding of imagination and facts. Although Bryan is an artist his work, like the work of his scientist colleagues, is dictated by the constraints that outer-space places upon them. He is constantly thinking through every step as he designs and as he says the final result may never be the final result. For now it is really only his best guess. Bryan may find his designs in physical form with human inhabitants on Mars one day but for now they hang on the walls of those fascinated and enamoured with outer-space. To see more of Bryan's work or to purchase an image of your future home on Mars visit his website at Spacehabs.com.
Please join us as Bryan talks more about his art and what drives him to create it. We appreciate your comments and to help spread the word about Bryan Versteeg on social media and through email. Thanks.
I came across Jonathan Havelock and his art through Facebook. The post was one of those paid-for ads that went streaming by when I just happened to be looking. His photography caught my eye because it was unnaturally colourful which left me intrigued. I contacted him and the next thing I knew we were arranging an interview for the next time we were in Edmonton. We met Jon at the RR Gallery on the corner of 106th street and 102nd avenue where he was showing his new Secret Garden series (For new gallery info click HERE). The standard etiquette when encountering a person for the first time is to shake their hand. Unbeknownst to us Jon Havelock was about to deflect the handshake and go straight for the hug; with permission of course, after all we are Canadians. We have hugged many artists over the course of three years but it has always been after the interview when we were about to leave. So the pre-get-to-know-you hug was a first. I mention this because we already knew prior to our interview with Jon that he was once a cabinet minister for the Alberta provincial government so I amused myself by thinking this could be a reflexive behaviour from his past political days. All kidding aside, Jon's hug was sincere and genuine and I didn't feel he was trying to sway public opinion (or at least our opinion) about him and his art. He's simply a nice guy.
Click on the thumbnails below to view a larger image.

Although Jon is lighthearted with a good sense of humour, he is a serious fine art photographer. He is passionate about his subjects and sharing them with an audience of appreciators. As with many people, Jon's creative path began at a young age and then stalled when living began to settle in. He said it wasn't until six or seven years ago that his wife reintroduced him to his first love (photography that is) and he now breathes life into it as it breathes life into him. Photography has been so much more than art for Jon. He and his wife often spend their days and their journeys exploring and opening their eyes and minds to the neverending wonders of our world. His hope is that through his images he can help people take notice of their natural surroundings and by doing so bring awareness and an appreciation for something so precious and fragile.
Click on the thumbnail to view a larger image.

Not unlike a painter doing a preliminary sketch prior to the paint touching the canvas, snapping a shot with his camera is only the starting point. The original image is often the skeleton of the finished piece. After hundreds, and more often than not thousands of shots taken, the creative process has just begun. Jon spends hours pouring over his collection of pictures and out of that he may find a dozen or so that will be slated for the next step, digital enhancement. The idea of digital enhancement used to bother me because I thought of it as a way to cover up the photographer's mistakes or making it look better than it actually is; kind of like cosmetic surgery for pictures. Maybe there are people who do that but in Jon's case I see a real artist at work. He doesn't use enhancement to improve his ability as a photographer, but rather to add or remove layers of colour, light and depth. The skeleton becomes somewhat abstract but still recognizable. He forces us to take notice. Out of the corner of our eye we recognize a leaf but there is something different about it that grabs us and we are compelled to look. Jon's work has the capacity to create a state change in potential viewers by knocking us out of the daily micro focus we find ourselves in. The images are usually big and bold and command us to pay attention whether we meant to or not.
Click the thumbnails below to see a larger view of the Secret Garden series.

At the end of a long but enjoyable day at his computer, Jon and his wife meet for a glass of wine and together put on their creative thinking caps. It is time to name the newest members of their family. When Jon was describing this to me all I could think about was this happy couple with a metaphorical baby name book in front of them carefully choosing the perfect name for their new born picture. After all, this creation is a culmination of the time Jon and his wife spend together having fun, searching out that next image and all the memories that came along with those experiences. What a wonderful way to be together and be with nature!
To see more of Jon's work please check out his website; Jonathan Havelock Fine Art Photography or you can visit him at his new gallery at Suite 155, 10403 122 Street, Edmonton, Alberta T5N 4C1 (On 121 Street across from the old Molson Brewery in Glenora Gates).
Please join us as Jonathan shares with us his passion for photography. We love comments and appreciate if you could spread the word about Jonathan Havelock on social media and through e-mail. Thanks.