Bluff Hollow…it all started with a dream. While searching for a new home with his wife Ann in the Garden Bay area of B.C. on the Sunshine Coast, concrete artist Rick Harmer saw the place they would call home before they even saw it. He dreamt the property would be surrounded on both sides by bluffs and that it would be appropriately dubbed Bluff Hollow. The next day his dream became a reality when their realtor showed them the property where they now reside. Rick notes that it is impossible not to feel creative in a setting such as this, and so they enjoy exploring and creating within the wonders of their forested surroundings.
It was thirteen years ago that Rick decided to leave his career as a mortgage broker and become, as he coins, a concretist. Since then he has been casting and pouring into molds various garden and interior art objects in a variety of colours and finishes. With such a heavy medium to work with he knew there would be limitations to what he could create depending on the application and where it would be displayed. Therefore he set out to find a new formulation that would be much lighter yet durable to withstand the elements that garden art is subjected to. After much research and experimentation he developed his own formula that gave him the attributes he desired. As a result, Rick's creations will complement the outdoor environment whether throughout gardens, on a tree, or against a mossy background. His indoor pieces add a simple yet elegant touch, but Rick mentions that the finishes on these are not winter-worthy and are for indoor enjoyment.
Click on images to enlarge:

His work has also evolved to utilizing concrete wrapped around styrofoam in order to make larger concrete objects more manageable. One such denizen of Bluff Hollow is a twenty two foot long snake that greets visitors along the driveway. It is concrete wrapped around styrofoam and only weighs forty four pounds. This technique has greatly expanded the possibilities for concrete desired products. I still remember moving my sister's large concrete garden statue which required three guys and a chiropractor afterwards! This versatile and back-friendly medium is also prompting Rick to start making outdoor benches and tabletops as well.
Click on images to enlarge:

When I asked Rick what his ultimate challenge for a concrete work of art would be he replied, "The largest mushrooms in B.C." Tying in nicely with the ongoing activities of the local mushroom club, he imagines an installation of three concrete-wrapped styrofoam mushrooms, nine feet tall with benches underneath for people to enjoy the shade. He would encourage the participation of high school students which would instill pride and a sense of ownership through their efforts and in turn help to secure guardians for the prominent local attraction. Rick is an advocate for more public art, and feels that it is a great way to get people out of their homes and collaborating with one another to not only enrich the community experience but also to share their identity with those traveling through.
To take a look through Rick's Bluff Hollow website: (click here)
Enjoy our interview with Rick and thanks for helping to share his work through comments, social media and email:

A Chevy Avalanche pulled up beside us in the Sydney, Nova Scotia Walmart parking lot where we were "camped" for the night, our launching point for the long ferry ride to Newfoundland the next day. It idled there for a few minutes before driving away, the tailgate catching our eye with the business name Stone Image Studio decaled on the back of it. Early the next morning, the same Avalanche pulled up beside us and waited tentatively to see if we were awake. I jumped out of the van and was welcomed by the friendly handshake of Darren Adams, a Caper that has started to form a niche for himself in the decorative concrete and sculpting realm. Darren had seen our ArtsQuest logo on our van Arty and wanted to find out more.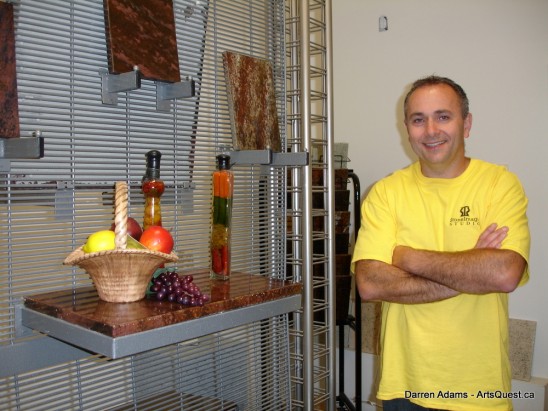 I have to be honest. The first time we met Darren and found out he made vanities, counter tops and furniture from concrete, we apprehensively wondered if this was a fit for our website. We too fell into the stereotypical thinking about the ideas of strictly utilitarian uses for concrete without being aware of the artistic and creative ones. Relieved from making a snap judgement, we were luckily heading for Newfoundland the next day and had time to ponder this new and unknown art medium over the next two weeks before our return to Cape Breton. What we realized over that time was: What is the difference whether a potter uses clay and Darren uses concrete? Just a different medium. Or, what was artistically different from a potter making a decoratively functional mug, bowl or teapot and Darren making a decoratively functional bathroom sink, counter top or piece of furniture? Just a different object or use. With that in mind we set up a meeting with Darren for our return to Cape Breton.
Our time spent with Darren in his shop and studio revealed a man with unlimited ideas about the uses and possibilities for his decorative and sculptured concrete creations. As he toured us around and explained the various processes of his work, we could see the excitement in him at not only his own ideas, but also those shared from the imagination of others who wonder "is it possible…?" From the shapes, colours and textures of his work to date, Darren is showing us that virtually anything is possible with concrete, and in his own words, "I'm just getting started!"
Click on the images below for the full size:

Thank you Darren for introducing us to the other faces of concrete and we are excited to see what new creations you come up with in the future!
Please join us with Darren in our interview with him below: