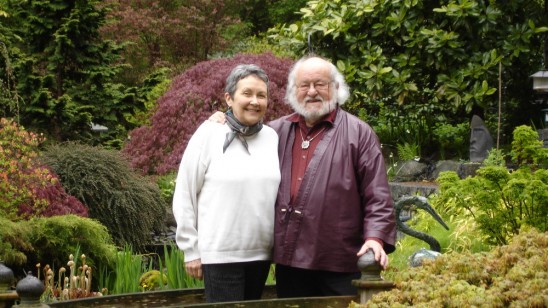 Elegant and refined; bold and colourful! Are these the descriptions of Judi Dyelle and Robin Hopper's pottery, or their respective personalities? Perhaps they are a bit of both! We had the pleasure of meeting up with these two experienced, award winning artists and teachers at their home in Metchosin, B.C.; also home to their studios and gallery at 'Chosin Pottery. Our approach along their horseshoe shaped driveway wending through the forested front yard gave us a glimpse into the natural setting that they not only call their home, but their inspiration! The incredible gardens and architecture throughout their property were created by Robin and inspired from a Japanese design; the feat quite aptly named the "Anglojapanadian" garden.
Before we started the formal part of our interview, we sat with Judi and Robin at their dining room table to get acquainted. We were surrounded by a world of handmade furnishings, both functional and decorative, including the mugs we sipped our green tea from. Robin was talking about how much research, trial and error went into actualizing the perfect mug. Considerations to examine were: Is it too heavy or too light? Does it cause me to dribble? Are my fingers comfortable? Do they get squished or are they too loose causing slippage? Is it top heavy and tippy? These questions and more were carefully scrutinized before arriving at an aesthetic form with the proper function; and sure enough, there was something so much more gratifying about the "feeling" of my mug of green tea and knowing what went into making it and who made it. We didn't realize then that this topic was a preamble to Robin and Judi's interview and their thoughts about not only the historical cultural importance of pottery, but why it should be of present day cultural importance.
Judi is a potter with a passion for Oriental ceramics! Her extensive studies in art school combined with studying for a year and a half in Japan had not only added to her collective experience for teaching pottery across Canada and the U.S., but also her love for it! She enjoys working mainly in porcelain, preferring to use it as a very fine and delicate clay body incorporating piercing, cutting and textures into her work. She notes that porcelain is an amazing substance; fragile while working with it but once fired in the kiln is stronger than ceramic and does not chip easily. She also demonstrated the rich "bell" sound one of her bowls made, revealing another sense that reaps the artistic rewards (Play 'Porcelain Song' below). Judy notes that the form of her vessels are unequivocally first priority, with the finishing process such as glazes secondary and used to accentuate the piece. She does not paint her work and for that reason the glazes she develops are very important in order to embellish the form of the vessel appropriately.
'Porcelain Song':

Make sure to click on Judi's images below for a closer look:
Robin's foray into pottery was more like a trial by fire when we was three years old! His introduction to clay happened during the bombing of London in World War II when the shells would crater the land and displace the sub-surface clay upwards, giving him an endless supply to play and work with. Well after those beginnings and his ensuing art school training in his late twenties, Robin traveled and taught pottery around the world on most of the continents and has had his creative hands in many mediums and endeavours ever since. Authoring six books, creating educational DVDs based on those books and designing a world class garden are but a few of his comprehensive pursuits outside of the many hours of "pushing clay around." His initial art training was in painting and drawing and it has always been at the core of his ceramic work. His latest interest draws on those skills and involves glaze paintings on a porcelain-like substrate and then firing it in the kiln giving it a wonderfully vivid and textured effect, as seen below.
Make sure to click on Robin's images below for a closer look:
Both Robin and Judi commented on their fascination with ancient cultures that used pottery for their everyday needs, with various cultures still utilizing their pottery-ware today as an integral part of their lives, be it for practical or ceremonial purposes; usually both. Judi relates how in Japan and Korea these simple ceramic dishes bring on a beauty of their own through the ceremony of eating and gathering of family and friends. This fundamental appreciation for food and family does not harmonize with our fast-food and throw-away culture in North America. Robin notes that he has followed the history of pottery which has followed the history of humans; clay being a necessary part of ancient cultures as they produced items for eating out of or for cooking with, many times the vessel being created for a specific food or dish. These were not mass produced factory items with no personal connection, they were cherished pieces tied irrevocably to the family's social structure just from the act of making them with their hands, or knowing who did. It is Judi and Robin's hope that North American society can adopt such heartfelt customs once again, bringing back to the family table not only the family, but a less instant way of life and one closer to the the earth, and clay!
Join Robin and Judi in their gallery as they "turn" us on to pottery! Please share with social media and feel free to leave a comment below!

Hartney, Manitoba was the first place we decided to try out our new artist finding strategy. This entailed asking the local folks if there are any fine artists or crafts people in town. In Hartney I went into the town office and inquired with a lady behind the front desk and also with Dawn the librarian. At first they had trouble coming up with anyone but soon names were rolling off their tongues and Dawn even volunteered to help by calling a few on my behalf. I should have clarified that we couldn't interview all of them but we managed to arrange two interviews and one of them being Pat Jackson.
Pat is an artist who creates miniature porcelain dolls. She began working with standard sized dolls, but due to an unfortunate accident left her unable to manage the larger size and so she began working in miniature and as she says, became hooked. She pours her own porcelain into premade molds and she also does her own original castings which usually are one of a kind. The faces are hand painted and each layer of porcelain paint requires eight hours of time in the kiln. Upon completion, Pat then looks for the ideal fabric to make the dolls clothing, even the underwear is authentic to that period of time. As Pat was explaining to us what she does, I continued to be amazed at the patience this woman must have. She says this is one of the benefits of living in a small town where there are less distractions and in her case her dolls are a great way to occupy her time.
Pat designs and makes her own settings and accessories as well. Her Victorian and Edwardian dolls have the furniture appropriate for the period and accompanied by adornments of flowers. I was astounded to learn that a vase (which was a miniature brass candle holder) of paper iris's were all painted and assembled by hand. Each bloom was the size of a lady bug. She even needed some camouflage material for a male doll she made to represent the soldiers coming home for Christmas. There is no fabic with the tiny camouflage pattern she required so it was hand painted on. It seems there is no limitation to Pat's imagination when it comes to finding materials to suit her particular needs and she is constantly utilizing found things. One day while grooming her dog, she saw the need to create a miniature dog that resembled her pet and she used scraps of her pooches hair to get the job done. She also asked her daughter Niquie if she would donate a snippet of her hair to authenticate the original miniature Niquie baby doll. I must say that the resemblance of the dolls to their living counterparts is uncanny.
Please click on the images below to view a larger aspect.
The research, care and detail that Pat puts into these very tiny dolls is nothing less than astounding and from what I can see there isn't anything she has left out. Some of the details are so small you would need a magnifying glass in order not to miss anything.
Watch Pat's interview and see for yourself what I mean. We welcome you to leave a comment for Pat as well.