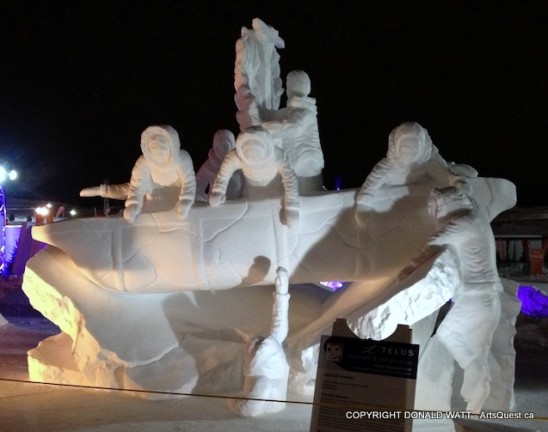 What does it mean to follow your dreams? For Whitehorse, Yukon snow carver and sculptor Donald Watt it started at age ten, wishing someday to carve snow at the famous Quebec Winter Carnival. He recalls as a young boy watching the promo film for the Carnival on television with his father and proclaiming his aspirations. His father's reply was that he was capable of doing anything he wanted. That stuck with him, and when Quebec invited Yukon to form a team for its national sculpture competition, he jumped at the chance. Donald not only lived his dream of carving in Quebec but has also seen victory as captain of Team Yukon, winning numerous times at the National and International Championships. Sadly, his father never got to see him carve in Quebec but Donald always pays homage to him by building an inukshuk from the initial chunks of snow removed as the carving begins to take shape. His father's presence is now with him at every event watching him carve. Now, with over 30 years of carving, numerous awards from around the world and doing 6-8 carvings per year, that adds up to a lot of carvings, a lot of experience, and a testament to the power of his passion.
Snow carving is unlike any other art form; its closest relatives being ice and sand carving. It is a medium that requires a great deal of planning because it is not only dependent upon ones carving skills, but the carver must adhere to the laws of physics and nature. With a starting block of snow typically weighing 20-40 tons, it is not uncommon for a suspended portion of snow to weigh a ton or more. So if the structural design pushes load-bearing limits, combined with challenging weather conditions such as rain, the sculpture could collapse and end up in a pile before it is even judged. Other considerations are working against the clock as well as observing the criteria that the judges are looking for. These include creativity and artistic merit, technical difficulties as well as adherence to the original design. The appreciation and awe of a completed snow sculpture is fleeting; a live in the moment type of art work that not long after leaves its legacy in the photographs, memories and a marred footprint of where it once stood.
Click on images to enlarge:

The process for completing a sculpture is always a team effort, and each team mate will lend their strengths to complement the whole. The 2014 World Tour team for Yukon is comprised of Donald, Michael Lane and Ken Anderson. Donald is the three dimensional specialist and will guide the team in the initial stages to taking away the major chunks and getting the sculpture to an impressionistic stage. Michael is the idea guy and detailed carver who will advise on the fine particulars, and Ken is a skilled first nations carver that will also lend the knowledge and detail required for the traditional northern and west coast first nations themes.
Click images to enlarge:

When he isn't carving snow Donald is still active in the arts. Formally trained in sculpture and printmaking, he enjoys helping out with three dimensional design; building and designing sets for the local theater groups as well as hiring himself out to the art department to design sets for movies that are filmed in the area. He also creates clay sculptures that he refers to as "fairies with attitude." These aren't your cutesy, pixie-like Tinkerbell fairies mind you; these have a personality all their own. Donald says that the idea for these fairies came from his Irish grandmother. She would always say, "Donald, you don't go in the back of the garden because that's where the fairies live, and they're not always nice!" So he decided to create these not-so-friendly looking fairies and give them some chutzpah. Why do people connect with Donald's fairies? Maybe they represent nonconformity; a rebellious free-spirit that doesn't care what people think of them or how they look. Maybe they depict the balance between the dark and the light; good and bad. Or, maybe they're just a whole lot of fun!
Click on images to enlarge:

For many artists there is the piéce de résistance that lingers in the back of their mind; the ultimate work or challenge that pushes them to their outer limit. Having traveled the world carving snow sculptures Donald's ultimate vision now is to go to Antarctica to carve the Robert Falcon Scott and Roald Amundsen expeditions. He wants to do a carving at Scott's Antarctica landing spot, showing him leaving for the South Pole heavily laden with all of his supplies. Then he will fly to the South Pole and do another carving showing Amundsen's arrival there with his sled dogs and planting the Norwegian flag, the first expedition to do so and beating Scott by thirty-four days. It is an enormous undertaking; requiring a lot of planning, permissions, safety logistics and funding, but having seen the journey and accomplishments of a wide-eyed young boy to where he is today, we don't doubt that Donald Watt can make it happen. Keep following the magnificent snow sculptures of Donald and his Team Yukon through his linked website Snowcarver.ca… and maybe leave a little room on your nightstand for a fairy to watch over you.
Learn more about the art and science of snow sculpture during our interview with Donald Watt, and we always welcome Comments and Sharing on social media: