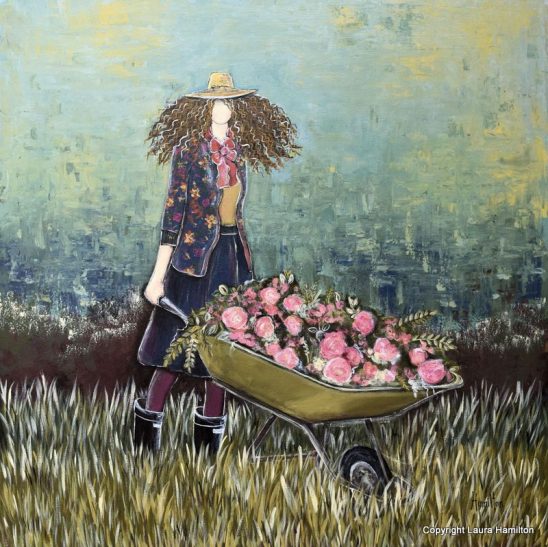 I am thrilled when I come across something that makes we ask, "Why?". Humans are a curious bunch and I'm right up there on the top of the heap. Artists are definitely one group of people that have helped to feed my voracious appetite for curiosity. After 150 interviews I find myself not yet tiring of what seems like the same old questions I ask time and time again because the answers are never the same. When I came across the girls, ladies and women with no face and crazy hair my curiosity was about to boil over, and I immediately had at least half a dozen questions for painter Laura Hamilton.
Laura started out in her young life as a school teacher, and this was the career path she thought she would be on for all of her working years. Then one day baby Lincoln arrived and the Hamilton's were now a family of four. This should have been a happy occasion but for Laura she found herself lost in the caverns of postpartum depression following the birth of her second son. Laura explained it was a very difficult state to overcome, but as time passed and with medical help she was able to go back to work after her year on maternity leave. Unfortunately, this would prove to be a bit of a disaster for Laura to the point where she would make herself sick with anxiety and panic attacks. Then, one day there was a tipping point and Laura was driven home from school with a one month leave of absence in tow. During that time she received some words of advice from her mother-in-law that would help to change her life. Laura took the advice and started to nurture herself back to health and, with the help of her husband, she was able to spend time reading, meditating and learning to love herself again. The rest of Laura's story is full of inspiration and hope.
Click the thumbnail to see a larger image.

The month leave of absence was almost over when Laura decided she was going to paint. She had been watching artist Buzz Siler from Portland, Oregon on You Tube, and was fascinated with his technique. Immediately she went looking for paint and tools to get started; a few cans of household latex paint and a screw driver ought to do it. What happened next for Laura was nothing short of an awakening; an outline of a girl began to take shape right before her eyes. This girl is Lucy and considered by Laura to be the first of her many "daughters". Laura revealed to us that Lucy was the start of a new beginning for her. At the time, she represented all the things that Laura wasn't. She was strong, bold and brave, and these characteristics gave Laura the strength and courage to change her life. When we met with Laura in September another school year had already begun, but Mrs. Hamilton was no longer in attendance. As of the end of the 2015/16 school year Laura and her husband decided to take a leap of faith and invest in her art career, and now she paints and paints and paints.
Click the thumbnail to see a larger image.

After our interview Laura took us to her painting studio for a demo, which, if not for all her paintings leaning gracefully against the walls I may have thought this was a place a commercial house painter stored her equipment until the next job. There was a table in the middle of the room with a bad case of paint measles and a closet and shelves with all kinds of bargain bin paint cans from the local hardware store. What a surprise! This was not what I was expecting at all. Of course my curiosity was really starting to get the best of me by this time. Laura's painting technique involves a canvas which lays flat on the table, a bunch of water, cans of various colours of oil based household paint, big, fat paint brushes, her fingers and a whole lot of intuition and trust. It's a process that takes some time. Laura starts with an idea which can spark from a memory of her childhood, a photo, wallpaper, or even just a single colour. She sketches out a rough outline of her new daughter, applies water, paint, more water, more paint and keeps coming back to her until her aura shines through, at which point she is done. Laura says she has a starting point but really doesn't know where the finished piece will actually end up.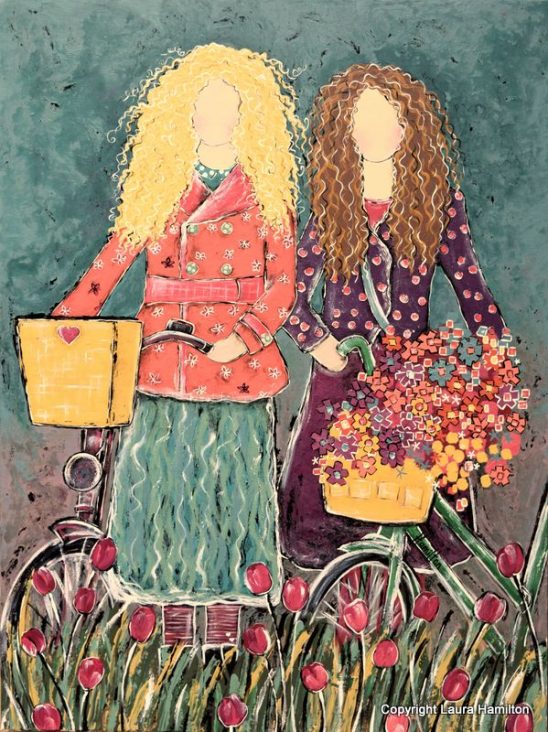 So why the no face and the crazy hair? Laura admits the hair is probably a reflection of her own curly locks but the lack of facial features is more symbolic. She wants people to really connect with the women in her paintings and she feels that by not giving them features it makes it easier for that to happen. She wants them to represent a spirit or a being, not a real person. They are symbols of courage, free-spiritedness, playfulness, purity, bravery, confidence, kindness and a re-connection to nature. Laura and her daughters give the gift of hope and inspiration to all of us.
We invite you to have a listen to Laura as she talks about how her art changed her life. Also, kindly help us spread the word about Laura and her art by sharing this post on social media. And we love comments so feel free to leave a nice one below. Thank-you.