You know the type, a guy that seems to be able to do it all; fix anything, create anything, with the only limitations being that of his own imagination. Meet artist Jeff Morris of Portage la Prairie, Manitoba, a man with a vast imagination and seemingly no limitations to his creativity. When we arrived at his studio and gallery a few miles north of town we thought we were interviewing Jeff Morris the artist, but what we found in addition to that was also an inventor and explorer; a Renaissance man of sorts.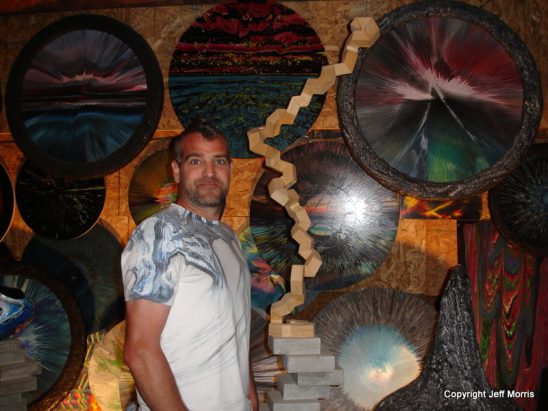 Jeff Morris has always liked to create things, starting off as a youngster with the basics of a hammer, some wood and some ideas. It seemed like a logical choice then that he go into carpentry after high school, giving him the satisfaction of building functional wood structures and earning a living. And although he enjoyed it, he wasn't able to unleash the creativity that was brewing inside of him, so he decided to transfer his wood construction skills into his artistic side and put the fun back into functional. The result has been not only beautiful and innovative wood pieces, but also Jeff's expansion of creativity into other mediums.
Click on images to enlarge:

When we spoke with Jeff about what drives his art he kept coming back to his thirst for learning and discovery. Always experimenting with different techniques and having no shortage of new ideas, his curiosity is endless and is reflected in the variety of media he has his hands in such as concrete, wood, photography, painting and pottery. While he was giving us a tour of his spacious studio and workshop he also pointed out other inventive projects, such as the drum set he made from used propane cylinders; see video HERE, as well as the new musical instrument he made from the inner workings of a piano. If whiskey and slide guitar are more your style then check out the whiskey tumbler and glass slide that Jeff made from a whiskey bottle; see video HERE.
Click on images to enlarge:

Jeff admits that his projects are not based on the path of least resistance principle, and he likes it that way. Rather his methods are based more on his quest to satisfy his curiosity and the inherent challenges that come with it. For instance, buying clay for pottery is not too costly, but his discovery of a clay source along the Assiniboine River while he was out kayaking led him to hand dig and haul out a lifetime supply of clay; an enormous physical task. After testing out the initial few hundred pounds of clay with a couple of local potters and then researching the correct combination of additives to make successful pots, he now uses only the Assiniboine clay for all of his pieces.
One of the great messages that we took away from our visit with Jeff was that creating art, or any other project, does not have to involve expensive supplies that can stop you before you begin. If a person has a creative urge just waiting to burst from within them, just a little extra work using re-purposed or scrap items or even paints from a building supply store (Jeff's not-so-secret supply), can get anyone started. In many cases Jeff's creativity and innovation has lent itself to just providing the materials themselves for the project before the work on the artistic piece has even begun. Although the proverb "Necessity is the mother of invention" may apply to finding a solution through lack of financial means, for Jeff it means a necessity for trying new, unconventional, or historical methods that stoke his curiosity and that gives him a satisfaction of having taken the road less traveled to discovery. When asked if there were other mediums that he would to like to explore Jeff mentioned glass blowing but that it is quite a pricey endeavour. We don't doubt that one day, somehow, Jeff will find a way.
Enjoy our interview with Jeff and this glimpse into his artistic life. Feel free to share his story on social media and email, with nice comments submitted below always welcome.