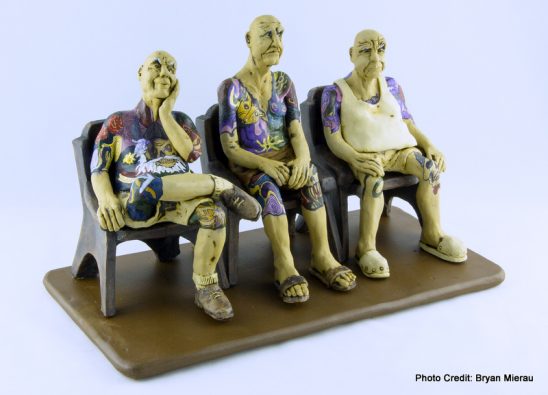 As we traveled south along highway #2 towards Watrous, Saskatchewan for our interview with ceramic artist Sandy Christensen, the sheen of Little Manitou Lake came into view as the gentle relief of land gave way to its shores. It was inevitable that we would visit these therapeutic mineral rich waters for a soak and a float, known as the "Dead Sea of Canada" and one of only three such bodies of water in the world. It was there at Manitou Beach that we also learned the history of Danceland, a 5000 square foot horse hair dance floor that has been around since 1928. Our spontaneous tour of this historic building came from 85 year old Ken Mackie, a veteran dance participant walking laps around the perimeter of the expansive dance floor at about 5 miles per day. Ken has a sharp wit, is humourous, and is an interesting fellow with many stories to tell. It is ironic that we met Ken before Sandy not knowing that he could have been the subject of inspiration for one of Sandy's creative clay characters.
Sandy Christensen has always had an affinity for clay, even as a young girl making mud pies. So it was serendipitous that when a woman who had moved back to the area and began teaching pottery lessons that Sandy jumped in and didn't look back. Without this turn of events she notes that she may have done any number of other activities and never truly found the love for clay. Sandy soon discovered that even though she enjoyed making pots on the turning wheel, what she really loved was hand-building.
Click on images to enlarge:

Sandy loves to create ceramic characters and the stories they tell. In her completed works you will see playful youngsters doing what they typically do, familiar sibling interactions, and one little girl taking a stubborn stand against her father to protest…(insert your imagination here). But above all you will see what Sandy loves to create most, the venerable elders such as Ken, with their character lines and endless stories as she catches the essence of these "real" people in their daily lives.
Click on images to enlarge:

Many times Sandy will get commission statues to do for a member of someone's family, and if that family truly knows the subject; how they dress, hobbies and especially funny quirks or memorable past situations, then Sandy will strive to capture that in her piece. She knows she has nailed it when the unveiling of the characterization evokes fits of laughter. So true to character is Sandy's interpretation that families occasionally display pieces at funerals as fond remembrances of their loved ones.
Click on images to enlarge:

Sandy reveals that one of her favourite past-times is people watching, and so it makes sense that many of her ideas comes from observing how people look, what they say and what they are doing. She has noticed that if you look at people from a certain region, maybe from a certain occupation or of a certain advanced age, they tend to look very much alike. She notes that as we get older many of us will acquire a similar body shape, the greying hair and usually prescription glasses, revealing a stereotype that she enjoys incorporating into her art work. It is said that the eyes are the window to the soul. For Sandy's pieces it is the face that is the window to the character. Although everything is important and must be in proportion, Sandy spends the most time on the face, trying to get the accurate likeness of the person and evoking the desired expression. What matters to Sandy is that these little clay characters make you smile.
Enjoy our interview with Sandy and please feel free to share her interview on social media and email. Comments are welcome too!