There is a popular social media hash tag for those of us that travel with our house on wheels; it's called #HomeIsWhereYouParkIt. Sure, Gary, Marli and I love driving around Canada setting up our temporary home and then moving on to the next interesting spot, but it's a transient lifestyle and to me a home has a more permanent ring to it. For all except the first 10 years of my life I have lived surrounded by the prairies in Alberta but I was born in British Columbia. You would think that after 40 years it would be in my blood; a place where my heart would call home. When Gary and I decided to move back to B.C. many people tried to provide some helpful advice, in particular about the closeness of the landscape and the grey skies that can hang around on occasion. At first I was worried about how I might feel about this but after being back in B.C. for 5 years now I know where my heart prefers to be.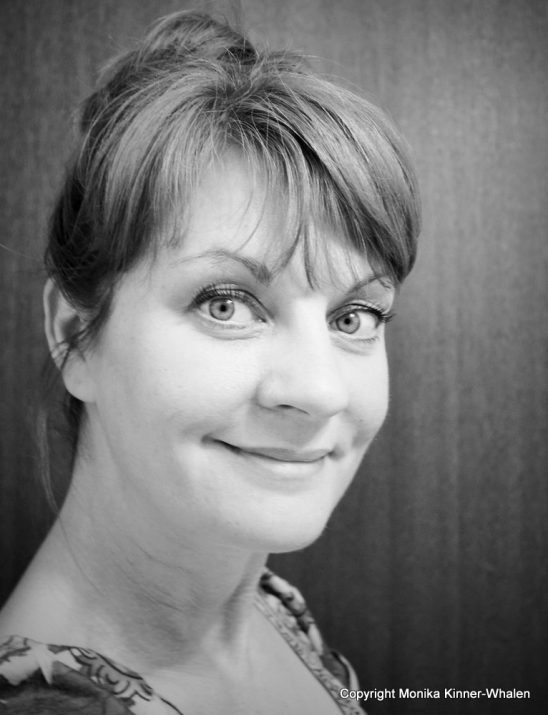 Fibre and textile artist Monika Kinner-Whalen will tell you the same thing about the prairies. I love being surrounded by the enormity of the mountains and the comfy feeling of being in a stand of trees, whereas Monika longs to see that vast expanse and uncluttered space for as far as her eyes can see. She describes her life on the prairies with such passion; the unforgiving thunderstorms, the never ending blue skies, the golden crops, the native grasses and plants and the ability to take a breath that feels like it could go on forever. The prairies are in her heart and she honours this place she loves by expressing it in her art.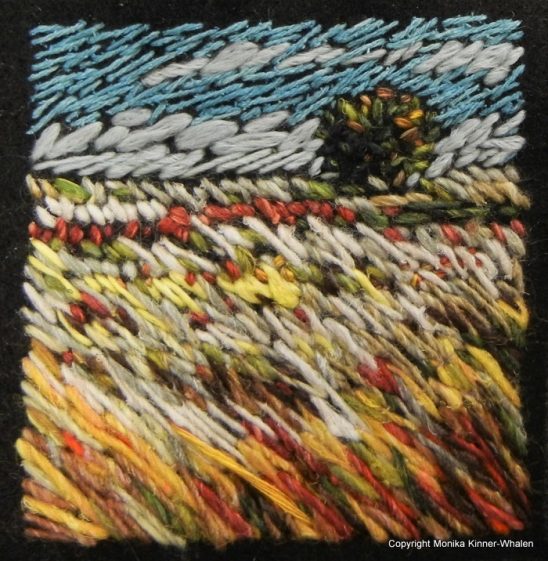 Click on images to enlarge:

As with many artists we have met, art for Monika started out as something she wanted to do for herself and her family. It very quickly, within 7 years, turned into a full time career. She is largely self taught and has worked hard to teach herself to create beautiful art pieces with threads, fabrics, and yarns. Her dedication to hard work and always perfecting her technique through experimentation and curiosity has lead to recognition from her peers through magazine articles, keynote speaking opportunities, teaching workshops and awards.
As you probably guessed, Monika's subject matter consists of all things prairie. She is best known for her landscape thread paintings where she details blades of grass, wild flowers, and crops set on a back drop of one of Saskatchewan's many vibrant living skies. The thread is her paint and her sewing machine is her brush. What I love about Monika's thread paintings is that they actually look like a little miniature piece of the prairies with the texture adding another dimension of realism to her pieces.
Recently, Monika has started relaying the macro view of the prairies in her art. These pieces remind me that although the wide open spaces are what I tend to focus on while cruising down the highway, there is another world of beauty under foot which is frequently missed. Often when we find ourselves face to face with something tiny we can make out details and textures that can't be seen without having our noses just a few inches away. But Monika chooses to leave out the details in this case. She uses the fatter cousin of thread, yarn, as her paint for these pieces. They become less detailed than her landscapes and more of her impression of what she sees under foot.
As I focus on my computer screen and write about Monika and the art she creates, I think about how easy it is to get caught up in my own little corner of the world. It is artists like Monika that help me see the beauty in life, in my surroundings and even in the mundane and remind me to look up every now and again so I don't miss the things that take my breath away.
Monika Kinner-Whalen creates and lives in Saskatoon, Saskatchewan with her husband, three children and one dog child. Check out what else Monika has to say in her interview and help us spread the word about her work through social media and email. Thanks!
Ps: We love comments so feel free to leave one.