What do you want to be when you grow up? For some of us this question has been easier to answer than for others. I am sure I changed my mind time and time again, and as I grew older it became more and more of a power struggle between what I really wanted to do and what I thought I should be doing. One thing I have learned is that the things that matter the most are matters of the heart, not of the head. In general, I think artists are one group of people that understand this very well. Gary and I had the chance to chat with Alison Wandzura who is a professional film and tv actor in Vancouver, B.C. Like many of us, when it came to choosing a career her heart was telling her to be an actor, but her head told her to go get a business degree. Eventually Alison quashed the naysayer within her, let the passion in her heart take over, and now she does what she loves.
When Alison was growing up her and her two brothers spent many of their days acting in homegrown productions and dreaming of the day when their staged funny-naked-bathroom-scene video would be chosen for America's Funniest Home Videos. And although that was "kid stuff", Alison always loved dressing up and pretending to be someone or something else. She still does. One of the reasons she pursued an acting career is because she could never decide what she wanted to be. She notes that if you act you get to pretend to be someone other than yourself on any given day.
Alison was born and raised in Calgary and so was her acting career. She started out as a theatre actor and then five years ago she decided to trust her heart and make a big move to Vancouver where she wanted to try her hand at film and tv acting. Since then she has had the opportunity to work on a variety of projects; everything from commercials, made for tv movies and series, big screen feature films and even playing the voice of animated characters. Many of these projects have been integral in helping her career unfold and to discover what acting really means to her. It is quite different from what it once was. She says it's not about becoming rich and famous, it's about discovering who she really is and how she can make a difference in the world by telling stories that matter.
There is something so real about an actor. An actor's job is to convince us that they are the persona they are pretending to be. It is kind of ironic really. Actors are great pretenders and yet they spend their life perfecting the art of being real from someone else's perspective. Because of this they may have a better handle on what it means to just be themselves more than most people do. Alison is discovering this about herself. Her acting career has opened the door and let the real Alison out. She sees the world and the people in it differently now. Her senses are wide open to what goes on around her. Not only does this make her a better actor it has also given her a love for humanity that she never knew she had.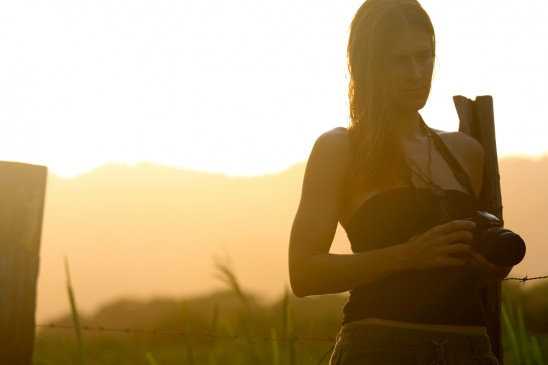 Click the thumbnail to see a larger image.

When Alison is not auditioning or working on her acting skills she enjoys being behind the camera for a change. She loves to travel and explore areas of the world that are rich in culture unfamiliar to her. She found herself captivated by the people and discovered her passion and creativity for photography came from capturing images of men, women and children just living their lives. In her words, "there is something so engaging and beautiful about someone just being themselves". Alison hopes to create a greater respect and understanding of what is truly beautiful about a person by honouring the essence of humanity and what it means to be real, either through the images she captures from behind the camera or through the acting she presents in front of one.
Click the thumbnail to see a larger image.

Please join us as Alison shares with us what it takes to be an actor. We love comments and would appreciate it if you could help us spread the word about Alison through social media and email. Thanks!