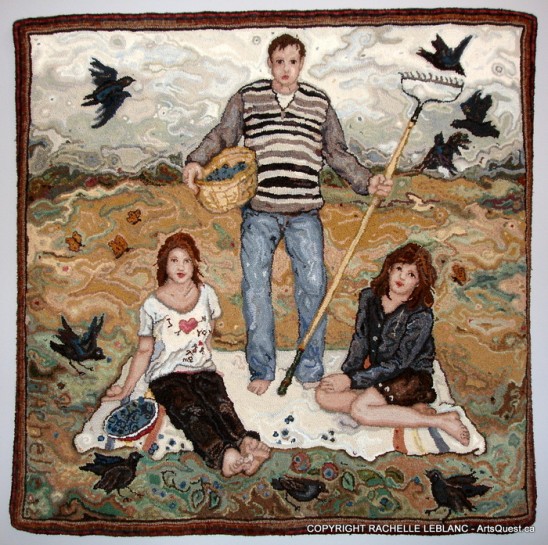 Fibre artist Rachelle LeBlanc had no idea that when she took a stress-reliever escape trip to Shelburne, Vermont back in 2003 that she would be returning with more than just a rested mind, but also a new found passion. It was while touring what is now called the Patty Yoder Gallery that she was intrigued by the remarkable hand-hooked rugs displayed there. With the often frenetic pace of work and raising a family she knew that she needed another focus, a hobby that would allow her to unwind and release her energy. Upon her return home she learned that her mother-in-law had a latch hook that she could have for free. Rachelle didn't need any more encouragement than that, and she started playing around with some scrap pieces of wool and quickly realized that she had found it; she was hooked.
Click on images to enlarge:

Rachelle says that she loves being an artist because it suits her temperament well. She loves doing her own thing and rug hooking is an activity that requires her to slow down, breathe and enjoy the quiet time within her studio; a meditative process that acts to expel the stresses of daily life. The balance to this, and her favourite facet of rug hooking, is the fun she derives from creating challenging patterns and working through the difficult details leading up to the fulfilling completion. This is why she chooses to do fine rug hooking as opposed to the primitive style. A piece can become more difficult by utilizing more colours and detail, and she notes that the longer a rug takes to complete the more spectacular it will become. The Picnic (shown at top) had more colours than any other piece she has done and took 2 1/2 months to complete. Personally, I am astounded that every difference in colour, shading, wrinkle or detail of a subject is a different piece of wool and can be put together with such clarity. Another challenge she took on was to hook a three dimensional piece. She chose a male child as her subject and using a mannequin of a one year old she designed a pattern. Using the problem solving and results from her first sculpted piece, Rachelle is looking forward to creating a series and adding more dimensions such as the next figure having ears and so on.
Rachelle always creates her own designs with good reason. Inspired by her family and what's going on in her life at the time, Rachelle's subject matter for her rugs are a reflection of her own story and the emotions she felt surrounding a particular moment. In her studio she can take that emotional thread and release it into a hooked rug where it will forever be memorialized. Through time and hard work I can see that she is creating a "storybook" or "photo album" chronicling parts of her family's life that can be handed down to the next generation. I also feel that she is leaving a legacy of her passion and of who she was. I especially like the subject matter reflecting the simple pleasures of life and things that matter the most; family, nature and events surrounding both.
Click on images to enlarge:

The process of hooking a rug will start with an initial sketch from a photograph of a particular scene or subject. Rachelle will then do mini watercolour paintings to figure out the colour variations, even down to the proper skin tone, and will lay out her piles of coloured wool to determine her palette and what she has available. If she is lacking the proper colour she will dye the amount of wool needed to accommodate a specific section. It's much like a painter determining their colour palette to use and mixing paints to arrive at the vision they imagine.
Click on images to enlarge:

Unlike painting, rug hooking has historically not enjoyed the same recognition as a fine visual art. Admittedly Rachelle has not experienced this stigma herself but has rather received great support and feedback from the arts and crafts community. Will we someday see hooked rugs hanging in fine art museums around the world? Maybe it is already happening, for back in 1990 Rachelle saw some Jacquard weaved pieces hanging in a fine art museum and this ignited in Rachelle a goal to someday see her own work hanging in one. I think Rachelle's drive to always challenge herself and push the boundaries of rug hooking, along with finding joy while doing so, are all the ingredients she needs to achieve her dream.
Enjoy our video interview with Rachelle and please feel free to comment below and share on social media and email.