As a little girl it was a gift of crayons and a colouring book from her grandmother that started artist Corinne Cowan on her path to acrylic and watercolour painting. The thrill of opening that gift is still with her today, and as she pans the room with her arm showing all of her supplies she jokingly points out, "Some people like shoes; I like paint." Corinne says that she has always connected with painting and finds it to be gratifying and therapeutic, with her two favourite subjects being flowers and outer space. Spending virtually all day in her garden during the summer, she becomes intimately acquainted with the intricacies of the flowers, be it the petal or the pistil, the stamen or the stigma. She is fascinated by the beauty and mystery of their shapes, colour and function, and aims to paint their images based on the emotion she felt and perception of how they looked to her when first glimpsed.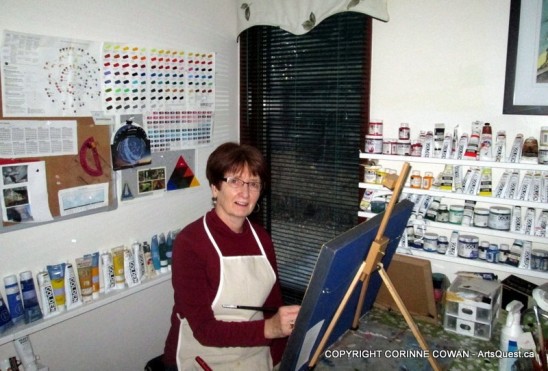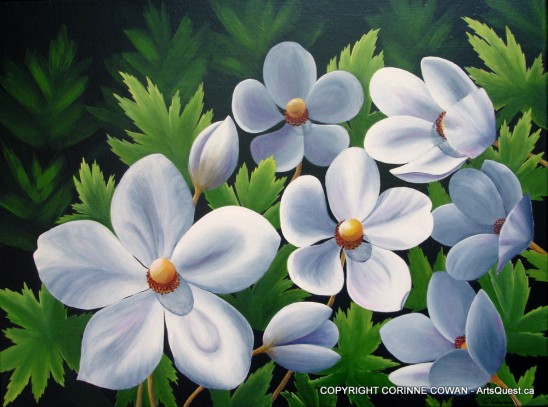 Corinne's gardens of inspiration. Click on images to enlarge:

Corinne's introduction to painting the cosmos was ignited when she first saw an image of a nebula. It was the Rosette Nebula which looked very much like a flower, and likewise instilled in her those feelings of wonder and curiosity. She was drawn to the similar patterns between the mysteries of her garden and that of exploring images of the nebulae, galaxies, meteors and moons. That fascination of the universe and its endless wonders led Corinne to becoming one of four members from Canada belonging to the International Association of Astronomical Artists (IAAA). It is an organization that brings together artists from twenty countries to participate, encourage and collaborate within the space art community.
Click on images to enlarge:

It takes no more than a walk through her nurtured garden to inspire Corinne for her next floral painting. On the other hand, accessing the final frontier to paint a birthing planet or morphing star could be a little more challenging. Corinne's enthusiastic niece suggested that since she heard they were taking reservations for a one-way trip to Mars that her auntie should go. Smiling, Corinne opted instead for a more down-to-earth method to gather inspiration for her space paintings. Leaving it to accomplished space pioneer and astronaut Chris Hadfield to uncover and report on the space action, it was a constant attraction for Corinne and her niece to listen to and watch him on the computer. Closer to home Corinne reads extensively about space, receives guidance from the hundreds of images brought back to earth from the Hubble Telescope, and draws on her own curiosity and imagination to fuel the fire for her stellar subjects.
Click on images to enlarge:

Corinne's love of art is in the mystery that keeps her curious, searching and expressing her emotions on canvas; it is witnessing the change of a flower through one season, or the change of a star forming over a twelve year period; it is the community of artists that she appreciates being a part of with the honest critique and praise that helps her grow; it is sharing this passion with an eager participant such as a weekend spent painting with her niece; it is the appreciation from people that purchase her paintings that know they have a little piece of Corinne in every one; and perhaps the most important of all for Corinne, simply stated is, "It's an enjoyable thing to do."