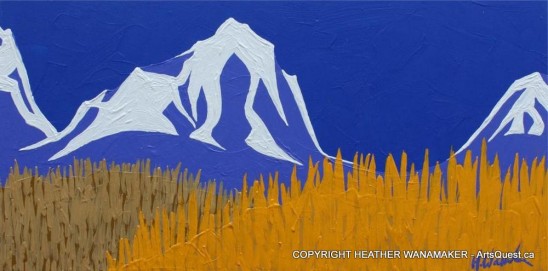 Traveling back to Whitehorse from Dawson City in the sinking sun we couldn't help but be struck by the hues of light mixed with shadows as they played on the golden leaves and white trunks of the birch forest that blanketed the surrounding hills. Only here, extending as far as the eye can see, have we ever seen such an abundance of "The Watchful Tree," so called because of the eye-like impressions on the bark. This is just one pristine moment in the endless beauty of this grand wilderness, and one example of why acrylic painter Heather Wanamaker chose to live in the Yukon, a magical place aptly dubbed "larger than life."
Click on images to enlarge:

Heather always knew that she wanted to be an artist, and so right out of high school immersed herself in a program at Langara College and later continued her studies at the University of Victoria. During her hiatus between schools she surrounded herself in the arts community by working at an arts supply and framing store. She had a thirst for creativity; taking in ideas and learning from other artists, but yet to discover her own style. That all changed when she moved to the Yukon. Experiencing the seasons and the lighting of the northern sun, she soon found a new focus and drive bolstered by the enigmatic beauty of her surroundings. Heather now finds that the excitement of the next painting is always in her mind, and her environment never leaves her wanting for inspiration.
I imagine as an artist, sharing one's personal expression and putting it out there for the world to see, hopefully in a meaningful and affecting way, takes a lot of courage. Having a community of like-minded individuals who will support, encourage and inspire that artist can help to nurture that creative spirit and alleviate those fears. Heather found this to be the case when she moved to Whitehorse. Having taken a couple of years off away from the paint brushes she had some trepidation upon arriving in the Yukon. How would she be received as a newcomer trying to get her name and art work out there and noticed? Those feelings quickly lifted as she found Whitehorse to have a welcoming community of artists where she could network and participate collectively.
Heather breathes inspiration for her paintings from the same mountain air she indulges her passions for hiking, canoeing and winter activities. It is a synergistic relationship; the obvious rewards of an active outdoor lifestyle complementing the visual stimuli of breathtaking scenery, colours and contrasting light. The bold beauty and sweeping landscapes influence her brush strokes; the ever increasing insistence towards vivid colours, sharp lines and larger than life imagery. Heather's painting style is crystal clear now, and it manifests from her connections to the Yukon. Heather's greatest satisfaction as a painter is being able to express on canvas a scene, with its colours, lighting and contrasts just as she glimpsed it while on a hike or other excursion, and hoping that others will see the same. She has captured the heart of the north on canvas, and the north has captured hers.
Click on images to enlarge:

Enjoy our interview with Heather she tells us more about her art. Please share on social media and comments are always welcome: