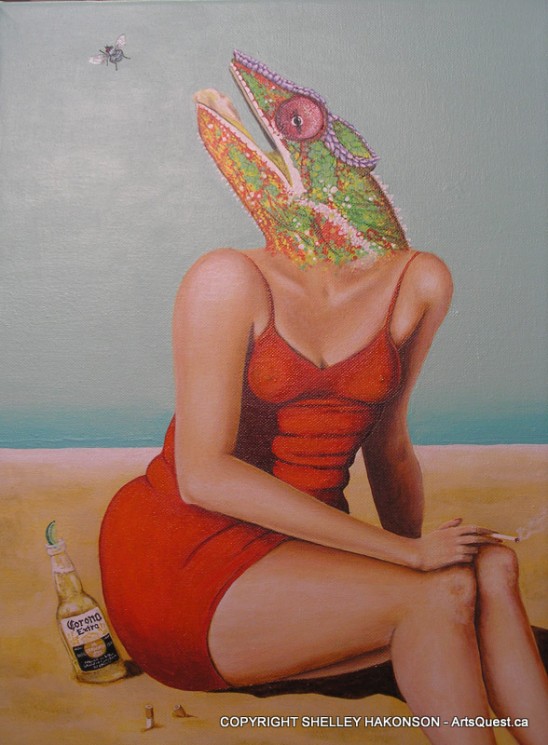 When we first arrived in Dawson City, Yukon on September 19 it was cold and snowing. Unfortunately we had just fried our electric heater the night before and had no choice but to find a store to purchase a new one. I was expecting to have to rob the nearest bank in order to pay for it but surprisingly the price was reasonable. We settled in for a cozy evening in Arty with anticipation of meeting visual mixed media artist Shelley Hakonson the next day. As I prefer to do with all the artists we interview, I went looking for some information about Shelley so I could come up with my own unique never-been-asked-before questions. I perused through her website, www.shelleyhakonson.com and found it to be most intriguing. Interestingly enough, after looking at Shelley's work and reading about her, I thought I was headed into a deep philosophical journey and pictured myself way over my head in Shelley's art arena. As I would come to find out my assumptions were unfounded.
More from the Heart Series. Click the thumbnail for a larger image and caption.

Dawson City is saturated with the past; clay roads, wooden board walks, surrounding gold mines and signs of the once bustling gold rush town lingering all around. It is basically open in the summer and closed in the winter. The mines shut down, tourists have retreated home, most merchants close up and the locals gather at Bombay Peggy's (a former brothel) for one last pint or two before the great migration, usually to some place warm. Shelley and her husband Greg participate in this exodus every year, traveling to places such as Russia and Italy. She packs along a sketchpad and notebook and as they travel gathers her inspiration for the following year's upcoming pieces.
From the Zoomorphic Series. Click the thumbnail for a larger image and caption.

What do Gary Larson of The Far Side fame and Indiana Jones have in common? Shelley Hakonson, of course! Shelley's interests are far reaching and a bit on the far side one might say. She is an avid reader and many of her ideas come from the English language. Her love of words, phrases and idioms are the subject of most of her work. For example, phrases become images and images become her art. In her Zoomorphics series she has taken a phrase like "fish out of water" and painted the body of a human with the head of the animal in reference. In this case her waggish imagination conjured up a woman's body with a fish head posing awkwardly in her dress and high heels. Although the painting might leave you scratching your head, Shelley provides us with a little more insight into where this oddity might have come from by giving us clues with an accompanying one liner caption. The rest of the story, she says, is for us to figure out however we like. It is her hope that the viewer will have fun and share in some of her lightheartedness.
From the Artefact Series. Click thumbnail for a larger image.

Shelley is also an ardent lover of different cultures and the mystery and intrigue that surrounds them. Before she became an acrylic painter much of what she did was mixed media textile art. When you walk into her home there are remnants of these pieces all around such as the Mongol Shaman Bag and the alien spacesuit pulled from a burning rubbish bin near Roswell and they all have a story associated with them. What is incredible is that her work is all hand stitched and is so intricate and detailed that some of the Artefacts, as she calls them, have fooled people into thinking that she and Greg had engaged in some archaeological discovery during their travels and brought back real artifacts. Remarkably, it is all Shelley; she finds something that interests her, does some research on the subject and then sets out to create her interpretation of it. Although based on facts, Shelley says she allows herself a liberal amount of creative freedom.
Click thumbnail to see the larger image.

The imagination and creativity of Shelley's work is endless. On the one hand she enjoys making people smile and laugh at her witty high jinks with preposterous portraits of common phrases and idioms we can all relate to, and on the other hand some of her work is passionately serious. There are many things in life that need to be brought to our attention and make us think. We are all inquisitive by nature and I believe Shelley really knows how to access that curiosity. She certainly did that for me.
Be sure to get to know Shelley as she shares with us her fun loving spirit expressed through her art. We love comments and please help us spread the word about Shelley by sharing/liking on social media. Thank you!