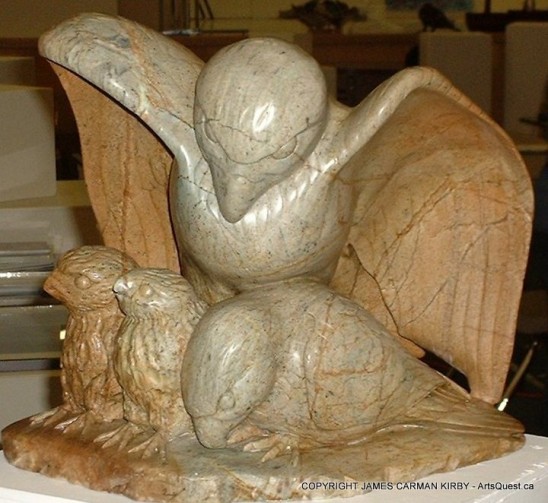 In our search for artists to interview we have used various means to track them down ranging from emailing art organizations asking for assistance, emailing the artists directly, and even just riding into town and asking at the library, town office or people on the street who they might know. It gets a little tricky though when an artist is more reclusive; not usually engaging or paying attention to the ongoing banter of the various media sources. It was with a bit of luck then that Whitehorse artist James Carman Kirby of Wulvzwerx Arts decided, for whatever reason, to open one of those emails and answer our call to artists.
Driving up to James' home and studio, the exterior looked like any other framed structure except that once inside the building the uniqueness of his abode reflected that of the man himself. Originally staying in a small, vintage travel trailer and having his workshop and studio beside it, he decided to join the two; building and framing the house around the trailer and encasing it as part of the interior decor. The effect is both quaint and symbolic; the travel trailer serving not only as both functionally decorative and as a conversation piece, but also retains memories of a time and place in his journey through life. Therein lies the first clue, revealing a man who is not one to adopt mainstream thinking and who walks to the beat of his own drum.
Click on images to enlarge:

James believes that everything about life is art; that the many facets of life such as raising children, building a home, the means by which we sustain ourselves, and how we engage humans and other life forms is all part of our creative being. He notes that if we treat life as art then it will become that much more satisfying and we will eventually create something very special. James' art is a reflection of his life's journeys, and as his life evolved into different stages for various reasons, so did the artwork that manifested from his hands. James chooses to live his life through individualism rather than conformity, and realizes the power of free thinking as his creative path.
As varied as his life has been, James' art has taken him from painting, to stained glass, to now sculpture and jewellery. He also moved back to the Yukon from Vancouver Island to open a book store, and spent eight years as the largest bookseller of esoteric cult books in Canada. This last venture was at a time when James wanted to create a new culture for Whitehorse and shake things up a bit. He wanted to give people a chance to step out of their comfort zone and learn about other cultural, spiritual and philosophical teachings.
Although he is open to all ideas and is just starting to work on his own designs, his jewellery and sculpture creations primarily follow a particular niche. His jewellery focuses on talismans and amulets but his knowledge of western esoteric cultures and world religions goes into all of his artwork. James' inner creation cannot help but extend to his artwork, where his curiosity for the foundations of his work impels him to research, source and manufacture his own materials as well as wanting to know what the process is; how things were made, why they were made and what sorts of materials were used. Whether quarrying the stone he is about to carve or learning the history of stained glass and how it was made, James' foray into any creative endeavour always means being involved in all aspects of it. This can be no more true than in his jewellery making, where he ethically sources his own gemstones, does all his own castings, makes his own metal sheet and cuts his own wire. James notes that it is very much alchemy for him, having to know the process and then being able to apply it with skill.
Check out our interview with James below and feel free to share on social media and leave a comment: