Arty took us to Abbotsford, B.C. this time on an arts quest to meet with Debra Blades. Debra calls herself a mixed media collage painter with a splash of inventiveness. She has a passion for texture, colour and twisty things. She incorporates gold, silver and copper leaf as well as different papers and textural components within her paintings. When we showed up on Debra's door step she opened the door with such fervor that I had a feeling we were in for something good.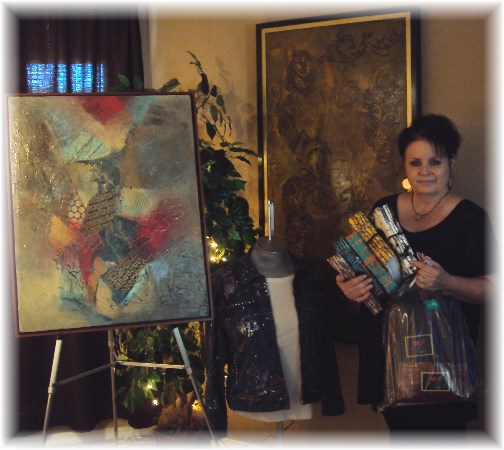 Photo Credit to Kristie Blades
Art has been in Debra's life in one form or another for a long time. She spent 21 years hand-making Victorian lampshades and in that time created and sold over 1000. But with trends coming and going, in this case going, she recognized it was time for a creative change, and that is when she began exploring the world of abstract art. I was surprised to hear that she has only been working at it for 6 years. Her work seems so much more mature than that like it has been a part of her for a long time, walking hand in hand with her spirit.
Click on the thumbnail images below for a larger perspective:

Debra admits that creativity can have its calamities at times but it's nothing that an enthusiastic and gracious attitude mixed with a little Beatles music can't cure. When she first contemplated giving titles to her paintings she was stuck and wondered, "How do you name something abstract?" At the time she was working on a piece that was colourful and attention grabbing and contained twisty pieces of paper. The Beatles' Twist and Shout just happened to be filling her ears at that moment and delivered to her the title of her new painting. One thing lead to another and since then she has created a series of paintings inspired and titled from The Beatles' songs. According to Wikipedia there are 304 songs that have been recorded by The Beatles so Debra's series could turn into a long and loving commitment. I have a feeling this won't be a challenge for her!
Versatility and adaptability are two words that I would use to describe Debra. She faces challenges and obstacles head on and, along with a positive attitude, looks for a solution. Her abstract painted train cases are an example of this. At one time she found herself lacking in canvases to paint, had some left over train cases from her Victorian era days, and so decided that they would make an excellent three dimensional canvas. She calls them functional art and each one comes with its own title. As well, not in the too far distant past Debra stopped going to art shows and fairs because she dreaded the fuss and muss of packing her work in sheets, bubble wrap and packing tape. In her mind not only was this a time consuming and unpleasant process it was also no way to treat a piece of fine art nor did it present well to the fine art appreciators looking on when she arrived at the show. Her solution was an ingenious invention aptly named Masterpiece To Go Portfolios. I am not one to pitch products but I find this to be a slick and useful piece of equipment that every painter will want to have. It looks professional and your art work can be packed up and ready to go in under 3 minutes. Be sure to watch the demo video below where Debra shows us how it works, and check out her Masterpiece To Go Portfolios website for more information on how to order your own.
Please join us as Debra talks more about her life as an artist in her interview below. We love comments and by all means share and like with social media!
Masterpiece To Go Demo Video