Often when we think of technology we think of it occuring largely in the 20th and 21st centuries. Technology is merely an advancement of something based on scientific principles. So imagine a technological advance made 1600 years ago that is still in use today. Chainmaille was a technological advance commonly credited to the Celts. Today what comes to mind is the Middle Ages or Medieval Period with the knights, princesses, valour, honour, jousts and of course chainmaille armour. Although we no longer use armour in our society, at least not in the sense of fighting battles, chainmaille is still in use today for things like cut-resistant gloves for butchers and woodworkers, shark resistant wet suits and, in the case of our blog, as a statement of fashion in the form of jewellery.
Morgan Saddington lives in the Cowichan Valley region of Vancouver Island and like many people she wanted to explore her innate creativity. Her first passion was photography but due to her lifestyle circumstances at the time it wasn't going to be a fitting choice. She started out buying beads and components to assemble jewellery and later became interested in silversmithing which gave her the ability to hand-make every piece for her designs from start to finish. When Morgan kindly agreed to an interview I was anxious to hear why it was chainmaille that was the primary component of her jewellery designs. My own imagination "swept me off my feet" as I began thinking about The Knights of the Round Table, King Arthur, Sir Lancelot and Guinevere! As it turns out, chainmaille was simply happenstance for Morgan and part of her art education. Alas, my fantasy was dashed! But seriously, Morgan found her niche and has been creating gorgeous jewellery ever since.
Click the images below to see a larger perspective.

Morgan primarily uses traditional chainmaille patterns with signature clasps and pendants that give her designs a unique perspective for the modern jewellery era. Her pieces are an elegant combination of ancient history blended with avant-garde. The clasp and pendant designs remind me of miniature shields that could have been fashioned after that which may have been used in a joust or to protect the face of a knight. The sterling silver used to make the chainmaille is all hand cut and then linked together by hand, one by one, to form a pattern. Morgan loves the contrast that chainmaille lends to her jewellery. It has strength and yet it has flow and movement that is wonderfully appealing. Her pendants are inspired by nature and embrace a simplicity that I just love. They are hand cut copper pieces. The surface is scratched, a layer of gesso is applied, then she uses coloured pencil, a spray fixative and finally comes a layer of micro crystalline wax. This can be repeated for up to 8 layers depending on the effect Morgan is looking for.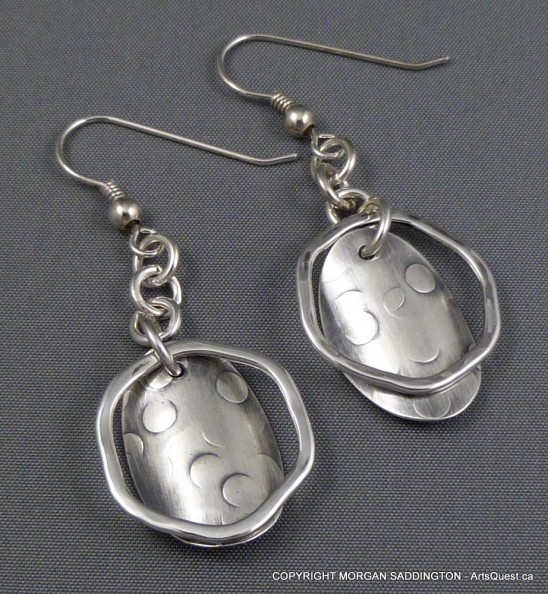 Click the images below to see a larger perspective.

As you probably have guessed by now, this is not a creative outlet for the hurried. Morgan loves the meditative feeling that creating her one of a kind artistic adornments give her in the making of each piece. Please join us as Morgan talks more about her jewellery in her video interview. Don't forget, we love comments and share all you want with social media!