Our first impression of mixed media artist Evelyn M happened two weeks before we had even met her! We had sent out a call to artists for interviews to the Campbell River Arts Council; they had put it in their newsletter and Evelyn had responded to us on April 8th. On April 9th she had posted a very thoughtful and detailed account of our journey and her upcoming interview with us in her Local Home Spot.com Blog. We were quite impressed by her take-charge attitude and could see that she is a proactive contributor in the art world and likes to make things happen. It is no wonder then that in addition to her fine art endeavours Evelyn also contributes to multiple blogs as well as working with her husband Bruce in their interior design and renovation business, Design House.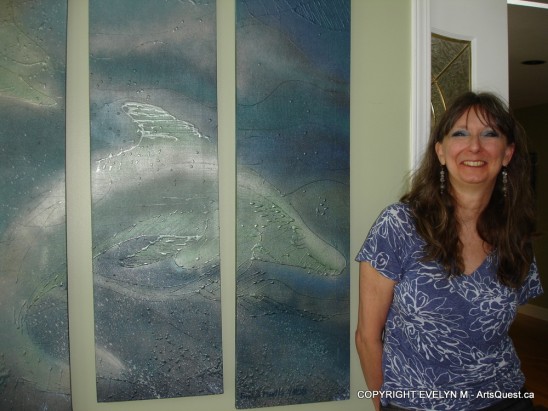 As we arrived at Evelyn`s home we were greeted outside by Evelyn and Bruce and the exuberant canine greeters Xena and Dax, their Golden Retrievers. Entering the house we were also greeted by the mouth-watering smells of fresh homemade cinnamon buns. Yummm! Evelyn said that when we had mentioned on Facebook the wonderful homemade bread and muffins we received from Terry Phillips, she thought that to keep in the spirit of things some of Bruce`s to-die-for cinnamon buns were in order. Corinne and I emphatically agreed! Could this be a pattern? We're thinking that we could be on to yet another perk to the myriad of benefits we have realized in this joyous adventure; and grateful for every one of them!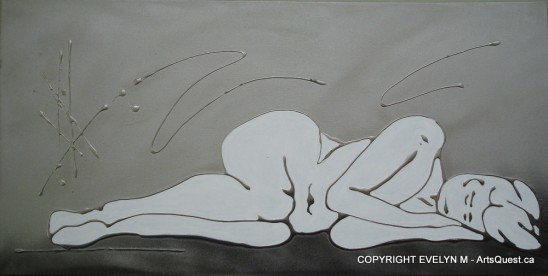 Click on images below to enlarge:

Evelyn started off as an artist painting in watercolour and acrylic but in time yearned for another level of creativity and individuality within her art. From a trip to Mexico in the mid '80s she was inspired to create a unique, raised sketch technique that she uses in her paintings and it has literally given her art-work another dimension. (Watch her video interview to better glimpse this distinct perspective)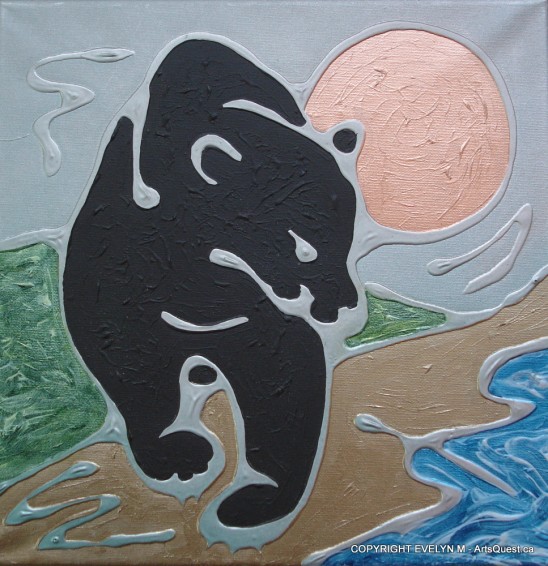 Unlike some artists, Evelyn's artistic process is a solitary one; preferring to be alone within her creative moments. She also uses whichever venue around her house that will deliver her artistic needs; be it using the dining room table for her sketches, seeking artistic direction within her "muse" room with all her stuff, or finishing her painting from behind a locked door in the bathroom with the right counter height, lighting and sink close at hand.
Click on images below to enlarge:

Evelyn notes that there is a collaboration of ideas and inspirations between her art-work and her home interior design business; sometimes the new home project with it's colours and layout inspires her art, and other times it's her art that inspires a new feature in the home. Evelyn says, "I consider interior design a three dimensional installation of art; the room is just a large art piece that we live inside." So from her earliest years drawing as a young girl, to her adult (and still young) years creating dream homes for other people, Evelyn's lifelong passion for creativity has created the perfect marriage between her essential need for personal expression and a business that can reap success from that.
Welcome to Evelyn M's interview! Please feel free to comment below and share with social media!