Riddle: What work can be done in shorts and a t-shirt and preferably during a frigid Alberta winter?
Answer: Glassblowing of course; standing in front of a 2300 deg Fahrenheit gas furnace!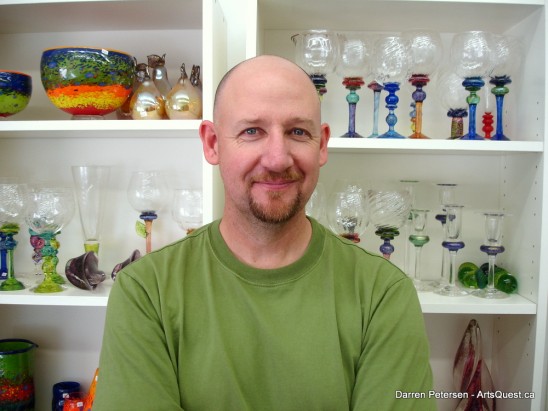 Darren Petersen of Sparrow Glassworks has been working with glass for 23 years and independently making a living doing it for the past 15 years along with his wife Deborah who is also an artisan. While most Red Deer residents may be filling their garages with quads, snowmobiles and snow blowers, Darren and Deborah have filled theirs with a home based glass making studio replete with all the tools of the trade including two gas furnaces, one containing the initial crucible of molten glass, and the other for reheating to maintain malleability while working with the glass.
Darren gave us a demonstration of the glass blowing technique while I tried not to sweat on the camera in the penetrating heat of the furnaces. It was a marvel to watch him work with what is such a delicate and fragile substance in it's hardened form, but while molten he could manipulate and shape it to his will. He made it look so easy; no doubt a result of his many years of practice, trial and error.
Feel the heat with Darren's glassblowing demo below!
Darren notes that along with the conventional techniques learned for glassblowing that he has also figured out some of his own tricks to create desired effects. I'm sure thousands of years ago this practice would have appeared mystical, and my lack of understanding of the process from beginning to end certainly left me bewildered, especially once we entered the gallery. The contrast walking from his shop of steel, heat and sweat into the bright, quiet gallery with the finished, handblown creations of coloured and clear glass staring back at us was palpable! All around us were glass objects in the form of drinking vessels, vases, pitchers and ornamental pieces that left my mind struggling to comprehend how they 'came to be.'
Darren says that there are virtually no limitations to what can be done with glass, and he actively seeks out new and interesting ideas to shape into glass. Not willing to be bound by the safe and well traveled routes through his glass creations, he says that his 'multiple glassblowing personalities' allows him to try various undertakings without the constraints of convention. Armed with the knowledge that glass has absolute properties in it's heated and cooled states, it is quickly evident to him whether a particular experiment will work or not, and so he is not averse to improvising on the fly and an object of one intention may become another as the process unfolds. Regardless of what Darren's next creation may be, he is always inspired by nature's beauty as well as a purpose or interconnection of the piece for the appreciator.
From the furnace blast now to the finished glass!
Please click on the image for a larger view:

We hope you enjoyed our interview with Darren as much as we did and please feel free to leave a comment below!