A Chevy Avalanche pulled up beside us in the Sydney, Nova Scotia Walmart parking lot where we were "camped" for the night, our launching point for the long ferry ride to Newfoundland the next day. It idled there for a few minutes before driving away, the tailgate catching our eye with the business name Stone Image Studio decaled on the back of it. Early the next morning, the same Avalanche pulled up beside us and waited tentatively to see if we were awake. I jumped out of the van and was welcomed by the friendly handshake of Darren Adams, a Caper that has started to form a niche for himself in the decorative concrete and sculpting realm. Darren had seen our ArtsQuest logo on our van Arty and wanted to find out more.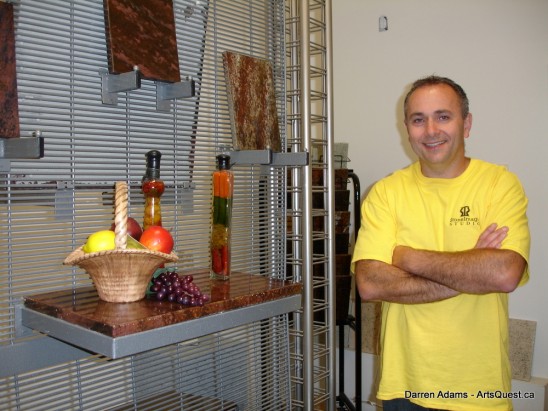 I have to be honest. The first time we met Darren and found out he made vanities, counter tops and furniture from concrete, we apprehensively wondered if this was a fit for our website. We too fell into the stereotypical thinking about the ideas of strictly utilitarian uses for concrete without being aware of the artistic and creative ones. Relieved from making a snap judgement, we were luckily heading for Newfoundland the next day and had time to ponder this new and unknown art medium over the next two weeks before our return to Cape Breton. What we realized over that time was: What is the difference whether a potter uses clay and Darren uses concrete? Just a different medium. Or, what was artistically different from a potter making a decoratively functional mug, bowl or teapot and Darren making a decoratively functional bathroom sink, counter top or piece of furniture? Just a different object or use. With that in mind we set up a meeting with Darren for our return to Cape Breton.
Our time spent with Darren in his shop and studio revealed a man with unlimited ideas about the uses and possibilities for his decorative and sculptured concrete creations. As he toured us around and explained the various processes of his work, we could see the excitement in him at not only his own ideas, but also those shared from the imagination of others who wonder "is it possible…?" From the shapes, colours and textures of his work to date, Darren is showing us that virtually anything is possible with concrete, and in his own words, "I'm just getting started!"
Click on the images below for the full size:

Thank you Darren for introducing us to the other faces of concrete and we are excited to see what new creations you come up with in the future!
Please join us with Darren in our interview with him below: